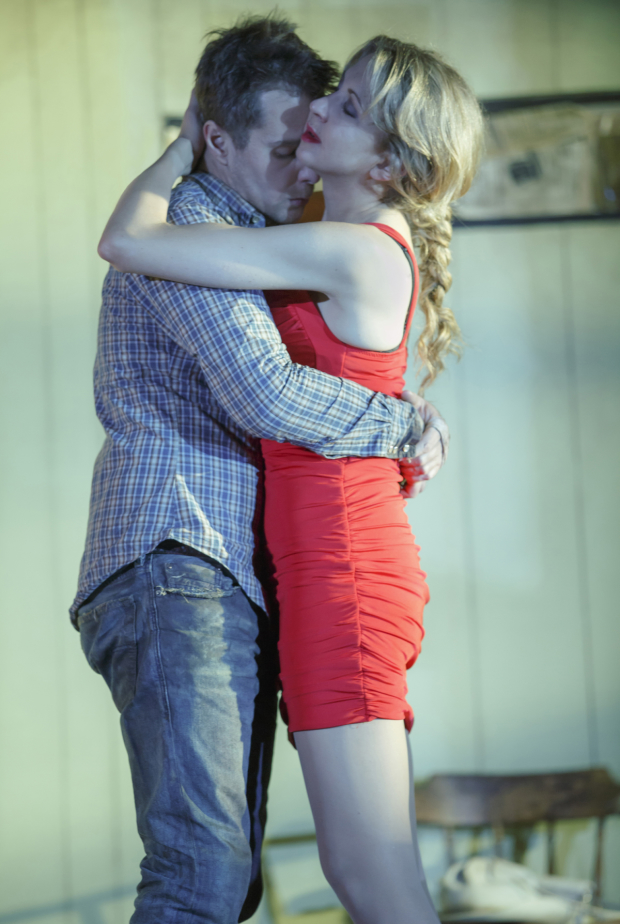 Sam Shepard's Fool for Love takes place in a mythical American West: a desolate motel off a lonely highway on the edge of the Mojave Desert. It's a territory to which Shepard frequently returns, most recently in his 2014 Oedipus adaptation, A Particle of Dread, which also takes place there. Daniel Aukin's spare and evocative new production of Fool for Love, making its Broadway debut at Manhattan Theatre Club's Samuel J. Friedman Theatre, proves what a mirage-like setting that can be for a drama.
Set designer Dane Laffrey fashions this forgotten motel room with cheap furniture and linoleum floors. The chairs are made of teal vinyl on metal, offering a slight refuge from the oppressive yellowness dominating the stage. Justin Townsend bathes everything in a sickly incandescent light, giving the walls the jaundiced appearance of a book left unopened for decades.
This depressing human terrarium is the habitat of May (Tony Award winner Nina Arianda). At the top of the play we see her sitting on the bed, head in hands, frozen in disbelief by the sudden reappearance of Eddie (Sam Rockwell). He's an aging rodeo stuntman and a former (perhaps lingering) love interest. "Fifteen years I've been a yo-yo for you," she tells him, incensed. Just when she thinks she's forgotten about him, he strolls back into her life to pick off the scab, renewing their passion once again. Eddie is a walking country music cliché.
This time, however, May plans to escape the cycle: She's got a hot date with a guy named Martin (the handsome Tom Pelphrey, with an adorable golden retriever quality). She slips into a sexy red dress (iconic costumes by Anita Yavich) as Eddie menacingly lassoes the furniture. When Martin arrives, Eddie and May subject him to dueling narratives about their dubious past. Who are these people really? Why are they here? And who is that old man (a stony Gordon Joseph Weiss) sitting just outside the fourth wall drinking tequila from a Styrofoam cup? The truth is fickle, but the conflicts Shepard crafts feel very real under Aukin's electrifying staging: a lovers' quarrel, father-son drama, and possible sibling rivalry (an obsession of the True West playwright).
The conflict between wrangler Eddie and Martin (who has just come from watering the football field) is the oldest in the American West: the sexy nomadic cowboy versus the reliable sedentary farmer. Despite calls for their harmony, they just can't quite see eye to eye. And while May knows that after 15 years Martin is a better bet than Eddie, she can't help her passion for the elusive cowboy. We all want what we cannot fully have.
Arianda magnificently embodies that undesirable desire. "I don't understand how I could hate you so much after so much time," she reveals to him, a slightly congested lilt conveying her exasperation. She reclines on the bed and nonchalantly brushes her hair to telegraph to him that she doesn't care, but the urgency with which she dives there as he opens the door betrays the truth: Eddie is still very much at the center of her thoughts.
As Eddie, Rockwell moves with a slight limp that he manages to pass off as a macho swagger. Propelled forward completely through the strength of his pelvis, he's simultaneously frightening and alluring. We can certainly sympathize with May's attraction. For Martin, this is just about the worst date ever, but (like us) he doesn't want to leave, so thoroughly enthralled is he by the ever-shifting backstory, the raw sex lurking just underneath the perfunctory niceties. One develops the sinking suspicion that they've played this scene before, that like George and Martha in Who's Afraid of Virginia Woolf?, this is all part of some ancient kabuki only the two of them fully understand.
With its long-simmering passions and unreliable narrators, Fool for Love is an excellent American companion to the recently opened Broadway revival of Harold Pinter's Old Times. In both plays a heavy air of intrigue hangs over the stage as the veracity of language takes a backseat to the physical drama happening in the moment. It's the most potent concentration of theatrical mind games we're likely to see on Broadway for a long time. MTC should be applauded for producing this challenging work in such a primo venue, but one suspects that the eerie experiential effect would be even greater in a more intimate space. Here's hoping for an immersive Fool for Love in our future.