First Wives Club Musical Announces Complete Casting for Pre-Broadway Run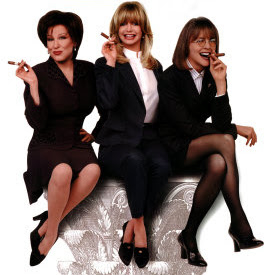 Complete casting has been announced for the pre-Broadway engagement of First Wives Club: The Musical. Performances will begin February 17 at Broadway in Chicago's Oriental Theatre and will run through March 29.
Based on the hit 1996 film and best-selling novel by Olivia Goldsmith, First Wives Club follows three former college friends who reunite and join forces to settle scores with their first husbands, all of whom have left them for younger women.
The trio of women (originally portrayed by Bette Midler, Diane Keaton, and Goldie Hawn) will be played by Tony Award winner Faith Prince (Brenda), Wicked star Carmen Cusack (Annie), and Mamma Mia!'s Christine Sherrill (Elise). The roles of their respective first husbands will be taken on by Sean Cullen (Golden Boy) as Morty, Tony Award nominee Gregg Edelman (The Mystery of Edwin Drood) as Aaron, and Mike McGowan (Priscilla Queen of the Desert) as Bill.
Additional casting includes Cameron Clifford, Ethan Khusidman, Patrick Richwood, and an ensemble featuring Lindsey Alley, Jim Borstelmann, Terron Brooks, Patch David, Michelle Duffy, Emilee Dupré, Rachel Fairbanks, Aaron Gordon, Tessa Grady, Dan Horn, Patrick Oliver Jones, Amy Hillner Larsen, Tara Macri, Paul Nygro, Jeffrey Pew, Rebecca Poff, Brett Thiele, Kara Tremel, Morgan Weed, and Alison Woods.
The new musical is adapted from an earlier version of the musical by Rupert Holmes, with additional material by Simon Phillips. The production features a book by five-time Emmy Award nominee Linda Bloodworth-Thomason and direction by Phillips, with a combination of original and classic songs by Motown legends Holland-Dozier-Holland, including "Reach Out…I'll Be There," "Stop! In the Name of Love," and "I Can't Help Myself (Sugar Pie, Honey Bunch)." Legendary music arranger and producer H.B. Barnum (best known for his work with Aretha Franklin) joins the team as arranger and orchestrator, with music direction by Kenny Seymour and choreography by David Connolly.
For tickets and more information, click here.