Final Bow: Max von Essen on Climbing a Stairway to Paradise in An American in Paris
Max von Essen had been in five Broadway shows before taking the stage of the legendary Palace Theatre in An American in Paris, but this is the one that changed the game. Not only did it take von Essen to the titular City of Light, where Christopher Wheeldon and Craig Lucas' musical played its 2014 out-of-town tryout, it also earned him his first Tony nomination.
His role is a plum one. As adorable aspiring performer Henri Baurel, von Essen delivers a showstopping second-act production number, George and Ira Gershwin's "Stairway to Paradise." As the production winds down its Broadway run (the official closing date is October 9), von Essen looks back on developing the show in Paris, becoming best buds with original costars Robert Fairchild and Brandon Uranowitz, and turning into a vigilante against in-theater bootlegging.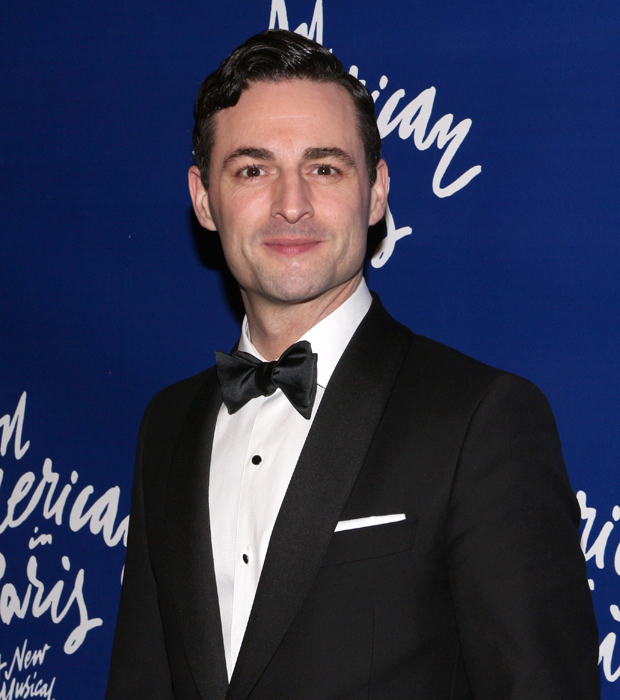 1. What is your favorite line that you get to say?
"Oh my Christ." I say it as I'm writing a letter of proposal and trying different poetic ways of asking Lise to marry me. After one particularly lame attempt, I crumple up the paper and just say, "Oh my Christ," in frustration. It usually gets a huge laugh, and there are very few things more rewarding than hearing a theater full of people laughing.
2. Everyone loves inside jokes. What is the best one from your show?
I still get tickled when I think of a more serious line in Act Two. Adam tells Jerry that "Henri's no coward." Well, as much as Craig Lucas needed the line and felt it worked, it bothered him because he always thought it sounded like Jerry was saying "Henri's Noël Coward." Well, once you hear that, it's kind of impossible to ever hear the line the same way again.
3. Every show experiences technical difficulties. What was the worst technical difficulty experienced during your show and how was it handled?
We've had a couple of doozies, just like any show, but one of the most frustrating and ultimately thrilling was when my mic went completely out for the last verse of "Stairway to Paradise." It's the verse after I finish the big dance with the ensemble and return to the cabaret setting to sing what is supposed to be a big, rousing, confident, final verse all the way at the back of the stage. Well, once we knew my mic was out, the conductor quickly hushed the orchestra so as not to overpower, and I strutted right down to center stage, like Ethel Merman, and belted the last verse like I've never done before. At first I was angry, but it turned out to be thrilling, and the audience went crazy. Live theater. The best.
4. What was the most "interesting" present someone gave you at the stage door?
Probably a fan with a huge photo of my face on it. I used it to fan myself a few times in my dressing room and just thought, oh god, if anyone were watching right now.
5. Who is the coolest person that came to see your show? (You can't say your family!)
This is tough because there have been artists I admire and even some celebrity crushes have come backstage. I'd have to say it was Barbra Streisand one night and the Clintons another — they definitely top my list of coolest people!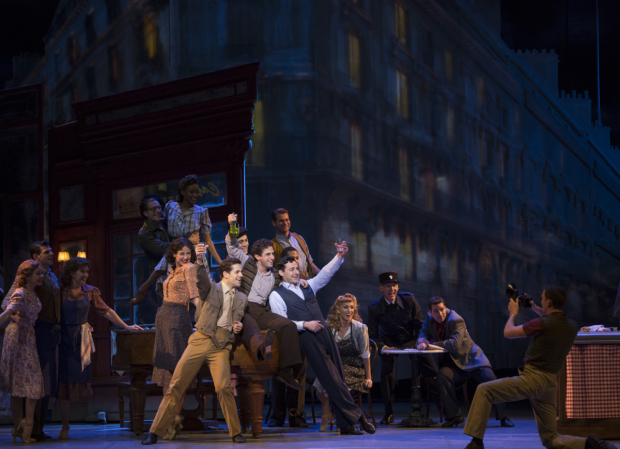 6. Had you seen the film of An American in Paris before you started? Was it difficult to contend with the memories of Georges Guétary as Henri Baurel?
I recall having seen bits and pieces as a child, but I watched it straight through when I was auditioning for the role of Adam for an early reading. I couldn't recall much of Georges' performance because I hadn't been focusing on him at the time I watched the film, and then I became too busy learning and developing my performance to think about living up to him. It was during the Paris run that I got to meet his daughter who loved the show and my performance, so hopefully I'm doing something right. Later on, I revisited the film and fell in love with his performance…even stole a few bits.
7. How did presenting the show in Paris help you develop your performance?
It was heaven being there. The Châtelet treated us like family, and we felt so welcomed by the entire city. To have Paris as our backdrop and to live like Parisians was extremely helpful. We were also able to catch some wonderful exhibitions on the Occupation, which really informed our work.
8. You became close friends with your original costars, Robert Fairchild and Brandon Uranowitz. When they both departed, what was the adjustment process like working with new actors?
Well, no one can replace my brothers, Robbie and Brandon, and luckily no one tried. Everyone brought their own beautiful take on the roles, and I've enjoyed working with all of the new cast members. Of course, I'll always treasure my time with Robbie and Brandon. We clicked the instant we met doing the workshop three years ago and have remained great friends!
Today, a man in the front row leaned over and placed his iPhone ON the stage to record the show. (People have truly lost it!!)
— Max von Essen (@MaxizPad) December 6, 2015
9. Why did you decide to start going public on social media with your frustration about people recording the show with their phones? Have there been any changes as a result?
At a certain point I just had to vent, and it really is an important issue to me. It not only ruins the experience for the actors onstage, but more important, it can ruin the experience for those people in the audience near the offenders. Live theater depends on that relationship and trust between actors and audience. When something comes between that, like the light of a phone, a cellphone buzzing, or an iPhone filming, that magical connection is broken. I wouldn't say it's because of me, but things have improved at my theater lately. Big thanks to our ushers!
10. What is the Paradise at the top of your stairway?
A huge New York apartment with my boyfriend, a terrace, a puppy, and an elevator that takes me back down so I can get to my next Broadway show.