Fathom Events to Broadcast West End Production of Billy Elliot the Musical in US Cinemas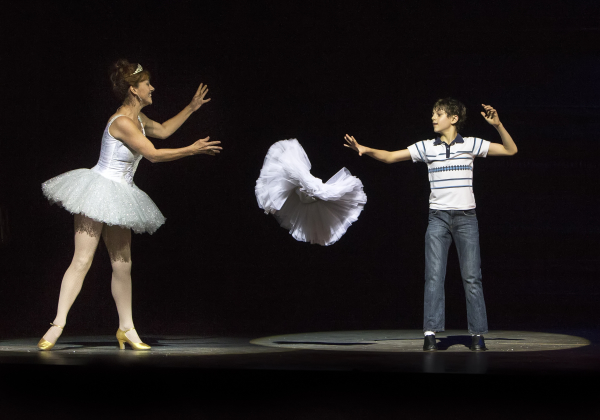 Fathom Events will bring the West End production of Billy Elliot the Musical to select U.S. cinemas for three showings only. The screenings are scheduled for November 12, 15, and 18. The performance was filmed live at London's Victoria Palace Theatre this past September when it was broadcast to eight countries and across the U.K., hitting No. 1 at the U.K. box office.
Billy Elliot opened in London in 2005 and was nominated for nine Olivier Awards. It won four, including Best New Musical. The show later opened on Broadway in 2008 where it earned 10 Tony Awards.
Billy Elliot the Musical Live features Liam Mower, the first boy ever to play the role of Billy onstage, in the role of Older Billy, as well as 25 past and present Billys who reunite for a special finale presentation. James Lomas and George Maguire, who originated the role of Billy with Mower, take part in the performance. The event also includes a special welcome from the musical's composer Elton John, and a five-minute backstage tour led by Elliott Hanna, who takes on the role of Billy Elliot.
"Bringing this stage show to cinemas will give dance, music and theater fans from around the country the chance to experience this astounding show right in their home town," said Fathom Events CEO John Rubey. "The gathering of the 25 talented young men who have played Billy makes this an extra special event, and we are committed to bringing more of the best of stage productions to local cinemas."
Based on the 2000 film of the same title, Billy Elliot the Musical tells the story of a young boy from a working-class family who dreams of becoming a dancer. Set in a mining town in the north of England, the story is set against the background of the 1984-85 miners' strike. The production features music by Elton John, a book and lyrics by Lee Hall, choreography by Peter Darling, and direction by Stephen Daldry.
The cast is led by West End and Broadway star Ruthie Henshall in the role of Billy's dance teacher, Mrs. Wilkinson; Deka Walmsley as Billy's dad, Jackie; Ann Emery in the role of Grandma; and Chris Grahamson in the role of Billy's elder brother, Tony. For this performance, Elliott Hanna (age 11) plays the role of Billy Elliot, Zach Atkinson (13) the role of Michael, and Demi Lee (11) the role of Debbie.