Family Is a Complicated Thing in Familiar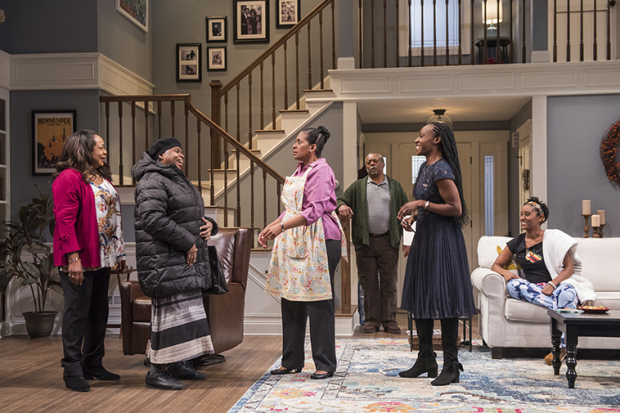 In a snow-blanketed suburb of Minneapolis, a family airs old secrets and even older grievances on the eve of a wedding. The plot of Familiar, now playing at Steppenwolf, sounds a little, well, familiar. But there's something very satisfying about seeing something simple done perfectly, and playwright Danai Gurira and director Danya Taymor have done just that.
The family at the center of Familiar is the Chinyaramwira clan. Donald and Marvelous Chinyaramwira (Cedric Young and Ora Jones) arrived in the United States after fleeing the Zimbabwean Civil War. Thirty years later, they are prosperous and successful in Minnesota; Marvelous is a biologist, and Donald is a lawyer, as is their eldest daughter Tendikayi (Lanise Antoine Shelley). Younger daughter Nyasha (Celeste M. Cooper), a musician, has just returned home from her first-ever trip to Zimbabwe. The Chinyaramwira family is living the American dream. Like many first-generation immigrant families, that includes the tricky balancing act between assimilation and preserving cultural traditions.
Tendi's husband-to-be is Chris (Erik Hellman), a white, evangelical social worker whose mission trips have taken him to Africa and South Asia. Chris's race is not the sticking point in this family comedy. Neither is Tendi's born-again Christianity, although Marvelous does scoff at what she calls her daughter's "happy-clappy church." The true source of consternation comes with the arrival of Auntie Anne (Cheryl Lynn Bruce), Marvelous's sister, who Tendi flew in from Zimbabwe as a surprise for her parents. Anne arrives ready to officiate the roora — a Zimbabwean tradition of negotiating a dowry — to the delight of Nyasha, Tendi, and Chris, and to the alarm of the older generation who chose to leave behind their Zimbabwean customs.
Playwright Gurira, who was born in Iowa and raised in Zimbabwe, crafts a lovely play that is at once highly specific and completely relatable. In Familiar, the tug-of-war between generations transcends nation and culture, and the frustrations of family are universal, especially when rendered so thoughtfully. Gurira's dialogue has a sparkling comic rhythm, beginning with the very first moments between Cooper and Jones and extending through the more dramatic second act.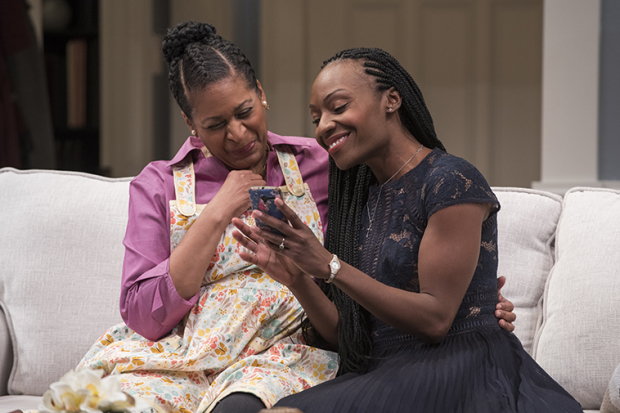 Under Taymor's direction, the tremendous cast transforms into a believable family unit, with two generations of sisters arguing and sniping in parallel. Jones is magnificent as the family matriarch; Bruce gives a scene-stealing performance as older sister Anne; and Jacqueline Williams rounds out the trio nicely as Margaret, the youngest of the three. Cooper lights up every scene she's in as the rebellious Nyasha. Shelley is perfectly cast as the graceful and poised Tendi, who has spent her life trying to live up to her parents' expectations. Hellman brings the positive energy of a youth pastor to Chris, who never loses his nice-guy bona fides despite being thrown into this crucible of family drama. His own sibling rivalry is matched by Luigi Sottile, who plays Chris's excitable little brother, Brad, with waggish charm.
Every aspect of Familiar's technical design is a nod to the culture clashes at the root of Gurira's play. Ntokozo Fuzunina Kunene's costume design tells you what you need to know about each character, from the colorful textiles of Auntie Anne's dress and dhuku to Tendi's sleek but modest party outfit. The Chinyaramwira home, designed by set designer Kristen Robinson, is luxuriously bland, an ode to Midwestern assimilation. Dialect coach Michelle Lopez-Rios provides a strong foundation for the code-switching between Shona and Midwestern English throughout the play.
Witty dialogue and nuanced, relatable family dynamics give Familiar a broad appeal and a lingering emotional impact. It's not just a play about the American immigrant experience, or even the American experience. It's a play about siblings, about generations, and about the resilience of love, wherever it's found.