Exploring America's Past and Future in Lewiston/Clarkston
In 1804, Meriwether Lewis and William Clark headed west to explore the land recently acquired by the Louisiana Purchase. Traveling nearly 8,000 miles from St. Louis to the Pacific in two years, initiating relationships with dozens of indigenous communities, and providing 140 maps of the region, the expedition helped form the continental United States as we know it today. But what does this legacy look like more than 200 years later, when the success of the American experiment is being interrogated more than ever?
Samuel D. Hunter probes that question in Lewiston/Clarkston, two 90-minute dramas presented as a single performance at Rattlestick Playwrights Theater. Set at a roadside fireworks stand in Lewiston, Idaho, and at a Costco warehouse in Clarkston, Washington, the plays follow two contemporary descendants of Lewis and Clark as they attempt to forge their own legacies in an uncertain world.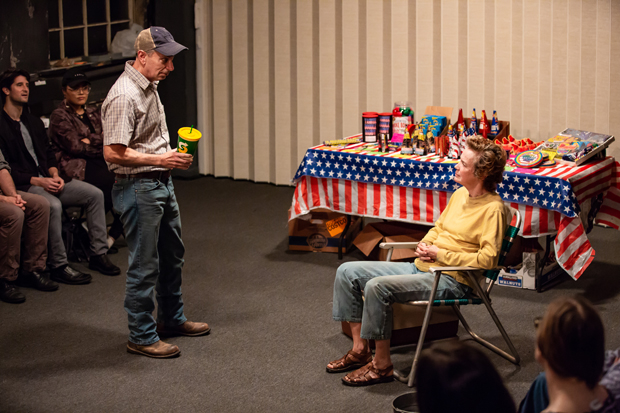 In Lewiston Kristin Griffith plays Alice, a Lewis descendant who has been selling off her family's land piece by piece to eager developers. She runs a failing fireworks stand with her roommate Connor (Arnie Burton), a closeted, out-of-work butcher who makes ends meet by taking shifts at the local pharmacy chain. When Alice's estranged granddaughter Marnie (Leah Karpel) pays a visit, the trio is forced to consider how you move forward when you're too afraid to take the first step.
Clarkston looks at the boundaries of love and friendship and introduces us to Jake (Noah Robbins), a young gay man exhibiting chorea due to Huntington's disease (a degenerative nerve condition characterized by involuntary movements). In the face of his recent diagnosis, Jake, a Clark descendant with a degree in postcolonial gender studies from Bennington, has thrown his privileged Connecticut upbringing aside in order to search for meaning. Following the Lewis and Clark trail, he takes a job lugging boxes at a Costco in Washington state, where he meets his polar opposite in Chris (Edmund Donovan), a closeted writer with few prospects and a meth-addicted mother (Heidi Armbruster) whom he can't bring himself to cut ties with.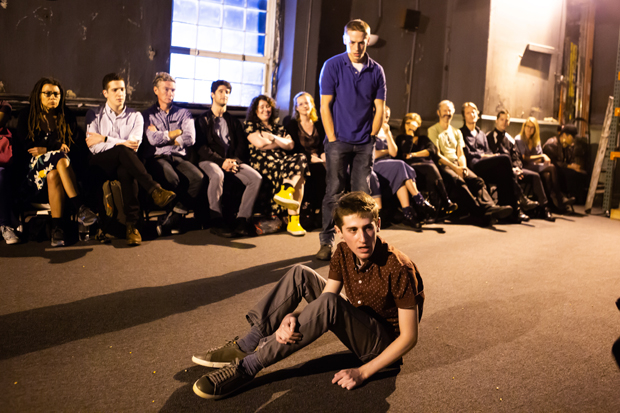 For the daring theatrical explorers among us, Lewiston/Clarkston, directed by Davis McCallum, is obviously a must-see. Marathon evenings like this aren't a frequent occurrence, especially with this level of intimacy. There are 51 seats in total, and scenic designer Dane Laffrey has entirely gutted the auditorium to create two unique, site-specific playing areas. Lewiston is performed in a confined space that measures 38 feet by 12 feet, while Clarkston enjoys the full width of the Rattlestick's auditorium. The actors are practically on top of us, but not in a confrontational way.
Others will likely find three-and-a-half hours on folding chairs to be a tough sit, especially in the company of two plays about loneliness and isolation, where the introspective silences often speak louder than the words. Lewiston is the weaker of the two, an appetizer we've tasted often before, though Griffith and Burton have a wrenching farewell moment toward the end. Clarkston is far better, a satisfying entree that features three excellent performances, especially from Donovan, whose internal trauma and conflict seem as though they're seeping out of his every pore.
Though there's an enjoyable communal meal between the two pieces (for $17, you can purchase a barbecued half-chicken or tofu dinner, or you can bring your own snacks), seeing the two plays separately would be a far more enjoyable experience. After all, Lewis and Clark took two years to absorb everything along their path, and even then they didn't get it all. The same applies to Lewiston/Clarkston, as noble an experiment as America itself, and just as imperfect.