Eve's Song and Wild Goose Dreams Extend at Public Theater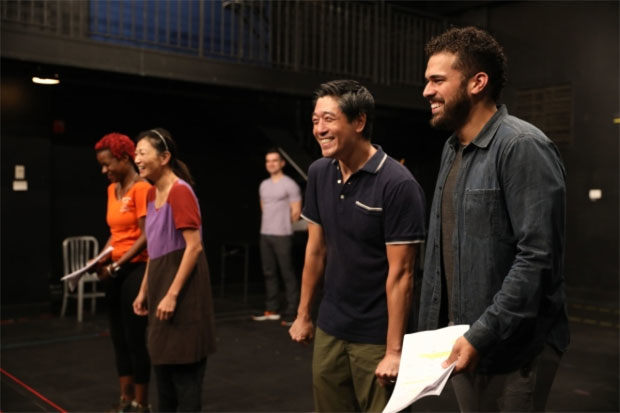 The Public Theater has announced extensions for their world premiere of Patricia Ione Lloyd's Eve's Song and the New York premiere of Hansol Jung's Wild Goose Dreams. Set to begin previews October 21 ahead of a November 7 opening night, Eve's Song has been extended through December 9. Wild Goose Dreams will now play through December 16, with previews beginning October 30 and opening night on November 14.
Directed by Jo Bonney, Eve's Song is "a stunning new drama about the haunting of a black family in America. In the aftermath of a messy divorce and a daughter coming out as queer, Deborah is trying to keep things normal at home. But as black people continue to be killed beyond their four walls, the outside finds its way in, blurring the lines between family dynamics, politics, and the spirit world. How long can family dinners keep the dangers outside at bay?"
The complete cast of Eve's Song features De'Adre Aziza (Deborah), Karl Green (Mark), Ashley D. Kelley (Upendo), Vernice Miller (Spirit Woman), Kadijah Raquel (Lauren), Rachel Watson-Jih (Spirit Woman), and Tamara M. Williams (Spirit Woman).
Leigh Silverman directs Wild Goose Dreams, which is described as follows: "Minsung is a 'goose father,' a South Korean man whose wife and daughter have moved to America for a better life. Deeply lonely, he escapes onto the internet and meets Nanhee, a young defector forced to leave her family behind in North Korea. Amidst the endless noise of the modern world, where likes and shares have taken the place of love and touch, Minsung and Nanhee try their best to be real for each other. But after a lifetime of division and separation, is connection possible?"
Wild Goose Dreams stars Dan Domingues (Chorus), Lulu Fall (Digital Nanhee, Chorus), Kendyl Ito (Heejin, Chorus), Francis Jue (Father), Peter Kim (Guk Minsung), Michelle Krusiec (Yoo Nanhee), Jaygee Macapugay (Wife, Chorus), Joél Pérez (Digital Minsung, Chorus), Jamar Williams (Chorus), and Katrina Yaukey (Chorus).