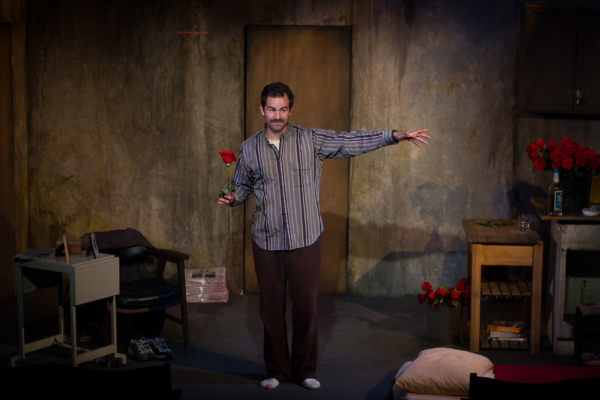 The immigration-reform debate, with its contentious cries of amnesty and deportation, looms large in the American political battlefield now, but rarely, if ever, do the silent masses of the undocumented take part in the discussion. Robert Schneider's 1993 play Dirt, originally written in German under the title Dreck and now running at the 4th Street Theatre, gives an angry yet captivating voice to one of the United States' millions of illegal immigrants. Actor Christopher Domig delivers a stunning performance as a Middle Eastern rose peddler in this 70-minute solo play, which feels as fresh and relevant today as it must have when it was written more than 20 years ago.
Illegal immigrant Sad (Domig), from Basra, lives in an unnamed city in a dilapidated building with his roommate, an Egyptian named Nabil (whom we never meet). As Sad sips gin and trims the stems and thorns from the roses he will later sell on the street, he praises America, its cities, its language, and democracy, and its "beautiful people with the pale skin" who sit on park benches. Sad is also a self-proclaimed liar and a self-loathing cynic. "Lying is a mental thing with us," he says. "It part of our ancestry." As he drinks and talks about his mother, who no longer writes, and the people who look down on him and disparage him daily, he makes a startling declaration about what citizens of this country should do to people like him.
Domig, who has played this role for years, has honed his character to razor-sharp perfection. He imbues Sad with sympathy even when he unleashes howls of execration upon the "park-bench people" who revile him. Director Mary Catherine Burke augments this sense of identification with Sad in the form of direct address with the audience. But after a while, we wonder if that fourth wall isn't really firmly in place — if this isolated man hasn't actually gone mad all alone in his hovel raving to an audience that isn't there. Does Nabil, his roommate, even exist? Domig's Sad seems to walk a fine line between sanity and madness, and between truth and lies. This ambiguity creates a fascinating tension that grows as the play approaches its climax, one in which Domig's performance causes chills.
Paul Dvorak has sensitively and astutely translated Schneider's play into vivid, brutal English. The language feels as raw as Sad's room (designed by Edward K. Ross) with its corroded ceiling and old furniture, which looks like it was found on the street. Dan Jobbins' brilliant lighting intensifies the power of Sad's language and helps make this small production loom large in the imagination after the final blackout. Audiences may not know quite what to think about Sad or people like him after they leave the theater. But if that's the case, they've gotten the message.