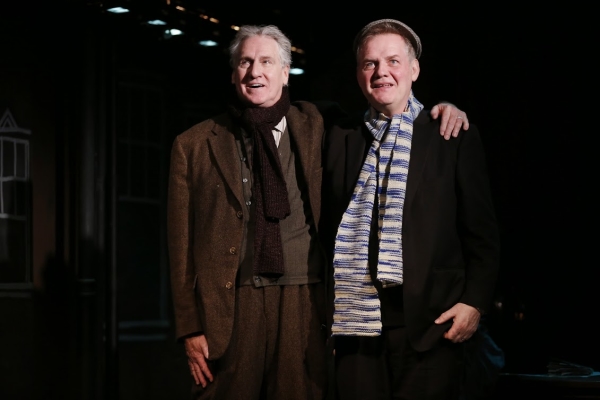 Spectral presences haunt the theatrical denizens of nearly every Irish drama ever written as the mostly hard up, sad-sack characters reflect on lives they could have lived, but for various reasons did not. Hugh Leonard's Da is perhaps the funniest piece of this sort in the canon, a wildly entertaining comedy-drama that won the 1978 Tony Award for Best Play. In a new production by Irish Rep at the DR2 Theatre, the humor and vividness of the text are front and center, even if some crucial acting leaves a bit to be desired.
Set in the late 1960s, Da tells the story of a son haunted by his father, both literally and figuratively. As the play begins, Charlie (Ciarán O'Reilly), a successful London-based writer, has returned to his old Dublin homestead to empty it out following the death of his adoptive father Da (Paul O'Brien). But as Charlie tosses items into the trash bin, he finds his dead old man coming back to life before his very eyes, forcing him to relive his memories of childhood and early adulthood, as well as making him confront his longstanding guilt over not being able to repay his surrogate parents for all they did for him.
Da is a tricky play to get right, one that blends uproarious laughs with quiet sentimentality. While Charlotte Moore's production encounters some slow patches, thanks to expert leading performances in O'Reilly and O'Brien, tonally this Da is near-perfect. O'Reilly finds the humor and pathos as he narrates the tale in a way that alternates between exasperated and humble, while O'Brien is impeccable as the loud, showboating Da.
The remaining adult cast members — Sean Gormley as Charlie's first boss, John Keating as Charlie's childhood pal Oliver, Fiana Toibin as Charlie's mother, and Kristin Griffith as Da's old employer — are faultless. The younger cast members — Adam Peterbridge as Young Charlie and Nicola Murphy as Mary Tate, a young woman with a poor reputation — turn in less noteworthy performances in roles where a lot more is needed to communicate the emotional quality of the writing.
Moore's staging makes excellent use of the tiny DR2, with a large, impressively cramped set by James Morgan that extends beyond the proscenium, appropriately melancholy lighting by Michael Gottlieb, and precise period costumes by Linda Fisher. Sound design by Zachary Williamson renders the material crystal clear, even with the actors utilizing thick Irish dialects.
Most important, the production strikes a chord with anyone who has dealt with issues of family guilt, an all-too-common life occurrence. You'll likely see yourself somewhere on that stage, and Da will hit very close to home.