Check Out Opening Night of Jen Silverman's Collective Rage: A Play in Five Betties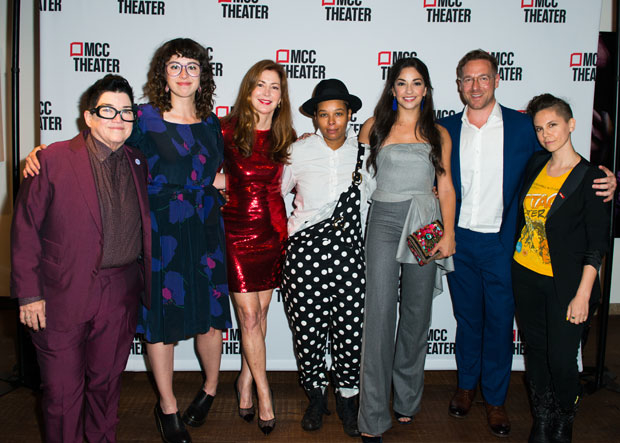 MCC Theater's production of Jen Silverman's Collective Rage: A Play in 5 Betties opened on Wednesday, September 12, at the Lucille Lortel under the direction of Mike Donahue. Recently extended, the play will run through October 7.
The play is described as follows: "Meet five different women named Betty: one rich, one lonely, one charismatic, one lovelorn, and one who keeps working on her truck. Oh, and one has decided to stage a production of that play-within-a-play by…that old English guy, what's his name? Ah, forget it. In Jen Silverman's unpredictable comedy Collective Rage: A Play in 5 Betties, five women collide at the intersection of rage, love, and the 'thea-tah,' provoking each other to take a look in the mirror and face the person they didn't know they could be."
The five Betties are played by two-time Emmy winner Dana Delany, Obie winner Lea DeLaria, Broadway vets Adina Verson and Ana Villafañe, and writer and performer Chaunté Wayans. The production will have scenic design by Dane Laffrey, costume design by Dede Ayite, lighting design by Jen Schriever, sound design by Palmer Hefferan, and projection design by Caite Hevner.
The full title of the play is Collective Rage: A Play in 5 Betties; In Essence, a Queer and Occasionally Hazardous Exploration; Do You Remember When You Were in Middle School and You Read About Shackleton and How He Explored the Antarctic? Imagine the Antarctic as a P*ssy and It's Sort of Like That.