Center Theatre Group Casts a Choir of Local Performers for The Christians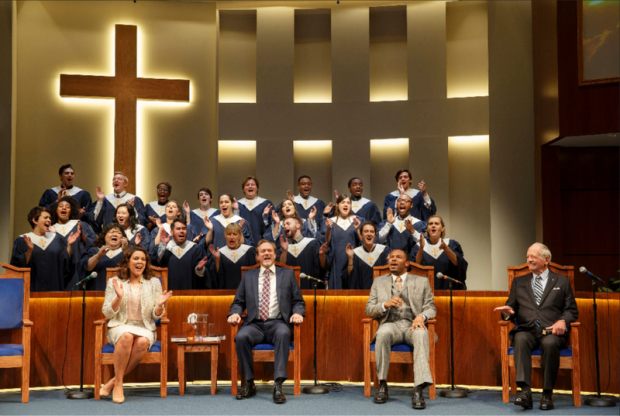 Center Theatre Group has announced that it has selected singers from across the greater Los Angeles area to perform as members of the church choir in the West Coast premiere of The Christians, written by Lucas Hnath and directed by Les Waters. The production, which is presented by CTG and Playwrights Horizons at the Mark Taper Forum, will run from December 2-January 10 with an opening set for December 13.
The Christians is staged as a church service with the live accompaniment of a choir of approximately two dozen singers per night. The singers come from a pool of 50 local vocalists, ranging in age from 20s through 60s, and include established performers with Broadway credits as well as USC students.
Led by music director Scott Anthony (who is also portraying the role of Choir Director), the choir will include Allison Aoun, Dedrick Bonner, Lisa Bode, Adrienne Brown, Gabriela Carrillo, Adante Carter, Kirstin Charney, Molly Chiffer, Isaac Clay, April Colon-Haywood, Maxwel Corpuz, Erin Leigh Crites, Gina D'Acciaro, Celina Dean, Andrew Diego, Zoran Duke, Melinda Ehrlich, Tal Fox, Turner Frankosky, Gabriela Garcia, Simone Longoria Garcia, Randy Guiaya, David Hadinger, Rae Dawn Hadinger, Nancy Hale, Jennifer Haydn-Jones, Jesimiel Jenkins, Jinwoo Jung, Maura M. Knowles, Karen Lew, Kenneth Lopez, Cynthia Marty, D.T. Matias, Shane McGhie, Philip McNiven, Tiffany Moon, Gregory North, Kila Packett, Pjay Phillips, Andrea Press, Christena Rich, Krystle Simmons, Adrian Smith, Chris Spicer, Kimberly Ann Steele, JC Tompkins, Lisa Webb, Jennifer Weiss, Grace Yoo, and Justin Yu.