Bill Irwin Clowns Around With a Serious Writer in On Beckett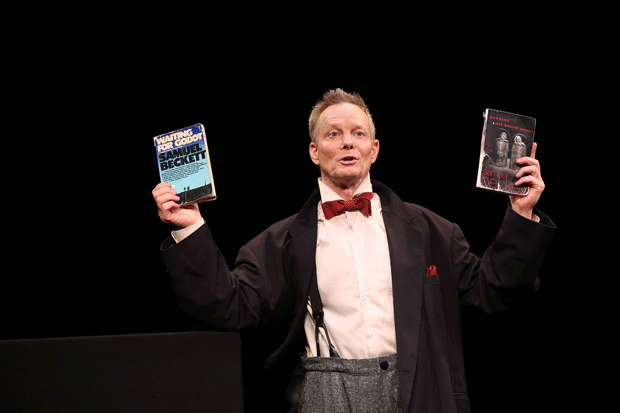 Bill Irwin knows his Samuel Beckett. Not that he claims to be a scholar of the Nobel Prize-winning author of Waiting for Godot (more later on his pronunciation of "Godot"). He does, however, have an intimate familiarity with the writer's language that seems at times to border on the spiritual.
Irwin's take on Beckett's unique style is the subject of his one-man show On Beckett, now running at Irish Repertory Theatre. Irwin has performed in Beckett's plays numerous times, including a 2009 Broadway run as Vladimir in Waiting for Godot opposite Nathan Lane as Estragon. But his knowledge of Beckett's oeuvre ranges widely through the prose works as well, including the short pieces of Texts for Nothing and the novels Watt and The Unnamable.
Brief passages from those three works make up the bulk of Irwin's illuminating 90-minute exploration of the Irish-born writer. To a general reader, Beckett's prose can be disorienting and even off-putting. But Irwin's masterful renditions, which he infuses with vaudevillian shtick and hilarious clowning, make Beckett's words bloom not just with humor but with poignant emotion.
Irwin's method is to perform a passage and then give us his commentary on it, discussing its rhythm and poetry, the Irishness (or non-Irishness) of its speaker, and the metaphysical quandaries it explores. Though at times he wears a mortarboard for comical effect, Irwin is not giving a lecture on Beckett; rather, each piece he recites gives us a deeper appreciation of why these simply worded yet intricately phrased sentences have intertwined themselves with Irwin's being and will not let him go.
As a professional clown (his slapstick variety show Old Hats, costarring fellow clown David Shiner and composer Shaina Taub, most recently ran off-Broadway at Signature Theatre in 2016), Irwin is well-attuned to the humor that rings through these texts, and he accentuates it not just with his comical facial contortions but also with his costumes, which include two pairs of ballooning oversize pants, a huge jacket, wide-toed clown shoes, a Beckettian bowler hat (Martha Hally serves as costume consultant), and a Chaplinesque walking cane.
Another hysterical bit involves a podium behind which Irwin appears to rise and descend, a scene made even funnier by M. Florian Staab's spot-on sound design. More somber effects are achieved with Michael Gottlieb's provocative lighting, which makes Irwin's eyes appear sunken as he delivers the stirring words of the inscrutable speaker of The Unnamable.
The work that many in the audience are probably most familiar with, however, is Waiting for Godot, about which Irwin has much to say. As an actor who has performed in the play more than half a dozen times, Irwin's insights are invaluable. His explanation of Lucky's enigmatic Act 1 monologue will enlighten those who in the past considered it nothing but gibberish. And as for how he pronounces the name Godot (with the accent on the first or second syllable) — he has spoken it both ways in his career. To find out how he pronounces it now, however, you'll have to see the show.
Beckett's unending inquiry into the awareness of one's whereness, with all the potentially terrifying existential questions that such an investigation can raise, has never seemed more approachable than in Irwin's thought-provoking one-man show. (To call it a solo show would be inaccurate given the charming performance of young actor Finn O'Sullivan, who plays the Boy during the Waiting for Godot segment.) For students of Beckett and lovers of theater, Irwin's On Beckett is a master class on and by a master. It shouldn't be missed.