Be More Chill Is Broadway's Newest Sci-Fi Musical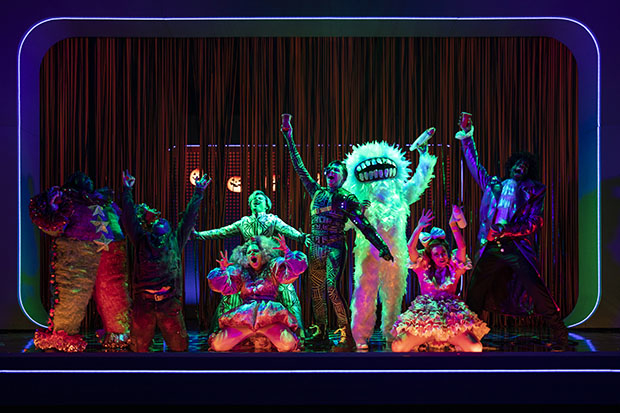 Youthful energy radiates from the Lyceum Theatre. That's where composer Joe Iconis and book writer Joe Tracz are making their Broadway debuts with the highly anticipated musical Be More Chill. Everything about the show feels new, exciting, and alive — electrified by an army of young fans who have already streamed the 2015 cast album over 250 million times. Like Little Shop of Horrors before it, Be More Chill is that rarest of wonders: a successful sci-fi musical. Its combination of humor, social commentary, catchy music, and spectacular staging is everything a Broadway musical should be.
At its heart is a classic story: Jeremy (Will Roland) is a high school loser desperate to win the affection of drama nerd Christine (Stephanie Hsu), but she is more interested in popular guy Jake (Britton Smith). Jeremy's best friend, Michael (George Salazar), insists that guys like them will be considered cool in college, but Jeremy can't wait that long. On the advice of his tormentor (Gerard Canonico), he decides to ingest a "squip," a tiny Japanese supercomputer (embodied by the effortlessly cool Jason Tam) that advises him on the optimal behavior for every social interaction. But as Jeremy begins to attract the attention of popular girls like Brooke (Lauren Marcus) and Chloe (Kaitlyn Carlson) while shunning the stalwart Michael, we wonder who is in control: Jeremy or the Squip?
Leading a cast of 10 mega-talented performers, Roland's Jeremy is reminiscent of a wilted house plant that miraculously surges back to life. His thirst for affection and desperation to find a place in the light are so palpable, they are likely to trigger suppressed feelings of teenage angst in many audience members.
Anyone who claims not to remember those feeling is, of course, lying — mostly to themselves. The insecurities one accumulates in adolescence linger into adulthood, where they find Faustian salves in professional advancement, cosmetic surgery, and "likes" on social media. Be More Chill tackles that human hunger for affirmation with consistent wit and insight. Teenagers may have been the first to discover Be More Chill, but this is a musical that any adult can appreciate.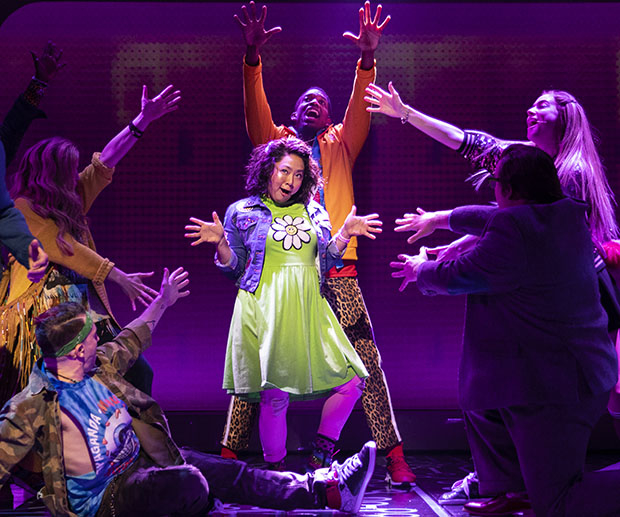 I fell in love with the show when it played last summer off-Broadway, and I have been listening to the cast recording while running on the treadmill ever since. Iconis delivers a supercharged pop-rock score, with lyrics as restlessly energetic as the music. Director Stephen Brackett translates the accelerated pulse of the score into his staging, which offers little slack over the course of two hours and 20 minutes. Chase Brock's aerobic choreography incorporates contemporary street dance into classic Broadway showmanship, resulting in some of the most exciting production numbers since Michael Bennett ("Halloween" might just be the "Turkey Lurkey Time" of our age). Charlie Rosen's brassy orchestrations similarly hark back to vintage Broadway. The hilarious book ties it all together: Since the off-Broadway run, Tracz has tightened the exposition while also sharpening the trajectories of the supporting characters.
The performers make the show fly: Hsu is charmingly weird, making us understand why Jeremy likes Christine. As Michael, Salazar exudes a social angst that is tempered by the knowledge that high school isn't forever. His emotional rendition of "Michael in the Bathroom" is one of the great moments of the Broadway stage. A performer who would be equally at home at La Scala and Las Vegas, Tiffany Mann slays as school gossip Jenna Rolan. And Jason SweetTooth Williams is hysterical in a succession of roles, most notably as Jeremy's pantless father.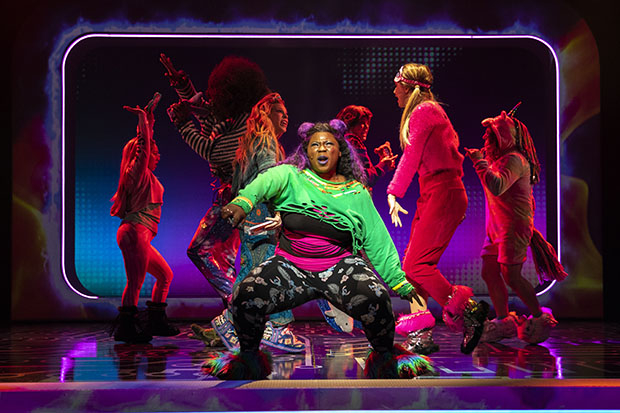 Excellent design undergirds these performances: Beowulf Boritt's set of sliding screens focuses our eyes while providing for the expedient movement of set pieces and performers. It also serves as a constant reminder of the glass portals through which these characters (and increasingly, all Americans) socialize. Boritt collaborates closely with projection designer Alex Basco Koch to create the digital world of the Squip, visualizing how it slowly takes over everything. Bobby Frederick Tilley II conveys the evolution of the Squip with increasingly elaborate costumes, which Tam wears like he's on a runway. Tilley's other outrageous costumes, Tyler Micoleau's spooky lighting, and Ryan Rumery's hair-raising sound all contribute to a carnival atmosphere, making this the craziest party on Broadway.
Be More Chill is the best kind of science-fiction in that it draws a direct line from the way we actually live to the fantastic world it imagines. It's sure to have an extraordinary life on Broadway and beyond. If the Tony gods are fair, this will be the show to beat in 2019.