American Idol's Ruben Studdard and Clay Aiken Bring Holiday Cheers to Broadway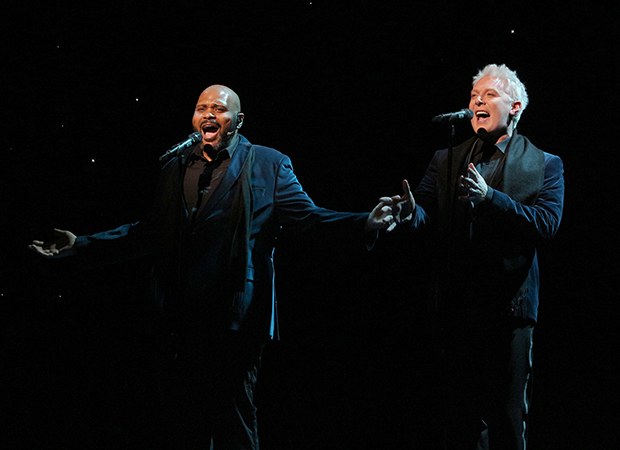 Ruben Studdard, winner of American Idol season 2, is going to save Frank Loesser's embattled, Oscar-winning seasonal song "Baby, It's Cold Outside" from the ash heap.
Studdard is currently making his Broadway debut opposite longtime television "adversary" Clay Aiken in a new Christmas concert at the Imperial Theatre. The long-winded title is Ruben and Clay's First Annual Christmas Carol Family Fun Pageant Spectacular Reunion Show, and it's created by the makers of last season's Home for the Holidays, a concert that often felt more like a war on Christmas than a celebration of it. The glad-tidings on display in this marginally better production more enjoyable than not, and surprisingly moving, too — especially when Studdard and ensemble member Farah Alvin debut a new, humorous take on "Baby, It's Cold Outside."
The set-up is as follows: Studdard and Aiken, winner and runner-up (they never let us forget that), have buried the hatchet and come together to host a Christmas season variety special akin to the ones they watched growing up. What it amounts to is an evening of skits and scenes, with as many secular and spiritual Christmas songs as we could want, performed by two artists who won the hearts of 40 million people 15 years ago.
Thankfully, time has not withered their voices, and their personal performance styles complement each other onstage. Studdard is less of an actor and not really a showman — he's a no-bells-or-whistles, stand-and-deliver kind of performer with a velvet baritone — while Aiken's flair for the theatrical is enough to make up for a lower register that needs a little strengthening. They do well by upbeat duets like "It's Beginning to Look a Lot Like Christmas," and have a pretty funny "can you top this"-style mashup of "Silent Night," "Hark the Herald," and "O Come All Ye Faithful" to open the show.
Aiken excels on carols like "The First Noel," while Studdard unleashes a beautifully emotional rendering of "My Grownup Christmas List," dedicated to the memory of his older brother, who passed away in May. A five-member ensemble provides strong backup, and each person has a chance to wail.
In the year since he created Home for the Holidays, director and producer Jonathan Tessero hasn't learned anything about dramatic structure, and there is an astounding amount of padding within this show's inexplicable two-plus hour duration. (Why, oh why, is there an intermission?) Similarly, the transitions are sloppy, the design is cartoonish, and the script, penned by ensemble member Ken Arpino and Jesse Joyce, is painfully unfunny. "Everything should be cheesy at Christmastime," Ruben says, almost as an apology, while giving a knowing glance to the audience. It seems like he even knows what does and doesn't work.
And then there's "Baby, It's Cold Outside," a 1950 song now being banned from radio stations because of objections to the un-PC tone of its lyrics. Studdard, alongside charismatic singer Farah Alvin, sets out to sing his version, which "makes a woman feel respected." Off they go:
Farah:
My mother will start to worry

Ruben: She should

Farah: My father will be pacing the floor

Ruben: Text him now

Farah: So really I'd better scurry

Ruben: Yes, be more in a hurry

Farah: But maybe just a half a drink more

Ruben: How about a chamomile tea?
The entire company, not to mention the audience, is clearly smitten by these genuinely comical lyrics. Why isn't the entire show like that?