A Well-Fed Curse of the Starving Class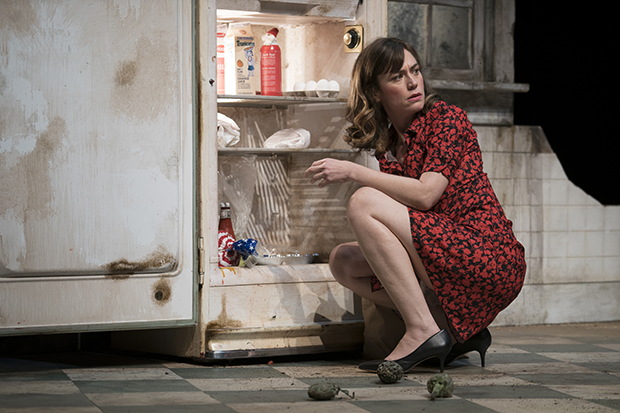 Signature Theatre performs a vital service to the New York theater: The writer-centric company takes old plays from well-established playwrights and gives them the kind of first-class productions they never enjoyed in their austere original runs in tiny basement black boxes — or in the case of Sam Shepard's Curse of the Starving Class, at the roomy Newman Theater at the Public circa 1978. This expenditure often leads to revelatory productions (like Suzan-Lori Parks's Red Letter Plays in 2017). But it can also result in a design that outpaces, and even undermines, its script. Such is the case with this luxurious revival of Curse of the Starving Class.
The richness of the stagecraft in director Terry Kinney's production feels obscene when one considers the story, about an American family on the brink of destitution. Weston Tate (a jagged David Warshofsky) is allegedly the man of the house, but he only seems to come home to sleep off a hangover. The duties of the family farm have fallen on his son, Wesley (Gilles Geary). His sister, Emma (Lizzy Declement), just wants to escape. Their mom, Ella (Maggie Siff), has concocted a plan with the shifty lawyer, Taylor (Andrew Rothenberg), to sell the house and take the kids to Europe. Little does she know, Weston has agreed to a similar sale to settle his debts with bar owner Ellis (a lusty Esau Pritchett, spurs clanking against the linoleum). Everyone is hungry, but no one seems to be interested in keeping the farm — except for Wesley.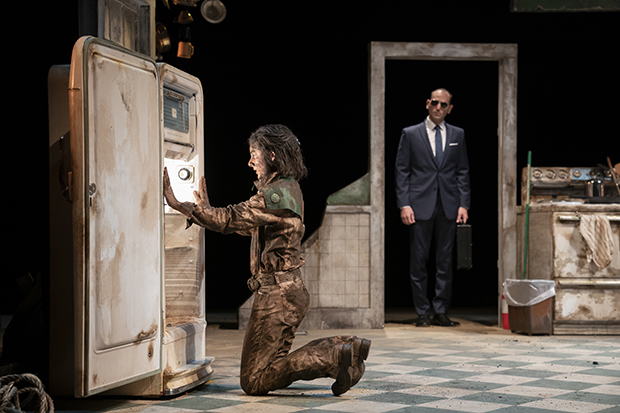 All of this takes place in a typically Shepardian kitchen, with peeling paint and faded checkered floors. Shepard specifically describes in his stage directions, "a working refrigerator and a small gas stove, set right up next to each other." In set designer Julian Crouch's lavish rendering, that stove is a double-wide and it really works (we can smell the sizzling bacon). It is separated from the chronically empty fridge by a vast expanse. Certainly, it is fine for designers and directors of a revival to deviate from the original stage directions, but these expensive-looking alterations are to the detriment of the script: Even the grease-caked walls make the set look more like a high-concept Airbnb than an actual crummy kitchen, especially under the beautiful moonlight created by designer Natasha Katz. Sarah J. Holden's costumes complement the color scheme almost too perfectly; and for people without much food, the Tates seem to have an awful lot of dirty dishes hanging over the sink.
Unfortunately, Kinney's production amounts to extravagant working-class Kabuki: gorgeously stylized beyond all human recognition. A seismic opening scenic effect is breathtaking, but does little for the remaining two hours and 30 minutes of the play beyond providing the kind of installation-art backdrop one might encounter at Park Avenue Armory. Sure, Shepard never wrote his plays to be strictly naturalistic, but this play about poor people shouldn't feel like it was art directed for Vogue.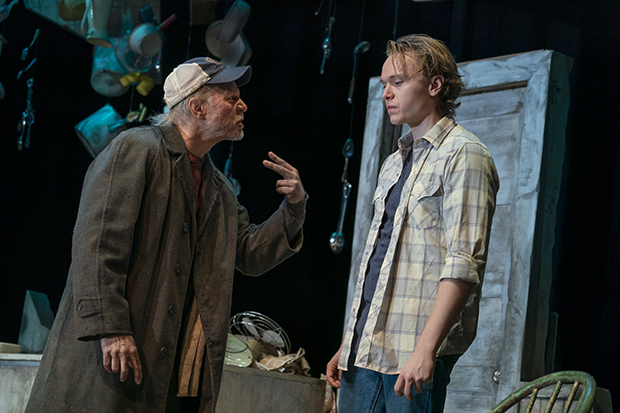 The performances vary: Rather than the imaginative young woman Emma is written to be, Declement plays her like a tiresome sitcom kid sister, milking the audience for laughs that rarely arrive. Perhaps picking up on her live-studio-audience acting, the audience does respond with a uniform "awww," when Geary walks onstage with a real baby lamb (the clear scene-stealer of the cast).
Geary is more successful at portraying Wesley's awful bind: Prematurely bitter, his dry western restraint masks a secret terror that just barely reveals itself when his father is near. He slightly recoils from him without looking too fearful, perhaps knowing that any display of emotion will make things worse. Of everyone in this house, he's the only one who seems to be truly starving.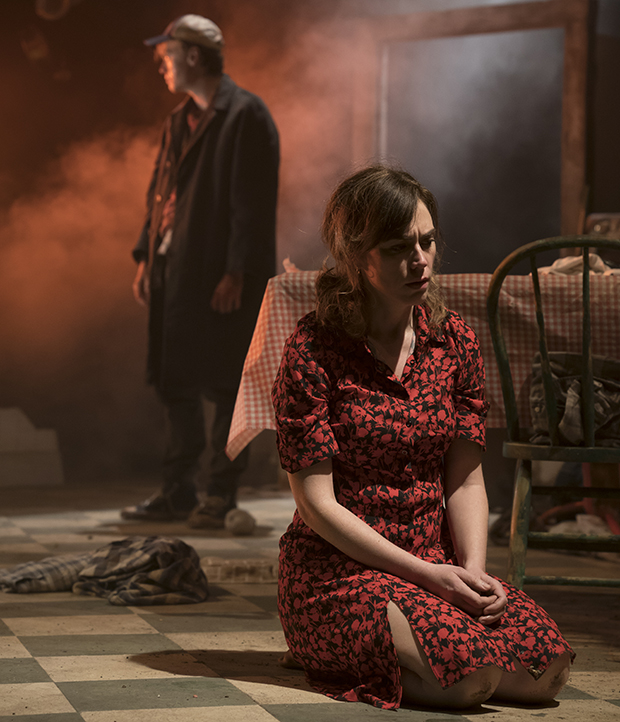 The "curse" of the title is visited on the Tate family, but it is also issued by them. Shepard makes that explicit with a heavy-handed allegory recited by Wesley and Ella: They describe a cat feeding on scraps left by an eagle, only to have the eagle swoop down and pick up the cat as his next meal. As they lift into the sky, the cat tears into the eagle's chest, with neither animal able to free itself from this flight of mutually assured destruction. That sounds like the relationship between scavenger capitalists and an increasingly feral American working-class, perhaps even more today than it did in 1978. Curse of the Starving Class is still brutally perceptive in its dreamlike depiction of American society, but it's hard to see that through the self-defeating opulence of this revival.