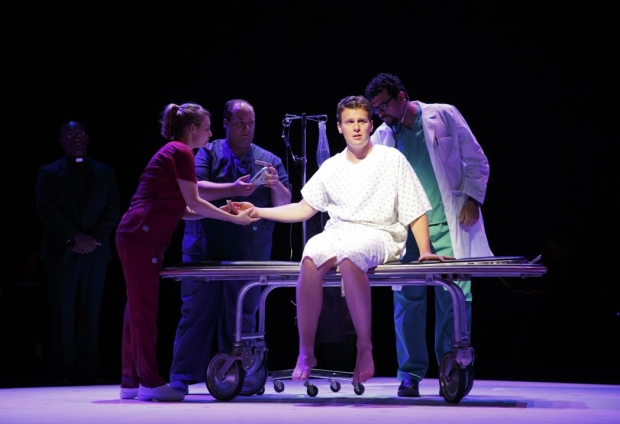 Three weeks after winning a pair of Tonys for the musical Falsettos, William Finn collapsed crossing 45th Street in New York. The diagnosis proved grim: Finn had a burst arteriovenous malformation (AVM); that is, a tangle of several vital blood vessels in his brain had erupted. Little did he know that this life-or-death experience would go on to inspire one of his most poignant musicals, A New Brain.
Written with frequent collaborator James Lapine, A New Brain premiered off-Broadway at Lincoln Center Theater in 1998 where it ran for 78 performances and featured a cast that included Malcolm Gets, Kristin Chenoweth, and Mary Testa. The musical is now receiving its first major New York revival as the opener of New York City Center's 2015 Encores! Off-Center season.
Leading the company in Lapine's profoundly moving production is Jonathan Groff as Finn stand-in Gordon Michael Schwinn, the middling composer of a children's television show. Mid-composition, Gordon collapses and is rushed to the hospital, where he is diagnosed with an AVM. His overbearing mother, Mimi (Ana Gasteyer), hurries to his bedside; his partner, Roger (Aaron Lazar), would prefer to be on his boat. As Gordon is taken in for a craniotomy, he must face head-on his fear of never having made his mark on the world, while being taunted by the hallucinatory image of his employer, the anthropomorphic frog man Mr. Bungee (Dan Fogler).
The show has shades of All That Jazz and Rent, and even foreshadows the central crisis at the heart of Hamilton. As a man about to run out of time right as he's on the cusp of something brilliant, Groff offers his finest, most stirring work to date. More important, his singing is heavy with feeling, particularly in the two-part grand finale, "Time" and "I Feel So Much Spring."
The real star of the show, though, is Gasteyer, making a musical-theater return so powerful, it leaves us wondering why this retired Saturday Night Live player and former Wicked witch Elphaba doesn't appear onstage more. Funny and heartbreaking, brimming with matriarchal warmth, Gasteyer brings down the house with her gut-wrenching eleven-o'clock number, "The Music Plays On." In her hands, this ode to every mother's greatest fear scarily resonates with everyone, parents and children. Her simple, straightforward delivery reduces the entire audience to muffled sobs as though they, too, are in her position.
The remaining roles are astonishingly well cast. The hunky, silk-voiced Lazar is a beautiful fit for performing what is perhaps Finn's single greatest song, "I'd Rather Be Sailing," while Fogler, who won a Tony for Finn and Lapine's Spelling Bee and hasn't been seen on Broadway since, makes a more than welcome return to the New York stage. Josh Lamon nearly steals the show as a randy male nurse, while Alyse Alan Louis, Jenni Barber, Rema Webb, Bradley Dean, and Quentin Earl Darrington make strong acting impressions in ancillary roles. This ensemble also adds a dazzling texture to the score (Jason Robert Brown provides vocal arrangements that seem tailor-made for each performer).
With A New Brain, Lapine proves once again how good he is at directing his own material, sending us on a dizzying voyage through the valley of the shadow of death that's as dark as it is lighthearted. Utilizing a bare stage augmented by drops provided by scenic designer Donyale Werle, Lapine presents a master class in how a simple change in design can irrevocably alter the mood of the text. Mark Barton's lighting starts off sunny (brilliant rays of sun can be seen on the back wall as the show begins), becoming progressively gloomier as Gordon deteriorates. Clint Ramos' costumes also take a sharp turn over the course of the production's 100 minutes, beginning as casual street clothes and ending up genuinely frightening in the discordant number "Brain Dead" (for which choreographer Josh Prince supplies perfectly unsettling, zombielike choreography).
Finn's bewitching score sounds as good as ever, and Lapine, who coauthored the book (with Finn), shapes the material into a cohesive whole. Ultimately, this production proves that A New Brain is one big affirmation of life, and a reminder that every day we have on this planet is a gift.