A Funny Thing Happened on the Way to the Gynecologic Oncology Unit…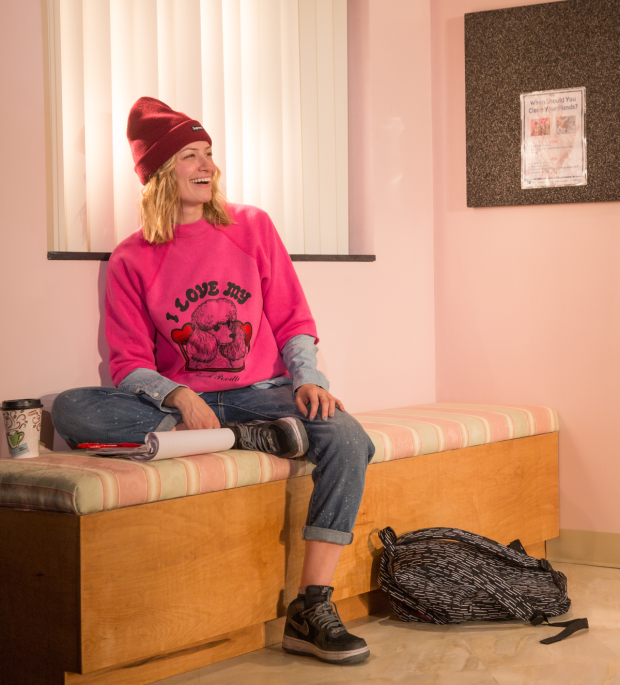 The title barely fits on the marquee. In a tweet, it takes up all but 15 characters. And the first 10 minutes of the show itself are filled with multiple rape jokes. Halley Feiffer's A Funny Thing Happened on the Way to the Gynecologic Oncology Unit at Memorial Sloan-Kettering Cancer Center of New York City is raunchy and fearless, bound to delight some audience members with its audacious mix of crude humor and deep feeling, while displeasing others for the same reasons.
Let's be clear: This isn't a David Mamet knockoff, where wildly off-color remarks are delivered by a bunch of callous people who disdain polite society. As Feiffer's other works with equally loquacious titles prove, her stock in trade as a playwright is in finding the humor in the brutality of human life. Here, that humor just so happens to be in a hospital room, where two very different individuals find themselves kindred spirits as their mothers convalesce.
On one side of the room sits Karla (Beth Behrs), a foulmouthed twentysomething standup comedian whose mother, Marcie (Lisa Emery), is recovering from a hysterectomy after a diagnosis of stage I endometrial cancer. On the other side of the curtain is Don (Erik Lochtefeld), a disheveled middle-aged man in sweatpants whose comatose mother, Geena (Jacqueline Sydney), is slowly succumbing to a seven-year battle with ovarian cancer.
To pass the time as her mother sleeps, Karla starts to workshop new jokes involving vibrators and sexual assault. This angers Don, who feels it's neither the time nor place to be making light of such violent acts, especially as their mothers struggle with their health. A screaming match naturally ensues. But as they quickly discover, the pair has a lot more in common than meets the eye. Getting to know each other and working out their issues of loneliness, Karla and Don form a bond that gives them the strength to look their greatest fear in the eye.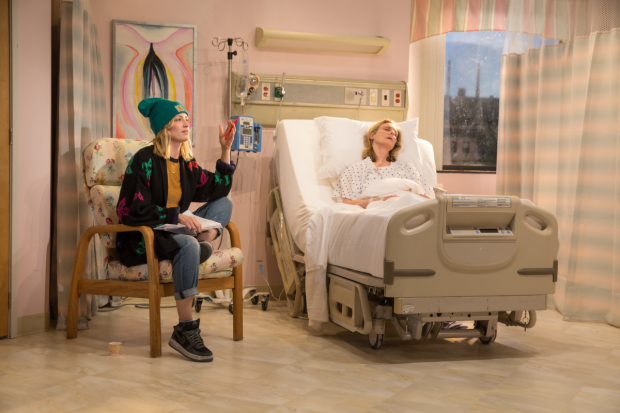 Under Trip Cullman's perceptive direction at the Lucille Lortel Theatre, Feiffer's funny and moving script is presented with a beautifully recognizable naturalism. Lauren Helpern's slice-of-life set captures the dusty yet still antiseptic nature of hospital rooms, with faded pink walls and a decent view of the city skyline. Matthew Richards' lighting evokes daylight coming through the windows, while Darron L. West creates a vivid hospital soundscape of beeping machines and incessant PA announcements. Best of all are Kaye Voyce's costumes, which beautifully encapsulate the personalities of the characters. The disheveled Don shows up in ratty sweatpants, giving us the sense that he no longer cares about what he looks like, while Karla arrives in hipster-chic jeans and beanie. We know who they are from the second the lights rise.
Karla is a multifaceted role, with an extreme outer bravado that masks a fragile inner self. Behrs, the theater-trained star of CBS' Two Broke Girls, is the perfect choice for the part, making a tremendously assured off-Broadway debut. She completely understands her character, playing the vulgarity to the hilt while still finding impressive ways to introduce Karla's hidden wounds. Her body language, as she gets stung by Marcie's sharp zingers (which Emery delivers with calculated precision), is simply heartbreaking.
Lochtefeld is her even match, delivering a performance shaded with the element of detachment that comes with watching an immediate family member lose a battle with a deadly illness. Together, they make a delightfully odd couple of unlikely allies.
In her past plays, Feiffer impressed with her ability to surprise even the most experienced audience members. While there are certain moments of that here, the weakest aspect of the script is its predictability, and our ability to see the play's outcome almost from the start. Still, her distinct voice is on fine display throughout, in all its uniquely unsettling glory. A Funny Thing… manages to take the least funny thing possible and uncover dark laughter along the way.