A Black Actor Gets Her Hollywood Breakthrough in By the Way, Meet Vera Stark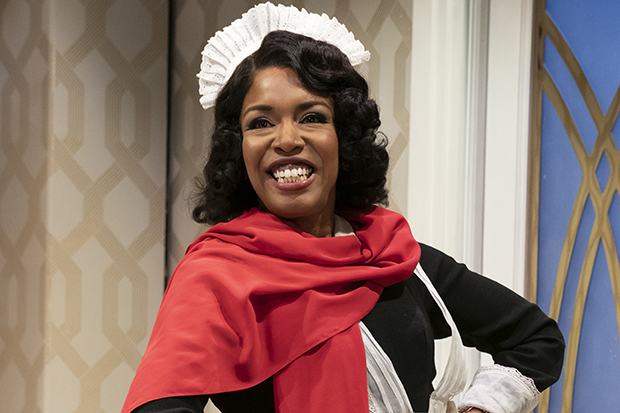 You may be tempted to bail after the sluggish first act of Lynn Nottage's By the Way, Meet Vera Stark, now receiving an adequate revival at Signature Theatre — but you shouldn't. The second act is the best part. It's where we truly meet the actor Vera Stark (played by Jessica Frances Dukes with a grandness that also comes into fruition in the second half). She's almost an entirely different character from the spunky maid and aspiring movie star we encountered in the first act, and we wonder what happened to her.
The Hollywood machine that feeds on black actors is an uncommon subject for comedy, but Nottage is an uncommon writer. Best known for white-knuckle dramas like Ruined and Sweat, Nottage is also adept with comedy, as was recently demonstrated in the Signature revival of her stealthy rom-com Fabulation, or The Re-education of Undine. This latest revival follows hot on the heels of that more hilarious one (and not so long after the 2011 world premiere of Vera Stark). If the goal is to reintroduce New York audiences to Nottage's comedic voice, the venture has been partially successful.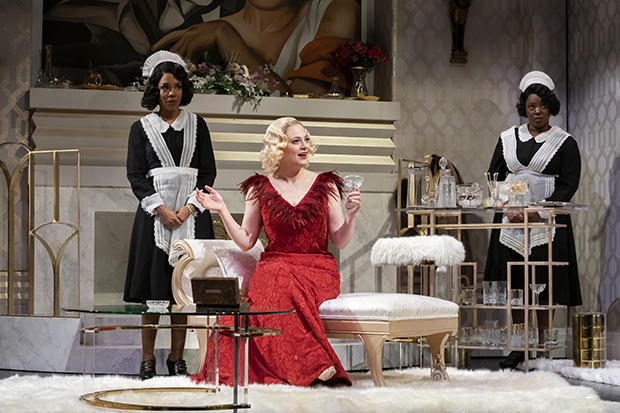 Vera Stark opens in 1933. Vera is rehearsing a scene between a tragic Southern belle and her maid with movie star Gloria Mitchell (Jenni Barber), not as her costar, but as her actual maid. But the role of Tilly the maid in The Belle of New Orleans has not yet been cast, and Vera figures she has a shot. While serving drinks at Gloria's swanky pad, she and her roommate Lottie (a scene-stealing Heather Alicia Simms) attempt to impress director Maximilian Von Oster (Manoel Felciano) and studio head Mr. Slasvick (David Turner) with their Mississippi delta authenticity by hunching over and humming spirituals.
The fact that Lottie has previously portrayed Juliet on the Chicago stage is no barrier to this new act: It's the Depression and she needs the work. Their third roommate, the light-skinned Anna Mae (Carra Patterson), tries a different tactic, posing as an exotic Brazilian singer. The flirtatious Leroy Barksdale (Warner Miller) is a composer and jazz musician, but for now he's working as Von Oster's chauffeur. Vera asks him, "How come in Los Angeles, nobody actually does what they do?"
Like in Fabulation, Nottage exposes the dysfunctional relationship between aspiration and identity in America, where who you are is often a barrier to who you want to be — and where "passing" is a luxury that most people snatch up if given the chance. As a black woman who can pass for nothing else, Vera is relegated to playing the maid — but she intends to make a big splash with this bit part.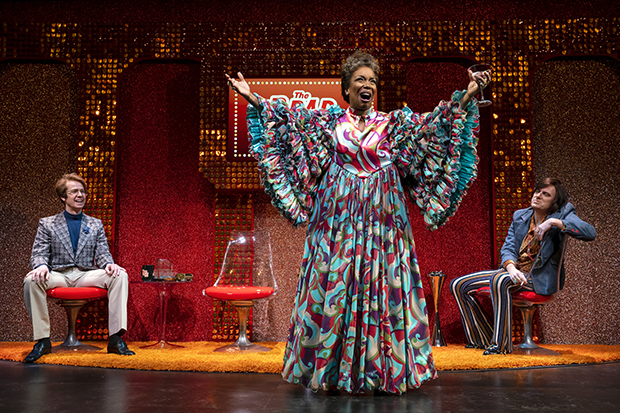 In the second act, Nottage flashes forward to 2003 to show how she did: Academics Afua Assata Ejobo (Patterson) and Carmen Levy-Green (Simms) have temporarily restrained their mutual antipathy to appear in the colloquium "Rediscovering Vera Stark, the Legacy of The Belle of New Orleans" (Simms and Patterson's dueling side-eye is the most thrilling stage combat currently in New York). They discuss Vera's contribution to cinema while debating what happened to her, using as a jumping-off point her final television interview: a 1973 appearance on The Brad Donovan Show to promote her Vegas act, a whimpering final scene in a long show-business career. Dukes performs this scene live, enacting one of the most striking character transformations I've ever witnessed: An elderly Vera enters the gaudy talk show set clutching a martini, dressed like a carnival float, and warbling a dejected rendition of "Fly Me to the Moon." Clinically dissecting this interview, the academics agree that Vera was an exceptionally talented performer, even if they find the roles she took "problematic."
Miller's performance as the panel's haughty moderator, Herb Forrester, is the broadest of the three, but also the most revealing: During a moment of frustration, he drops his extravagant mid-Atlantic dialect and lapses into something rougher, before catching himself and scurrying back to the safety of his stuffy diction. He may look down on Vera for portraying maids and mammies, but Herb is playing a role too.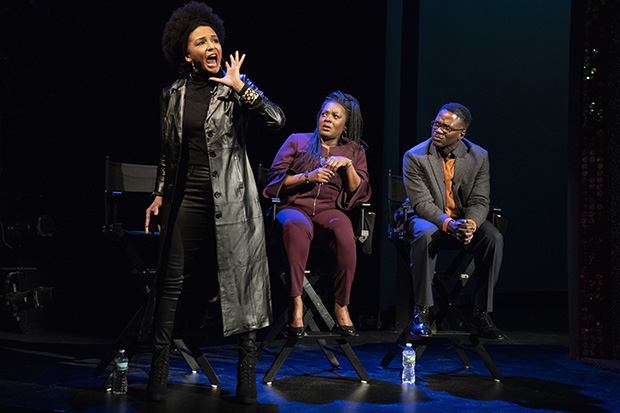 By the Way, Meet Vera Stark is at its best when such subtly honest humor bubbles to the surface, but the comedy is usually more ponderous. This has more to do with the material than it does with Kamilah Forbes's competent direction, which marshals a fine production from a flawed script. Clint Ramos handsomely decorates the set, getting all of the details right so we always know what era we're in. Dede M. Ayite does similarly impressive work with her authentic period costumes. Mia Neal's excellent wig design, a timeline of black hair over the previous century, completes the look. A sizable crew (led by producer Caroline Onikute) came together to film scenes from The Belle of New Orleans, which Katherine Freer shares with the audience through her well-integrated projections.
The result is a thoughtful tribute to the black actresses of a bygone era, women like Hattie McDaniel, Lillian Randolph, and Theresa Harris. They aren't remembered enough, and when they are, it is too often with cringing embarrassment. By the Way, Meet Vera Stark makes the case that they deserve more than just a passing introduction.