Radio City Christmas Spectacular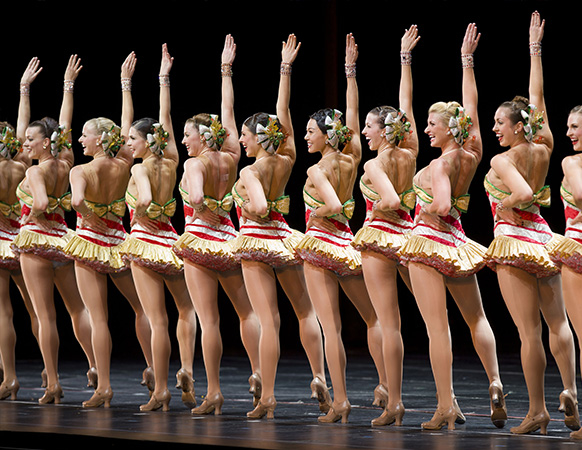 Camels and kicklines are displayed to their usual dazzling effect in the latest edition of the Radio City Christmas Spectacular, directed by Julie Branam. High-kicking off the New York holiday season, the annual event, as always, offers a combination of polish and nostalgia that keeps the show one of Manhattan's most treasured traditions.
Like the comforting predictability of your go-to Christmas movie, all of the Spectacular's usual suspects are soothingly in their proper place. Continuing a tradition over 80 years in the making, the rosy-cheeked Rockettes in the "Parade of the Wooden Soldiers" faithfully perform their gravity-resistant slow collapse, while the "Living Nativity" closes out the program in its one-and-only nonsecular vignette. As acts from the original 1933 show, both have become institutions in their own right, inducing thunderous applause from audience members who feel as if they have become part of the New York ritual by witnessing the historic sequences.
The live zoo paraded across the stage doesn't hurt audience morale, either — particularly for younger members who often engage their parents in high-speed chases down the aisles in hot pursuit of some petting action. The show has also gotten a 21st-century facelift with a 3D tour of Manhattan via sleigh ride and a collection of GPS-guided snowflakes that float freely over the crowd (note for drone enthusiasts: Radio City Music Hall is apparently condoned airspace).
Santa Claus himself (played by a perfectly heartwarming Charles Edward Hall) is tasked with tying together the song-and-dance numbers as our jolly emcee (featuring a forgivably sugary book by Mark Waldrop). After introducing us to the striking Rockettes, who continue to boast their notorious precision in a dance rendition of "The Twelve Days of Christmas," he jumps into the production as a character in the show's brief foray into plot.
A story of two young brothers, Ben and Patrick (played by the charming BJ Covington and Brett Gray during my performance), who meet Santa while Christmas-shopping for their sister, replaces the mother-daughter narrative that has held this slot for the past several years. The classic Rockette number "Rag Doll" returns to the Spectacular as a detour during the boys' search for the perfect gift — a welcome substitute for the 3D-video-game sequence of years past that attempted to appeal to Radio City's tech-savvy audiences.
There's certainly no want of stimulation during this well-oiled machine of a performance, so even its most antsy patrons should be able to find plenty to occupy their senses for the whole slick and satisfying 90 minutes.