Three Towering Performances in Three Tall Women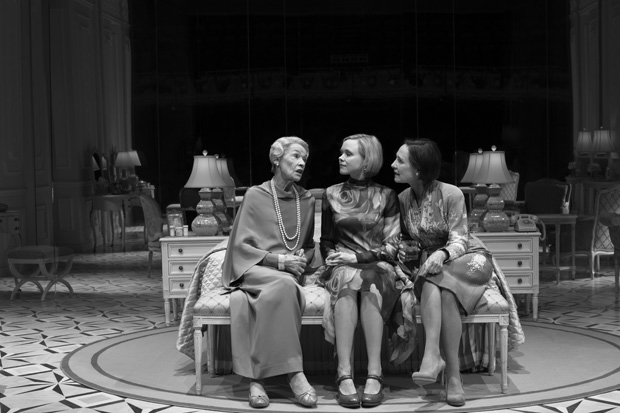 A Holy Trinity of stage actresses reigns in the Broadway debut of Three Tall Women, Edward Albee's dramatic exorcism of the memory of his estranged mother. The trio in question is Glenda Jackson, Laurie Metcalf, and Alison Pill playing, respectively, characters named A, B, and C. I can think of few finer performances than the ones currently on offer at the Golden Theatre, where Joe Mantello has directed a superb revival of an extraordinary play.
Critics recognized Three Tall Women as such when it first appeared. It won the 1994 Pulitzer Prize after making its off-Broadway debut at the Vineyard Theatre (having premiered at Vienna's English Theatre three years earlier). Some have hailed it as the late playwright's best work, surpassing his perennially popular Who's Afraid of Virginia Woolf? and his early hit, The Zoo Story. Certainly, Three Tall Women is Albee's most human play, breaking through the thick exoskeleton of cynicism in which he usually encases his drama.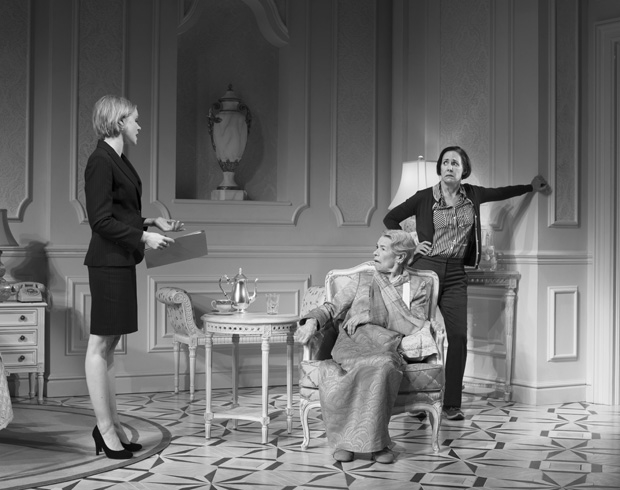 That's not immediately apparent when the play opens on a richly appointed bedroom inhabited by A (Jackson), a wealthy widow nearing death. B (Metcalf) is a home aid and C (Pill) is a representative from A's attorney, on the trail of some documents that A has neglected to sign. Convinced that everyone is out to swindle her yet regularly losing her train of thought, A oscillates between rebuking C and sharing memories of her past, most of which are peppered with the kind of casual racism one rarely challenges in people of her age and condition — because why bother?
At least, that's the attitude B has chosen to adopt. Metcalf plays her with Zen-like acquiescence, gulping down coffee as she listens intently to a story she's likely heard five times a day, every day, for God knows how long. Metcalf's eyes say everything, and a shrug of her shoulders has the power to instantly put 800 audience members in stitches. When A confronts her about leaving her in the bathroom where she might fall down and die, B coolly responds, "If you fell I'd either hear you or you'd raise a racket, and if you died what would it matter?" Both A and B laugh heartily at this.
As played by Pill, C is more uptight: She clutches the coffee pot for dear life as A lets slip yet another racial epithet. With unflappable dignity and barely suppressed disgust, Pill conveys C's confident exceptionalism: She knows that she will never be like these two older women.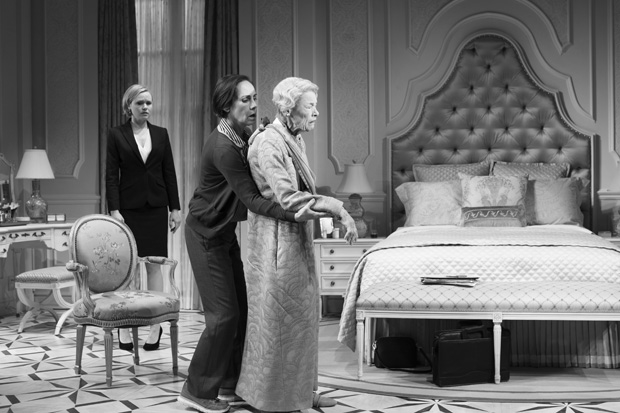 Jackson's A not only seems of another generation, but an entirely different world. She wears a permanent glower under a wave of gray hair, looking and sounding like a sour Roosevelt cousin. Her singsongy WASP diction occasionally breaks into imperious rage, suggesting the remainder of a once formidable presence (Jackson herself had a long career in Parliament). At times, she seems to address her own body as if it were an insubordinate servant, powerfully telling the story of a rich woman whose money cannot overcome corporeal reality.
We travel through the looking glass for the second act as B and C play A in earlier stages of her life. If that algebra seems confusing, know that it comes off with divine clarity in Mantello's mystic staging. We intuitively understand Jackson, Metcalf, and Pill to be of the same being, simultaneously distinct and the same. Some of that comes with Ann Roth's mauve and pink costumes, which bind the women in feminine opulence and pearls. Miriam Beuther's disorienting set also establishes the logic of the second act, with the three women downstage as A's son (Joseph Medeiros) appears behind an upstage glass wall in a mirrored reproduction of the room. Beuther's set is fascinating and unsettling, allowing us to experience the magic of Albee's play without fully comprehending it. The design is enhanced by Paul Gallo's soft lighting, which bathes everything in semi-lucid incandescence.
Albee takes a turn toward the didactic in the latter half, with each of the three women delivering long confessional monologues explaining how our protagonist evolved from C to B to A. Yet it never loses momentum, thanks to the three performers, all of whom endow their speeches with personality, humor, and grace. Detractors may contend that their idiosyncratic stage presences make it difficult to believe these three could really be playing the same woman, but those differences are the production's greatest strength. We all play many roles in one lifetime, inexorably changed by compromise and conflict along the way. With Three Tall Women, Albee elegantly asserts that even his hated mother contained multitudes.