Final Bow: 6 Hedwigs — One "Angry Inch": The Band at the Belasco Tells All
At the Belasco Theatre, Justin Craig, Matt Duncan, Tim Mislock, and Peter Yanowitz are the Angry Inch — backup band to the show's transgender rock star, which has been played by the likes of Neil Patrick Harris, Andrew Rannells, Michael C. Hall, John Cameron Mitchell, Darren Criss, and last but not least, Taye Diggs. But after hitting it off on the Broadway stage, the group made "Tits of Clay" their new musical identity, tipping their hat to their stage roots with a nom de plume inspired by a Hedwig song lyric.
The Angry Inch may be packing up their gear after their final performance at the Belasco on Sunday, September 13, but Tits of Clay will be immediately heading down to Brooklyn that night for a sold-out show at Rough Trade. It will certainly be a welcome change of pace to step center stage, out of the sequined diva's shadow, but over the past year and a half, as a fly on Broadway's raunchiest wall, they have come out the other side ready to share their stockpile of juicy stories.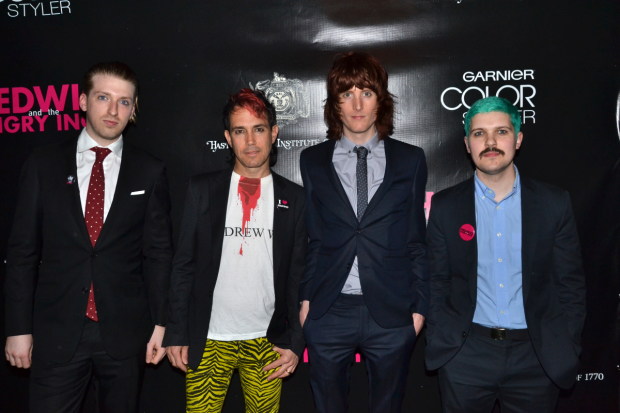 1. What is your favorite line that you deliver (or favorite line that you don't deliver)?
Justin Craig: I have one line in the show, and it's simply to say my name (Skszp) in an effort to get Ms. Hedwig to pronounce it correctly. It never goes well.
Matt Duncan: That's a really tough one. It's changed a lot over time. From the script…"Absolute power corrupts. Absolutely!"
But my favorite ad-lib was one of Michael C. Hall's, which is interesting, since he was one of the least ad-libby Hedwigs. After licking an audience member's glasses during "Sugar Daddy," he said, "I CAN TASTE EVERYTHING YOU'VE EVER SEEN!"
And the word "disasturbating."
Tim Mislock: Doing the secret voice of Luther in "Sugar Daddy" has been a treat but a line that still makes me laugh after all these shows and rehearsals is, "No, he ran away with that bag boy he met on ChristianMingle.com or whatever we called it back then…Church."
2. Everyone loves inside jokes. What is the best one from your show?

Matt: Hmm. We had a lot of fun thinking of other words to sing during the chorus of "Exquisite Corpse," such as "fromage."
Tim: My favorite is from Andrew's run when there was a small child in the audience and he turned to her and said, "F*cking people — am I right little girl?" That turned into a catchphrase backstage for a little while with the band.
3. Every show experiences technical difficulties. What was the worst technical difficulty experienced during your show and how was it handled?

Tim: One show with Darren, the car began to spin as it was lifting to the heavens… It did two full rotations 780 degrees and Carlos and Rob, part of our awesome Belasco crew, ran out and rotated it back and set everything straight. The show didn't stop, though, we just kept playing Tommy [Gnosis]'s "Wicked [Little Town]" but I'm sure the audience could feel the fear resonating from the stage.
Matt: But my favorite technical difficulty was the time that Peter's "ButtKicker" went haywire. It's a device that attaches to his stool, and vibrates every time he hits his kick drum or I play my bass, so that he feels the bass as well as hearing it. During one show, it randomly started shaking the whole stage. I looked over at him and he just shrugged. Strong glutes on that one.
4. What was the most "interesting" present someone gave you at the stage door?
Justin: I don't know about most interesting, but I did get a Gibson Firebird in cookie form. That was kinda great.
Matt: For my birthday this year, some super fans gave me a basketful of candy and snacks that exactly matched the color of my hair. Turns out it's officially cotton-candy flavored.
Tim: Someone dressed up as my character. [That] was the best present.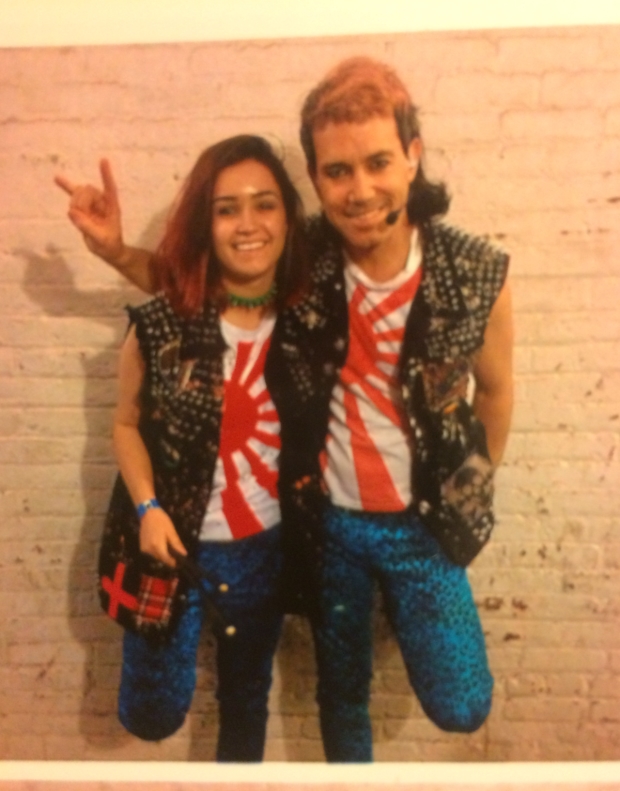 Peter Yanowitz: A cute young girl came to the stage door dressed to the nines exactly as my character, Schlatko. She was adorable and I gave her a pair of my signed sticks and we had photos taken.
5. Who is the coolest person who came to see your show? (You can't say family!)
Justin: Did Richard Hell actually come? I can't remember if that really happened… Probably Katy Perry.
Tim: Oh man, we have had so many amazing people come through the show, but meeting Joan Rivers is always first and foremost in my mind.
Matt Duncan: It was enjoyably surreal to meet Mike Tyson and a somewhat inebriated Heidi Klum.
Peter: Mike Tyson was really rad. He loved the show and was so sweet in his high voice. I gave him a hug.
6. Describe each of Broadway's Hedwigs in a word or phrase.
Justin:

Neil Patrick Harris — superhuman

Andrew Rannells — lovable

Michael C. Hall — heartbreaking

John Cameron Mitchell — familiar

Darren Criss — rock star

Taye Diggs — hilarious
Matt:

Neil — intense

Andrew — F*CK

Michael — dotty

John — chaos

Darren — exuberance

Taye — stand-up
Tim:

Neil — next-level showmanship

Andrew — raw but sweet

Michael — depth and heart

John — crate

Darren — rock 'n' roll

Taye — funny and fierce
Peter:

Neal — the sitcom Hedwig

Andrew — the Hollywood glamour Hedwig

Michael — the sweetest Hedwig

John — the real-deal Hedwig

Taye — the smooth Hedwig
7. What's the most outrageous thing a Hedwig has ever done during a performance?

Justin: John Cameron Mitchell climbing over the audience about 20 rows back with a torn meniscus, and then crowd surfing back to the stage during "Angry Inch" on the last night of his run.
Tim: Well, every night somebody got the carwash (face-humped) and kissed. My favorites were when the carwash person was asleep and would wake up to Hedwig straddling their seat and gyrating at their face.
8. Of all of the Hedwig lyrics you could have chosen, how did Tits of Clay become your band name?

Justin: I don't recall exactly how that happened, but I do know that we decided on that name in our very first rehearsal as a band.
Matt: I remember the conversation, vaguely. I think it was suggested as a particularly terrible Hedwig-related band name, and then we all shrugged and said sure…
Tim: At the first band rehearsal in October of 2014, we wanted to pick something that was a nod to the show and like the show punk rock… It was one of the first ideas shouted out and it just fit. Better that than the Wig Boxes or Exquisite Corpses.
9. What's the biggest difference between the Angry Inch and Tits of Clay?

Justin: Our outfits.
Matt: Dictatorship vs. democracy.
Peter: Angry Inch backs Hedwig. Tits backs anyone and their mother.
10. While Hedwig and Yitzhak take center stage every night, how do you keep things interesting for yourselves?

Justin: There are all kinds of fun things happening onstage. Lots of funny eye contact with each other. We have these microphones that feed directly to our in-ear monitors so we can make jokes to each other, etc. I've never really had to make an effort to keep things interesting, though. The show is a blast and different every time we do it.
Matt: As far as the outward performance goes, I do a lot of reacting. I disapprove of bad jokes and hateful comments directed at Yitz, and acknowledge an occasional strong point. Secretly I hum harmonies along with the more exposed bits of singing.
Peter: I always people-watch in the audience…Take the show in through their eyes.
Tim: Subtle glances to stage management or band members and if all else fails, head-bang harder and scream louder.