The Black Clown Proves That Out Of Sadness Comes Defiance and Determination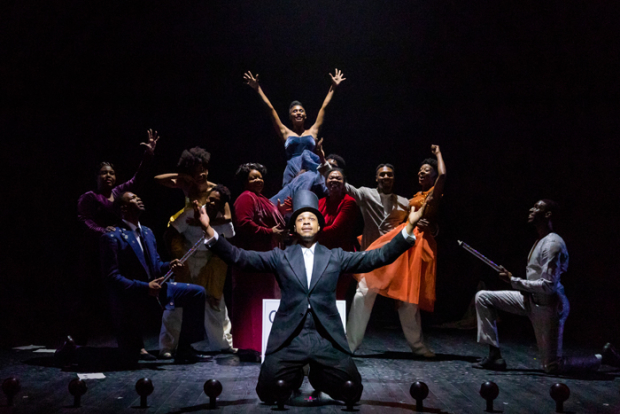 It is in Langston Hughes's own introduction to his 1931 poem "The Black Clown" where he writes that the work should be spoken "to the music of a piano, or an orchestra." Even so, it seems unlikely that Hughes could have predicted a brand-new theatrical imagining of his poem, The Black Clown, would appear almost a century later onstage at Cambridge's American Repertory Theater.
Adapted by Davóne Tines and Michael Schachter (Schachter also wrote the music), this 70-minute part-vaudeville act, part-opera, part-dance piece is a vital work that premieres at an essential time in history. Hughes's poem is written in two columns: on the left, "the mood," and on the right, "the poem." It begins with the line "You laugh because I'm poor and black and funny — not the same as you," and traces the history, injustice, and oppression of African-Americans from slavery to emancipation, segregation to the present day.
Tines takes on the title role of the Black Clown, and he is electrifying with his rich, smooth bass-baritone. One of the marvels of his performance is that he seems to be watching us just as much as we are watching him, never fully escaping behind — or barging through — the fourth wall. But one scene takes a wrecking ball to that fourth wall as a funeral procession makes its way off the stage and into the house. While a desperately moving version of "Sometimes I Feel Like a Motherless Child" is sung, the pain is no longer something the audience is observing from a comfortable distance, but right in front of them, unable to be ignored. The 12-person ensemble doesn't leave an emotional stone unturned. Whether they are mourning or dancing, they are collectively what give The Black Clown its indefatigable soul.
The music throughout the show is charged with emotion. It's used as a tool that horrifies and stings as much as it entertains, and weaves together a history that starts with work songs and moves through blues, gospel, and jazz. The whole of this enigmatic work is brought to life by Chanel DaSilva's thrilling choreography and Zack Winokur's direction. Visually, The Black Clown looks like it is ready for a spread in Vogue Magazine, thanks in no small part to the scenic and costume designs of Carlos Soto and the striking lighting design of John Torres.
The Black Clown is a hopeful, defiant, and provocative extravaganza that, as the A.R.T. does so consistently well, pushes the boundaries of what theater can be and what it can make us feel. It is an essential work of artistic bravery and truth that manages to both stop the heart and send it flying, hovering somewhere between the depths of humanity and the heights of old-fashioned theatricality.