Broadway Couple Mario Cantone and Jerry Dixon to Star in Cynthia Nixon-Directed Steve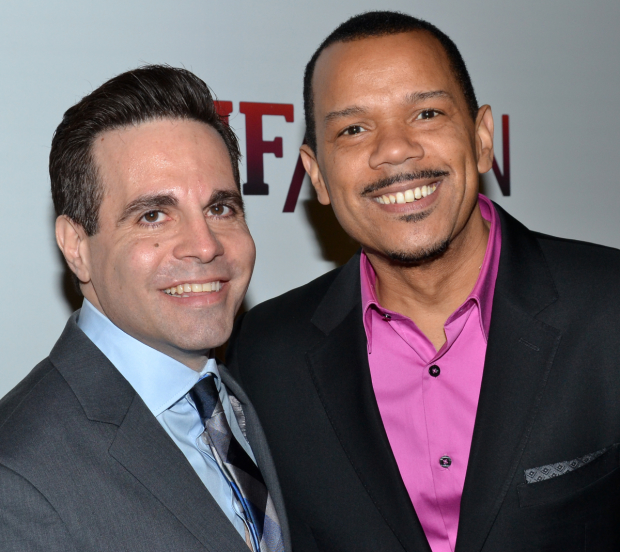 Broadway couple Mario Cantone and Jerry Dixon will star in the New Group's upcoming production of Mark Gerrard's Steve, to be directed by Emmy and Tony winner Cynthia Nixon. The production will open this November (dates to be announced) in the The Romulus Linney Courtyard Theatre at the Pershing Square Signature Center.
Steve follows a failed-Broadway-chorus-boy-turned-stay-at-home dad who finds himself filled with fear and uncertainty as he celebrates another birthday. Cantone (Sex and the City) and Dixon (If/Then) will be joined by Malcolm Gets (A New Brain), with other cast members still to be announced.
The New Group's season will also include a revival of Sam Shepard's Pulitzer Prize-winning Buried Child, starring Ed Harris and Amy Madigan, with Artistic Director Scott Elliott at the helm. Performances begin in February 2016.
Additionally, The New Group will present Philip Ridley's Mercury Fur, under Elliott's direction, beginning August 5 in the Linney Courtyard Theatre. Featuring Jack DiFalco, Bradley Fong, Paul Iacono, Peter Mark Kendall, Emily Cass McDonnell, Sea McHale, Zane Pais, and Tony Revolori, the drama follows a pair of teenage brothers preparing for a dystopian nightmare of a party where rich clientele act out their darkest, most sinister fantasies in abandoned apartment buildings.
The design team for Mercury Fur includes Derek McLane (scenic design), Susan Hilferty (costume design), Jeff Croiter (lighting design) and M.L. Dogg (sound design).
For tickets to Mercury Fur, click here.
Dates and ticketing information for Steve will be announced at a later date.