Women Fight to Be Believed in Mother of the Maid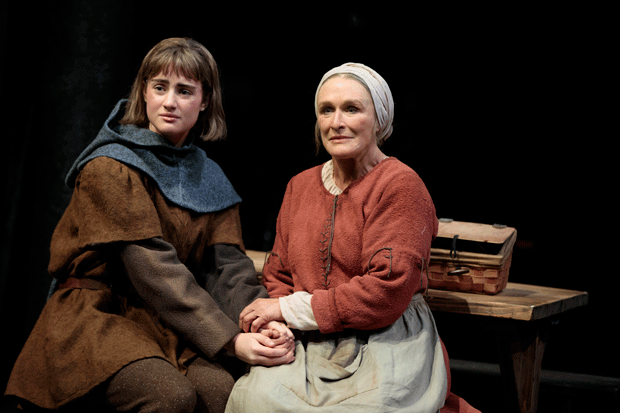 Revealing the end of Jane Anderson's Mother of the Maid isn't a spoiler: Teenager Joan of Arc will meet her tragic fate at the hands of politicians and religious men who occupy seats of power in the medieval patriarchy. It's a story that the stage has told countless times, most recently on Broadway this past spring in a revival of Bernard Shaw's Saint Joan. But the fact that we know the end doesn't detract one iota from Anderson's thoughtful, thought-provoking, and timely play, now running at the Public Theater. Led by Glenn Close in a stellar performance as Joan of Arc's mother, Isabelle, Mother of the Maid now resonates more profoundly than it did at its world premiere three years ago in the Berkshires.
The familiar facts of Joan's life provide the play's framework, but here we see them through Isabelle's eyes. The year is around 1425, and the late-afternoon sun is peeking into the humble, dimly lit abode of the Arcs. Isabelle has seen Joan (Grace Van Patten) spending time alone on the hillside and suspects that her daughter has boys on her mind. But no — Joan claims she's been seeing visions and talking with Saint Catherine, who, Joan says, wants her to lead the French army to victory against the marauding English.
Isabelle, a devout Catholic, has no problem believing the part about the visions, but a girl going to war? Unthinkable. In her view, a woman has two respectable options: become a wife or join a convent. Joan's father, Jacques (Dermot Crowley), is so against his daughter enlisting in the army that he's willing to use force to hold her back, but Joan won't be restrained. A good word from Father Gilbert (Daniel Pearce) convinces Isabelle that Joan is, in fact, doing God's work.
John Lee Beatty has devised an impressive rotating set that transforms the scene from the dingy digs of the Arcs to the opulent royal court where Joan and her brother Pierre (Andrew Hovelson) are treated like celebrities. Isabelle walks 300 miles to see her daughter and is greeted by an aristocratic lady (Kate Jennings Grant), who treats Isabelle to a foot bath as they compare parenting styles of the rich and poor. Jane Greenwood's lushly colored costumes beautifully illustrate the luxurious world that Joan's fame has made available to her family. But the good times don't last. After Joan is imprisoned by the English (Beatty's dank-looking jail cell and Lap Chi Chu's grim lighting capture Joan's dramatic fall), the teenager is burned at the stake for heresy, among other trumped-up charges. Isabelle later tells us that she will spend the rest of her days fighting to clear Joan's name.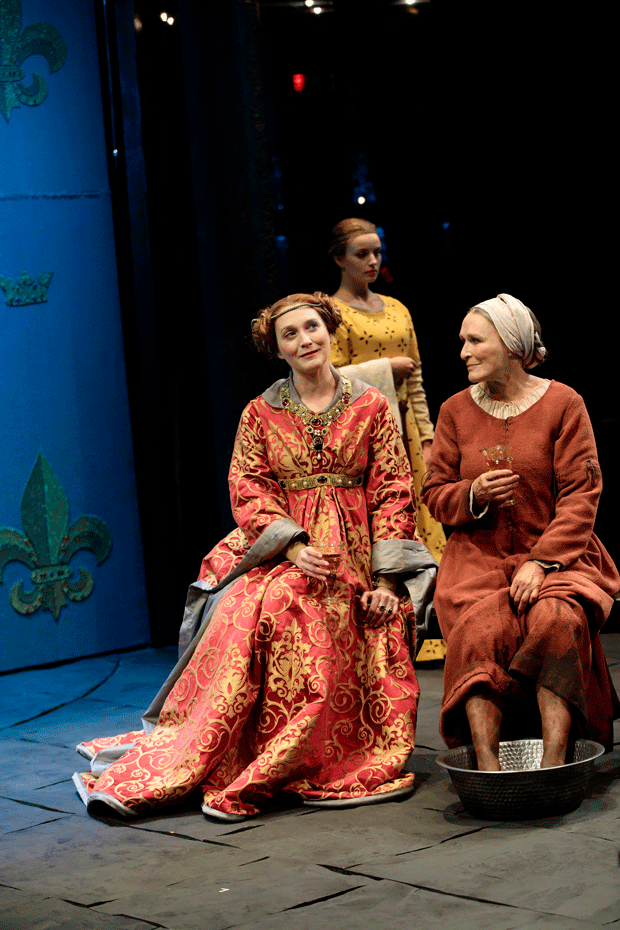 Matthew Penn confidently directs the play's dozen or so scenes with vigor and grace, aided by Anderson's smart revisions to the script, which she has tightened and polished to a high gloss. Gone is the Saint Catherine character who editorialized the action in the 2015 production at Shakespeare & Company; now, Isabelle narrates her own story, giving the play an intimacy that draws us closer to her experience as a strong mother who has endured much.
Top-notch acting also keeps the production consistently engaging. Close's layered performance holds us rapt in her tense, emotionally charged scenes opposite Van Patten, who plays the strong-willed Joan with iron-backed resolve as well as with moving pathos in the jail scene. Close also has winning chemistry with Crowley as Joan's skeptical father; their occasional run-ins are comical slices of married life. Jennings Grant plays the privileged lady of the court with the well-meaning cluelessness of the upper class, while Hovelson portrays Pierre as a high-life-loving sidekick who's happy take a back seat to his celebrity sister while the good times roll.
Though this production satisfies as entertaining theater, it also challenges us in subtle ways. When I attended Mother of the Maid three years ago, I saw it as a play that addressed the challenges of raising a headstrong teen who revolts against a parent's beliefs. Now, a year after #MeToo became a social touchstone, Mother of the Maid feels prophetic, serving as an urgent reminder of male-dominated institutions that still seek to discredit women and their defenders when the stories they tell do not serve those institutions. It is almost 600 years since Joan was put on trial, forced to recant her beliefs, and then executed, but in that time, have our attitudes toward women's bodies and their experiences really changed as much as we'd like to believe? It would seem not.