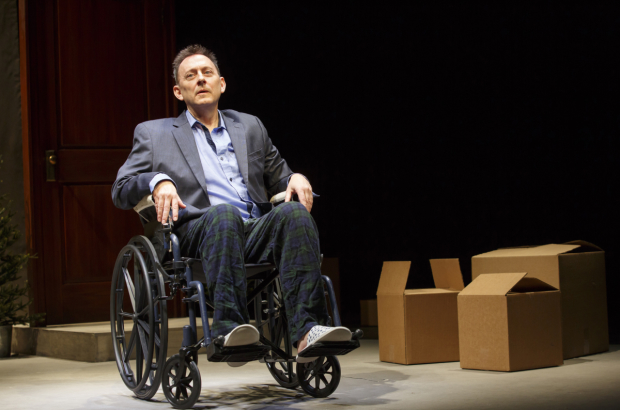 Only Will Eno could find the playfulness in a dying man's end-of-life ruminations. The irreverent title, Wakey, Wakey, says it all — ever-so-slightly mocking the heft of the somber event, yet simultaneously accentuating its lilting poetry. The piece completes Eno's five-year, three-play residency at Signature Theatre, and does so not so much with a bang, but with a wink and a knowing smile that patrons willing to listen intently will receive with warmhearted joy.
The shape of a traditional plot continues to have no place in the world of Will Eno, whose absurdist comedy The Realistic Joneses (his 2014 Broadway debut) left many audiences dazed and confused. In lieu of angry characters screaming at each other over glasses of fake wine, he opts for clever wordplay and quiet musings that somehow still make the shape of a beginning, middle, and end. In Wakey, Wakey (which Eno also directs), this takes the form of a nameless "Guy" (a spectacularly controlled performance by two-time Emmy winner Michael Emerson) delivering a soft-spoken stream of consciousness about life and death from a wheelchair. His thoughts seem to wander every which way — from a siren he hears in the distance to impromptu word-jumble quizzes — but when you take a closer look, they're as focused as a laser beam.
It takes a while to determine the precise circumstances of Guy's self-eulogizing presentation. He delivers it from a nondescript room, surrounded by semipacked cardboard boxes — a design by Christine Jones that has the fitting implications of some sort of nebulous transition. We never truly get all the details, but eventually gather that Emerson's character is nearing his end and is compelled to share his thoughts on time, gratitude, and the simple pleasures of animal YouTube videos. Coupled with a click-controlled slide-show presentation, the scene feels akin to Randy Pausch's famous "Last Lecture" — and in a way it is. Wakey, Wakey is inspired in part by the late James Houghton, Signature's founding artistic director and one of Eno's good friends and mentors. If Emerson is not playing Houghton, per se, he is certainly channeling his spirit and perhaps some of the wisdom he left behind with Singature's family of artists.
Much of this wisdom is imparted directly to the late-entering character of Lisa, played by January LaVoy, who brings with her a soothing presence. Perhaps a nurse, perhaps a social worker, perhaps even our protagonist's angel of death — Lisa becomes the one responsible for remembering Guy once he is gone, just as she remembers her departed Uncle Albert. "You knew where he stood on things," says Lisa about her uncle — a striking mirror of Eno's own comments about Houghton in an interview: "He lived with such clarity and integrity and directness, and so you always knew where he stood."
Knowledge about Houghton's relationship with Eno is not a prerequisite for absorbing the thoughts it inspired the playwright to put into words, but it certainly adds a level of personal poignancy to play that does little in the way of developing relationships between characters. Even after Lisa enters the picture (giving Guy someone other than the audience to talk to), Eno's dialogue remains stilted and aloof. It serves the play's purposes — and could not be given a more naturalistic performance than the one Emerson is delivering. But if you require peaks and valleys of drama to keep you engaged in a story, you may get sleepy within Wakey, Wakey's microscopic modulations and extended silences.
These silences, however, are the moments sound designer Nevin Steinberg's almost imperceptible work is on its finest display. His nearly inaudible sound effects are indistinguishable from muffled street noises, and Emerson's reactions to them make you similarly question the line between script and ad lib. What better tone to strike within a play about the boundary between life and death, past and present, existence and nonexistence. The Signature Center's Griffin Theatre becomes a place to strike down all such boundaries and just enjoy the free-flowing communal space that is the theater.