Two Strangers Collide and Intertwine in Heisenberg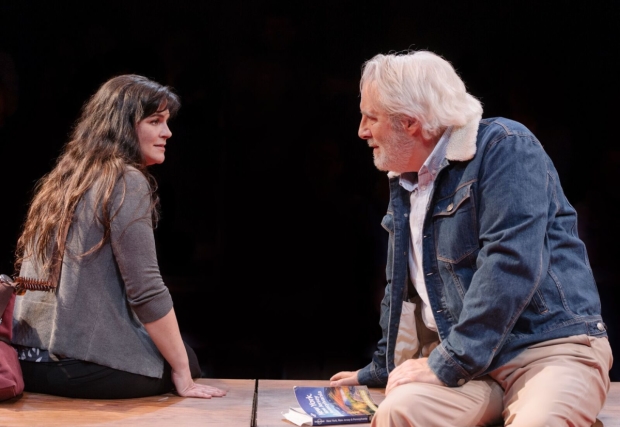 An older man and a younger woman have a chance encounter that changes and complicates both their lives in Signature Theatre's Heisenberg. In the regional premiere of this play by Simon Stephens (The Curious Incident of the Dog in the Night-Time), Joe Calarco directs a taut, funny dance between an unlikely pair of lovers. The production starts at a pace that feels a bit frenetic and strictly humorous, but quickly finds its footing to become a deeper, more realistic tale of two people negotiating an uncertain but deep connection.
When Georgie (Rachel Zampelli), a middle-aged boisterous American woman, plants a kiss on the neck of Alex (Michael Russotto), a reserved elderly man she's never met before, they begin a courtship that feels equal parts hilarious, stilted, and inevitable. Georgie pursues Alex in a way that feels as if she's wearing him down, but he eventually seems taken in by her never-ending, candid conversation and her joie de vivre. Alex leads a simple, lonely life in London as the owner of a declining butcher shop. He has no romantic, familial, or friendly ties either. Georgie also has a loneliness she hides within emotional and professional chaos. Their romantic connection is undeniable, but the real draw is the secrets they choose to keep or reveal.
Zampelli is initially hilarious, though a bit too much of a caricature, as the whirling dervish that is Georgie. She's so busy getting all of her lines out that she unfortunately races through the jokes. Thankfully, by the time we get to Georgie and Alex's first date, Zampelli slows down to a pace that feels funny but more real and grounded. During this transition she plays Georgie as more unhinged, but still incredibly captivating. It's easy to see how Alex could be so taken with her. Russotto is sweet and warm as Alex. He plays the calm, slightly befuddled straight man to Zampelli's frenetic Georgie well. But where he really shines is when he falls for Georgie's charms. Zampelli and Russotto bring an element of surprise to their romantic chemistry. It's truly fun to see them build a playful sexiness and sensual intimacy with their characters that balances nicely with their comedic dance.
Director Calarco does an excellent job of keeping up an energetic pace in this tight 90-minute show while also leaving room for Alex and Georgie to build a connection that feels real. The show is staged in the more intimate ARK Theatre with the audience surrounding the small square of the stage. The downside of the staging is that there are moments where certain sides of the audience miss out on wonderful facial expressions and character reactions, which is unfortunate. However, the benefit to the set-up of the space is that it feels like a dizzying sort of boxing ring with Alex and Georgie as sparing partners. Pamela Weiner's seemingly simple scenic design of movable and interchangeable black boxes provides a great way for Alex and Georgie to convey their emotions between scenes, as they move elements of the set. The way they show a sexual excitement as they work together to turn a bar table into a bed is particularly inventive and fun, as is seeing them express anger when they turn the same bed into unconnected benches.
While the title of the play, Heisenberg refers to the Heisenberg Uncertainty Principle, this play is not about the lack of absolutes for understanding particles in quantum mechanics; it's about truly understanding another person. This idea of romantic entanglement as a leap of faith, where one can know some things about a partner while being left in the dark by others, is explored so well between both Alex and Georgie and how the audience views the work itself.
Heisenberg may be rooted in the unknowns of other people, but the charm in watching Alex and Georgie come together makes for an absolute and enjoyable night of theater.