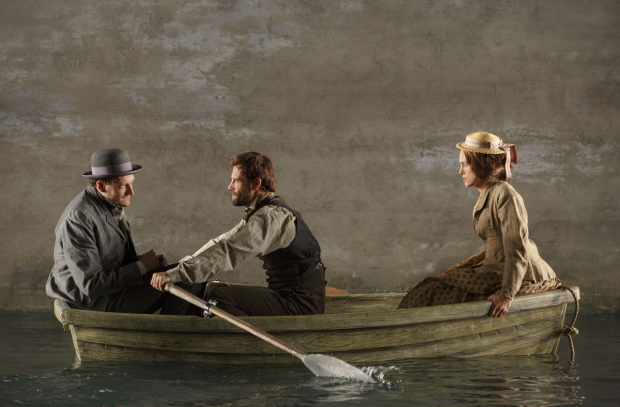 Keira Knightley is best known for her starring roles in period films like Pride & Prejudice and Anna Karenina, so it seems like a perfect fit that she would make her Broadway debut in Helen Edmundson's excellent new adaptation of Émile Zola's 1867 breakthrough novel, Thérèse Raquin (now making its world premiere with Roundabout Theatre Company at Studio 54). In truth, this production might remind audiences more of Knightley's role in the 2003 Christmas movie, Love Actually. In that film, she plays the beautiful Juliet: married to Peter, but the object of affection of his best friend, Mark. After Mark offers one memorably grand gesture of love, sensible Brit Juliet chooses to stay with Peter and Mark politely drops it. Everyone in Thérèse Raquin is French, however, and by no means sensible. This is the story a complete surrender to passion.
In fact, the novel so thoroughly scandalized French society that Zola felt compelled to author a defense of his work in the preface to the second edition. "I am charmed to observe that my brother journalists possess the sensitive nerves of young girls," he wrote in response to the critics who called Thérèse Raquin immoral and "a mass of filth." Zola, the father of literary naturalism, contended that morality was not his concern in penning the novel's graphic descriptions of violence and decomposing flesh. Rather, he writes, "I had but one desire: given a powerful man and an unsated woman, seek the animal within them…cast them into a violent drama, and scrupulously note the acts and sensations of these beings." Director Evan Cabnet's brutal and earthy production certainly captures the heart of Zola's vision, furthered still by compellingly raw performances. This Thérèse Raquin is as hot as it is terrifying.
Thérèse (Knightley) is an orphan, left by her sailor father to be raised by her aunt, Madame Raquin (Judith Light), in rural France. She grows up with her sickly cousin Camille (Gabriel Ebert), and is forced to take his medicine even though she is perfectly healthy. When Thérèse reaches the age of 21, Madame Raquin announces that Thérèse and Camille will marry. Otherwise homeless, Thérèse has no choice but to accede. Soon after, Camille decides to relocate the family to Paris. Sitting silently in their darkened apartment, Thérèse sees her days slipping by. That is, until Camille's handsome friend Laurent (Matt Ryan) arrives at their home one night, leaving Thérèse instantly entranced. She has a desire that needs to be quenched. Meanwhile, Laurent has murder on his mind.
Knightly is a marvel as Thérèse, making bold and clear choices even though she barely speaks in the first act. She really doesn't need to: She looks at Laurent like a starving tiger would look at a steak, and one knows exactly what she wants. When the two finally come together in a wordless kiss, it is the most erotic moment presently on the Broadway stage. The fact that Ryan is staggeringly attractive certainly helps matters, although his character's sexiness is alloyed with sociopathic tendencies. Laurent knows how to use his looks and charm to get what he wants, and he is shameless about doing so.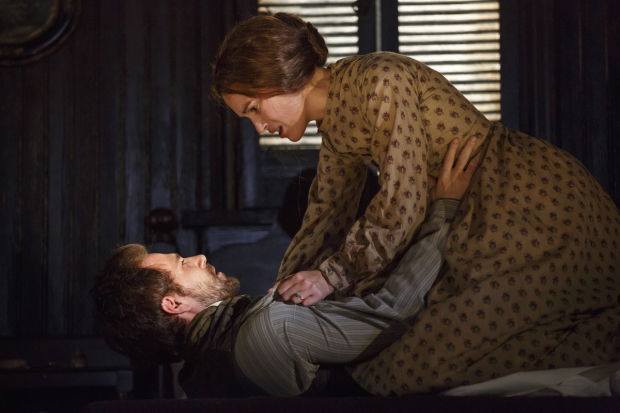 Of course, none of us can blame Thérèse for choosing him over her husband. Gabriel Ebert is positively repulsive as Camille, every bit the needy man-child. Slightly hunchbacked, he barks commands through a pinched voice. Completely lacking in wit or talent, his material comfort is inherited from his indulgent workhorse mother.
Light convincingly portrays Madame Raquin, that paragon of bourgeois thriftiness. She undergoes the most radical transformation in the play, from stern matriarch in the first act to hobbled old softie in the second. The scenes following her stroke, in which she is immobilized, are nail-biting and infuriating. Light holds the entire audience rapt with just a roll of her eyeballs.
Beyond the performances, Cabnet masterfully stages the stylistic dissonance in Zola's novel: The early scenes are impressionistic, half-remembered like a beautiful dream. The Seine (yes, an actual river with water) runs upstage. By contrast, Paris is depressingly naturalistic: The Raquins' ugly brown apartment floats down from the rafters, a smaller proscenium closing around it like a boa constrictor. With this one suffocating transition, set designer Beowulf Boritt presents us with the urban terrarium Zola strove to create.
Thanks to the versatile and excellently calibrated work of lighting designer Keith Parham and sound designer Josh Schmidt, Cabnet's production crackles with the supernatural even after we've landed in these oppressive confines. Is that scratching at the door a cat, or the ghost of Thérèse's husband? A greenish portrait of Camille hangs above the mantel, looking as if it had been stolen from a production of The Picture of Dorian Gray. Schmidt even includes the beating of a telltale heart during one transition, a sly wink at the Gothic tradition from which Zola borrowed, but also rejected in his scientific approach to storytelling.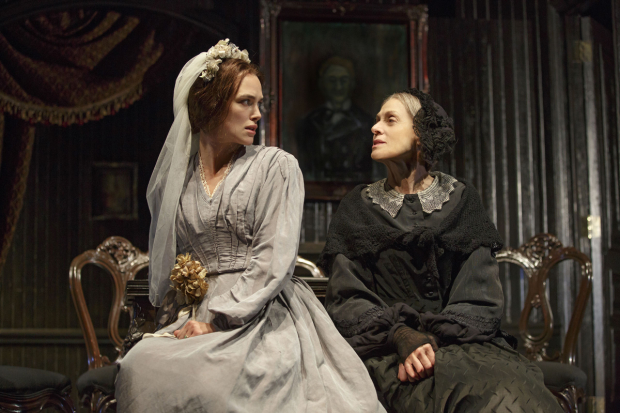 Edmundson replicates this strange synthesis in her script, authoring one of the most faithful adaptations of a novel I've ever witnessed, while maintaining a zippy efficiency. She even manages to include the infamous Paris morgue scene, which Ryan delivers in a monologue that is equal parts gruesome and straightforward — the essence of Zola's novel.
Whether you're afraid of things that go bump in the night, or the prospect of a lifetime of guilt, Thérèse Raquin has something to scare the bejesus out of you. This beautifully rendered adaptation of classic French literature turns out to be the surprise thriller of the season.