Theatreworks USA to Present Skippyjon Jones Snow What (& the 7 Chihuahuas)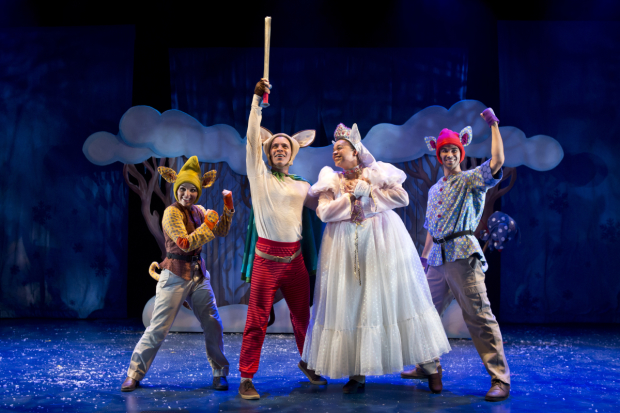 Theatreworks USA, a not-for-profit professional theater for young audiences, is set to present the off-Broadway premiere of Skippyjon Jones Snow What (& the 7 Chihuahuas) beginning July 8 at the Lucille Lortel Theatre. Skippyjon Jones Snow What features book and lyrics by Kevin Del Aguila with music by Eli Bolin. Based on the book by Judy Schachner, the musical is directed by Kevin Del Aguila with choreography by Connor Gallagher.
In the play, Skippyjon Jones the Siamese cat thinks he's a Mexican Chihuahua. While his sisters listen to "Snow White and the Seven Dwarfs," Skippy heads for the his closet where his alter ego Skippito Friskito, with the help of his friends the Seven Chimichangos, must rescue the beautiful princess Nieve Qué (Snow What).
The cast features L.R. Davidson (Jezebel/Poquito Tito), Alexander Ferguson (as Jilly Boo/Don Diego), Junior Mendez (Skippyjon Jones), Christian Perry (Mama Junebug/The Wicked Bruja), and Lexi Rhoades (Ju Ju Bee/Nieve Que).
The production features scenic design by Rob Odorisio, costume design by Tracey Christensen, lighting design by Greg Solomon, and sound design by John Emmett O'Brien. Orchestrations are by Matt Castle and Frank Galgano. Matt Castle will also serve as music director.
For tickets and more information, click here.