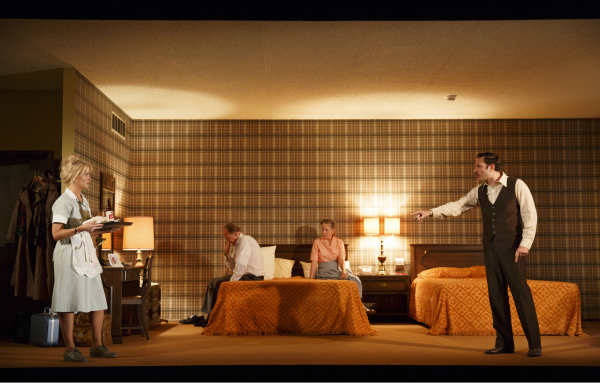 When A.R. Gurney's 10-character play The Wayside Motor Inn premiered in New York in 1977, audiences watched in bafflement and critics drew their knives. In an introductory note to a published edition of the play, Gurney admits as much and offers an explanation: "I'm afraid my fascination with the play's complicated structure…made it more a puzzle to be solved than a play to be performed."
Theatergoers have learned to handle plenty of "complicated" dramas since. In fact, they'll probably find Signature Theatre's new production not only comprehensible but riveting. Add to that 10 top-notch performances, and you've got an engrossing two hours of theater.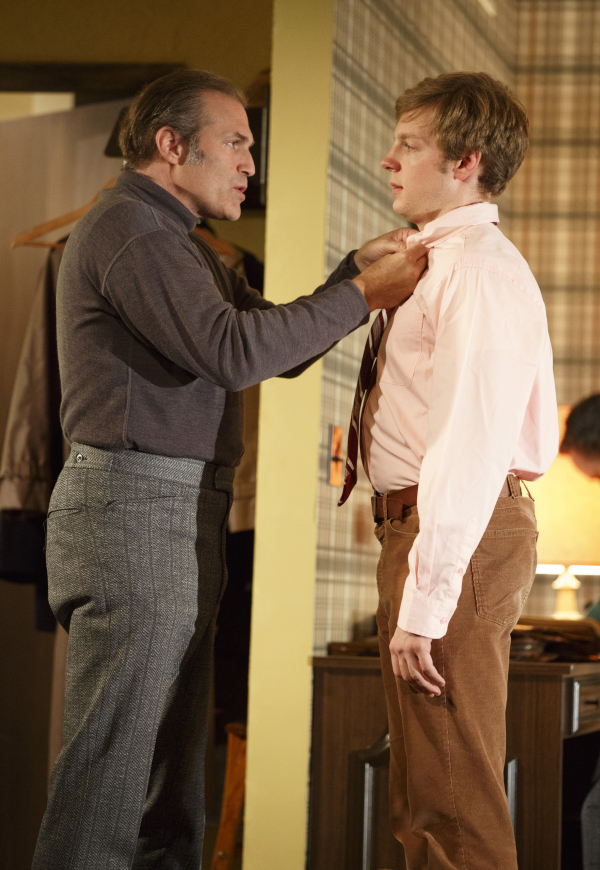 The play comprises five separate stories, each involving two people who are staying in different rooms at the lodging of the play's title. All the action, however, takes place in one typical motel room — designed by Andrew Lieberman with 1970s browns and greens and oranges and furnished with two double beds, a writing desk, a couple of chairs, and a television. The play's ordinary people hash out their problems, unfailingly familiar human struggles: first love, adultery, youthful rebellion, toxic marital relationships, growing old, and loneliness, as they drift past one another, their stories intermingled on a sunny afternoon in a town just outside Boston.
Quincy Dunn-Baker gives a despicably likable portrayal of a porn-stashed, married salesman looking to bed the first attractive woman who enters his room, in this case a conspiracy-theorizing Wayside waitress enchantingly played by Jenn Lyon. Jon DeVries and Lizbeth MacKay are brilliant as an elderly couple who struggle to make sense of their lifelong relationship. Marc Kudisch gives an astonishing performance as a bullheaded father who refuses to allow his son (the fine young actor Will Pullen) to live his own life. David McElwee and Ismenia Mendes play twentysomething lovers both trying to negotiate the wandering rocks of their sex life. And Kelly AuCoin and Rebecca Henderson give an intense, vicious portrayal of a recently separated couple.
Though the writing is strongest with the middle- and later-age characters, director Lila Neugebauer orchestrates all the overlapping stories into a kind of human fugue. Occasionally a character in one storyline needs to pause longer than seems natural so that a character in another can finish, but that's one of the potential pitfalls of this kind of storytelling.
Generally, though, the scenes move seamlessly from one to the next. Kaye Voyce's carefully chosen costume design — polyester slacks, wide-collar shirts, skin-tight sweaters — marry with the set, contributing to this lyrical time capsule of American life in the '70s.
Maybe the play's original audiences weren't prepared to see their lives portrayed onstage in all their distinctly American, disco-era dysfunction, but this production propels The Wayside Motor Inn into the ranks of Gurney's best. Sometimes when we look back from a distance, we're ready to see ourselves.