The Steadfast Tin Soldier Is a Gift for the Whole Family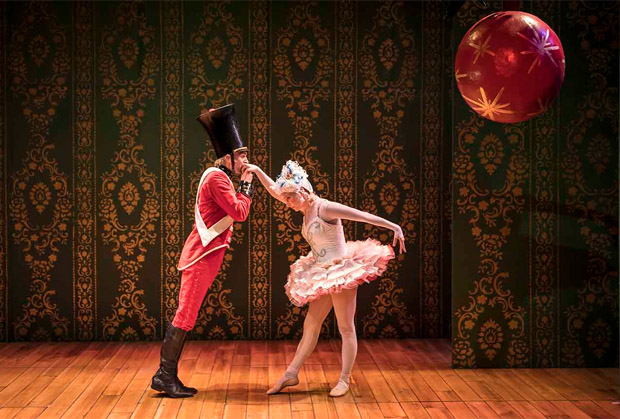 One hundred fifty years before Pixar built an empire on stories about inanimate objects with feelings, there was Hans Christian Andersen. The prolific author of fairy tales such as "The Little Mermaid" and "The Emperor's New Clothes," Andersen also wrote dozens of beloved short stories around the imagined inner lives of toys, flowers, and other everyday objects. The most famous among them, The Steadfast Tin Soldier, comes to life just in time for the holidays at Lookingglass Theatre.
In her new adaptation, director Mary Zimmerman borrows Britain's beloved theatrical Christmas tradition of pantomime. A family-friendly event, pantomimes are usually full of slapstick and mostly silent. The Steadfast Tin Soldier is no exception, featuring such panto mainstays as a man in matronly drag (Christopher Donahue as Nursemaid). The plot concerns a toy soldier (Alex Stein), one in a set given as a Christmas gift, who was made incomplete. Not enough tin was poured into his mold, and he has only one leg. Despite his shortcomings, the soldier courts a paper ballerina (Kasey Foster), battles with a bullying jack-in-the-box (Anthony Irons, with an impish smile), and goes on a perilous adventure in the outside world. Though he eventually meets a grisly end, he is brave and steadfast to the last.
The play has no spoken dialogue, yet the children in the audience were breathlessly engaged, often laughing and gasping as if on cue. How could they resist, with such spectacular visual delights? In addition to the physical exertions of the cast, Zimmerman employs marvelous puppetry to cheekily play with scale and point-of-view. Ranging in size from the minuscule to the gargantuan, the puppets designed by Chicago Puppet Studio are inventive and expressive, somehow looking simultaneously abstract and realistic. The play is emotionally real, to the point that the adults in the audience were captivated right along with the kids. While the ending is tragic, it's not gruesome, keeping it appropriate for all ages.
Each of the five actors onstage commend themselves well, with John Gregorio's expert mugging a particular standout. Playing a quarrelsome little boy, Gregorio knows just when to pout, when to grin, and when to ham it up for the audience. Stein and Foster are enchanting as earnest young lovers, and Donahue inspires gales of laughter as the staunch Nursemaid.
Led by music director Leandro López Várady, a jolly four-piece band plays a score composed by Amanda Dehnert and Andre Pluess. The instrumental music is evocative and lively, setting the scene for the melodramatic adventures Zimmerman has staged. The musicians and actors are costumed in colorful, whimsical winter wear designed by Ana Kuzmanic. Todd Rosenthal's toy-box-looking set is full of surprises, as are the delightful props designed by Amanda Herrmann.
While you don't need to have children to enjoy The Steadfast Tin Soldier, Lookingglass has given a theatrical gift to parents: exciting G-rated entertainment that glorifies courage, self-awareness, and empathy without any trace of preachiness. What's more, it's a secular Christmas story that doesn't celebrate commercialism. All in all, it's an excellent addition to this year's holiday theater offerings, and hopefully the first of many productions of this new Christmas classic.