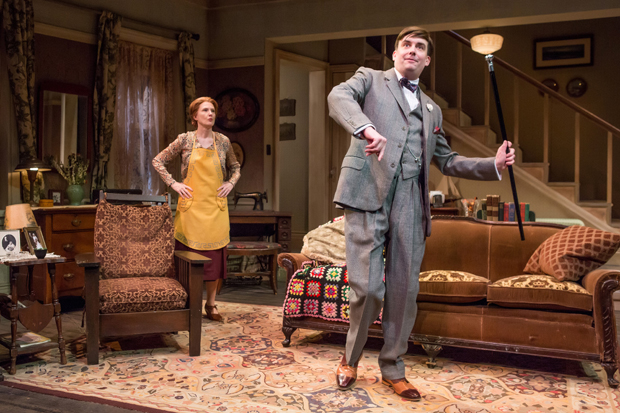 We all know that guy who compensates for glaring ineptitude with unflappable confidence; who goes forth in the world with his head held high, no matter how many times he's caught in a lie. Such a man is at the center of George Kelly's 1924 comedy, The Show-Off, which is now being revived off-Broadway by the Peccadillo Theater Company at Theatre at St. Clement's. Is he the quintessence of American optimism, or merely the most obnoxious character ever imagined for the stage? Perhaps both.
The show-off in question is Aubrey Piper (Ian Gould), a West Philadelphia boy courting a North Philly girl named Amy Fisher (Emma Orelove). Amy's mother (Annette O'Toole) and father (Douglas Rees) dread Aubrey's visits, during which he boasts of his pull at the Pennsylvania Railroad (where he makes $150 a month as a clerk) and loudly laughs at his own jokes. He refers to Amy's brother, Joe (Tirosh Schneider), as "little old Tommy Edison," since he likes to tinker in the basement. He calls her dad "popcorn" before slapping him on the back. When he's not talking about his superior business acumen, he's evangelizing about socialism, perhaps as a way to cover his bases. Mrs. Fisher wonders why Amy can't find a nice quiet man, like her other daughter, Clara (Elise Hudson), has in the emotionally aloof but fiscally stable Frank Hyland (Aaron Gaines). But as Amy's idiot boyfriend becomes her idiot husband, everyone has to learn to live with him.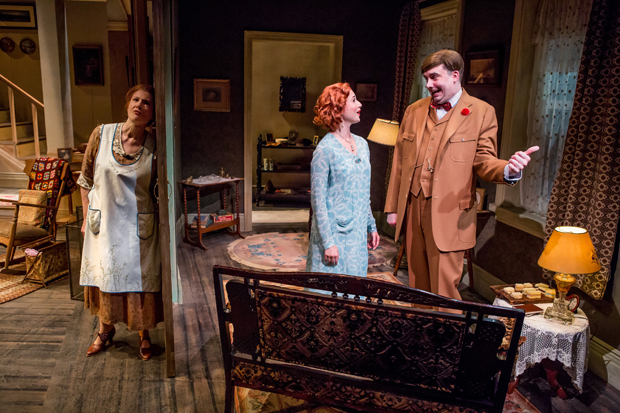 The Show-Off is ostensibly a comedy, but the truth is that it's not very funny, at least not as directed by Dan Wackerman. Part of this can be traced back to the title character: Affecting an exaggerated aristocratic accent, Gould embodies Aubrey with a broad grin, a wagging finger, and an apparent case of restless-leg syndrome. One wonders if we would actually laugh at this jazz-age clown as portrayed by a more natural comedian; here, we just grimace to the sound of crickets.
We also wonder if the play has reached its sell-by date. With its inefficient composition (two of the actors appear in just one scene), character-driven comedy, and casual deployment of ethnic slurs, The Show-Off is unmistakably a play from the 1920s. Still, Kelly (who was the uncle of actress-princess Grace Kelly) tackles timeless material in the conflict between a high-strung mother-in-law and a disappointing son-in-law. O'Toole makes that clear in her anxious performance, which is all hand-wringing exasperation. Sporting a thick working-class Philly accent, she seems acutely aware that the gains enjoyed by her less-accented daughters could be easily wiped away by one bad mistake, and Aubrey is the mistake that won't go away.
Scenic designer Harry Feiner gives us some sense of the stakes by fashioning a comfortable living room and parlor. It's not the newest furniture, and the couch is fraying underneath, but it is functional and completely paid-off. Pulling double duty as the lighting designer, Feiner bathes the room in an attractive incandescent glow, giving everything a sepia quality. Barbara A. Bell's muted costumes fit in nicely, with Clara's fashionable duds telegraphing the financial prudence of her marriage. Not so successful are Paul Huntley's wigs, the exposed caps of which give all the women in the cast a Ferengi-like ridge on their foreheads.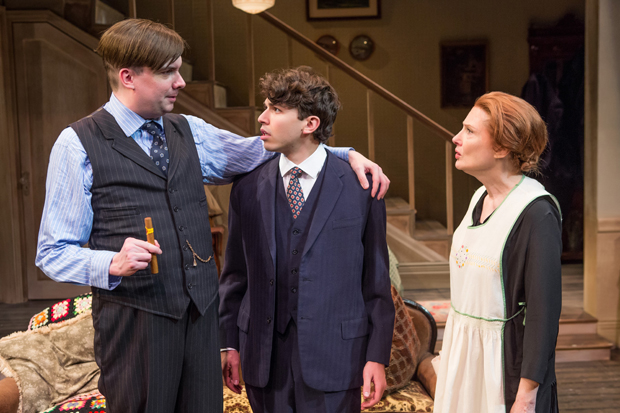 While Aubrey annoys us for the better part of two hours, a last-minute reveal (delivered straight from the horse's mouth) seems to suggest that he's not the hapless loser of our initial estimation. But after he's spent the entire play lying to anyone and everyone, why should we believe him now? This is Kelly's most audacious contrivance and the one that transforms his play from an acid satire of fake-it-till-you-make-it capitalism to a mildly amusing waste of time.
American audiences have delighted in the redemption of this shyster for 92 years (and six Broadway revivals), but 2017 might just be the year that The Show-Off ceases to amuse. Featuring a habitually dishonest megalomaniac who wins the day through shameless braggadocio, this play is less a comedy than it is the first act of a horror show, in which the credulous townsfolk invite the vampire in for tea. From the panicked look on O'Toole's face at the end, she knows it, too.