The Resistible Rise of Arturo Ui and Hitler and Trump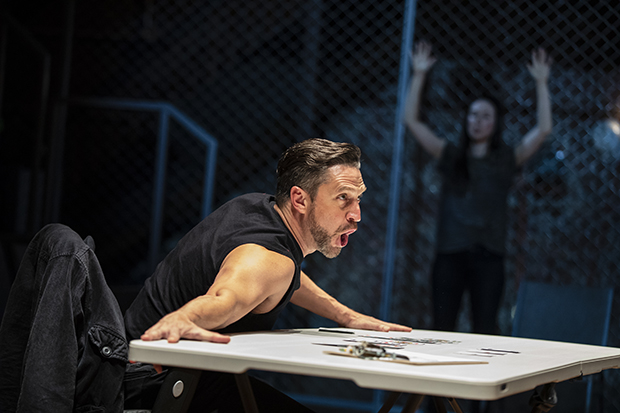 He's ridiculous, loud, boorish, and proudly ignorant — and you cannot stop watching him. That's the title character of Bertolt Brecht's The Resistible Rise of Arturo Ui (now being revived at Classic Stage Company), but it also describes a host of charismatic strongmen past and present. "God protect us from protectors," a woman says in exasperation as she watches Ui take over the Chicago vegetable trade under the pretense of protecting its workers. Brecht, who saw his theater as a call to action, would want audiences to view Ui as a satire of the self-proclaimed "protectors" sprouting up like weeds all over the globe. Director John Doyle certainly makes those parallels explicit in a bloodless new production that makes its point without really making an impact.
At the beginning of the play, Arturo Ui (Raúl Esparza) is a Brooklyn transplant and small-time Chicagoland gangster. Ernie Roma (an imposing Eddie Cooper) is his enforcer. Together, they plot to pocket the vegetable business by threatening to expose the corruption of local politician and vegetable champion Dogsborough (Christopher Gurr). Ui's promise to protect the grocers from organized labor wins him the support of the powerful cauliflower trust (George Abud and Mahira Kakkar). A catastrophic warehouse fire convinces the rest to fall in line, while henchwoman Giri (Elizabeth A. Davis) and spin master Givola (Thom Sesma) systematically drown any suspicion that Ui himself might be the culprit. Their foothold secure, they look to expand beyond Chicago.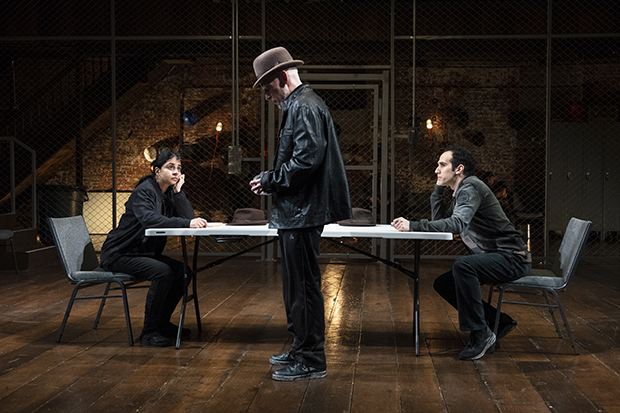 Students of history will notice similarities between the rise of Ui's gang and the rise of Adolf Hitler's Nazi Party. In case you miss the more subtle allusions, Brecht makes it overt with historical markers between each scene charting Hitler's progression from the crash of 1929 to the Anschluss of 1938. Doyle has the cast speak this timeline into upstage microphones, blasting it at the audience over loudspeakers and helpfully waking us up from some of the more boring passages.
Regrettably, the very first scene counts as one of those: It depicts a meeting between Chicago cauliflower traders who use words like "shall" and "'tis," its mustiness primarily derived from George Tabori's stilted, academic translation. It's the same adaptation that was used in the play's 1963 Broadway debut, which starred Christopher Plummer and played an unlucky 13 performances at the Lunt-Fontanne Theatre.
Happily, the production comes alive with the arrival of Esparza, who plays the title character with a convincing mixture of self-pity and pomposity. The language feels crisp and native to his thick, somewhat pathetic Brooklyn accent. We laugh at his personality flaws and poor grammar as we watch him slowly but surely take over everything (sound familiar?). This "big white chief" promises to restore "law and order," and he's upfront about the price of this transaction. He doesn't respect institutions or norms or principles, only power. And in that respect, the bulk of human history is firmly on his side.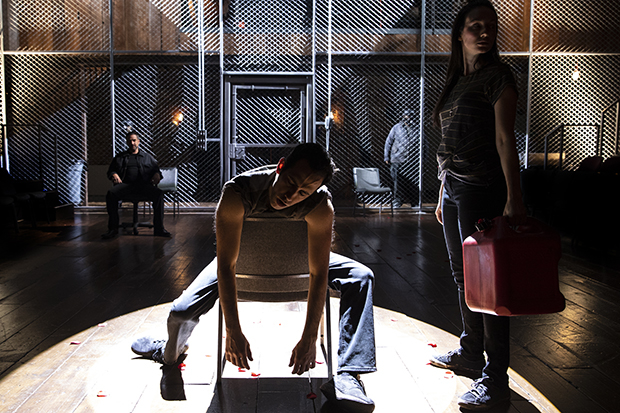 The rest of the cast rises to Esparza's vigorous, passionate performance, resulting in a production that occasionally escapes the bonds of its rigid text. Omozé Idehenre especially makes an impression with her specific portrayals of two characters: the investigator O'Casey (glasses smugly perched at the end of her nose) and Betty Dullfeet, whose rage against Ui will seem intimately familiar to anyone who feels helpless to resist the rapid shifts in a world gone mad.
There was never anything subtle about Brecht, and Doyle's design reflects that: His set separates downstage from up with a giant fence. This cage provides for a striking final stage picture, with every other character trapped in a prison of complicity behind Ui. Unfortunately, its purpose in the preceding two hours is never clearly defined. Jane Cox and Tess James mix traditional and non-traditional lighting for a menacingly makeshift aesthetic. Sound designer Matt Stine underscores key moments with the roar of a Nazi rally. You don't need to listen too closely to notice the chant of "Sieg heil" morphing into "Lock her up." It's a blunt point, but again: Brecht is not about subtlety.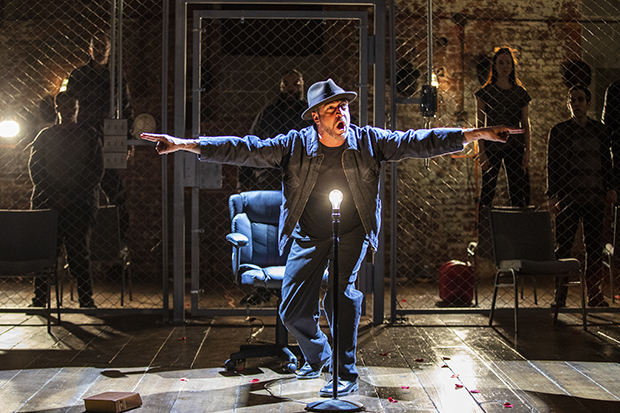 In casting a leading man like Esparza who so thoroughly sucks the air out of the room, Doyle vividly conveys this play's major question: How do you compete with a professional showman who knows exactly what buttons to push to rile up the masses? It's a question that no one has a good answer to. Yes, Ui's rise was resistible. But once he's risen, there doesn't seem to be a good way to bring him down that doesn't involve catastrophic conflict.