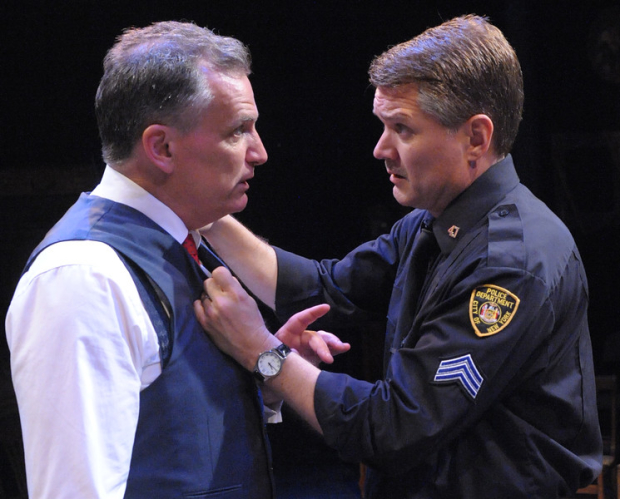 Playwright Arthur Miller touched on important familial and societal issues in a very personal way. Born in New York in 1915, he saw firsthand what the Great Depression did to people who lost everything and what they had to do to survive. The Price, currently enjoying a powerful revival at the Olney Theatre Center in celebration of Miller's 100th birthday, is about the value we place on what ties us to those we love.
The Price is set in 1966 in a Manhattan brownstone attic, a place crammed with furniture that once belonged to the father of two estranged brothers who lost touch with each other after they were teens. The play opens when they meet again in middle age. Victor Franz (Charlie Kevin) is a nearly 50-year-old police sergeant who is considering retirement. Now that his father is dead, Victor and his older brother, Walter, are meeting with an appraiser to see how much the belongings are worth and to decide whether to sell them or divide them up.
Victor arrives alone. As he uncovers furniture, it becomes apparent that his father was a wealthy man who owned many beautiful things: colorful Persian rugs and upholstered chairs, a grandfather clock, a harp, countless porcelain lamps, and endless gold binding-embossed books.
As Victor goes through these material possessions, his wife, Esther (Valerie Leonard), makes an appearance. It is clear that she considers the furniture old-fashioned and uninteresting. She would rather the brothers sell the furniture so that she and Victor can have a better (and more jet-set) life. Shortly after Esther leaves, the appraiser, Gregory Solomon (Conrad Feininger), arrives.
Solomon is one of Miller's funniest characters, a nearly 90-year-old man who is blunt and canny, and has a peculiar perspective on modern life. When Victor proudly shows him a huge, ornate mahogany dining table, for instance, Solomon whips out his tape measure and tells Victor that no one will buy it: doors in 1966 aren't built wide enough to get such a massive piece into an apartment.
Halfway through the play, Victor's brother, Walter (Sean Haberle), enters. His three-piece suit and elegant topcoat announce that, unlike his brother, Walter has been successful in life. He is a wealthy doctor with a thriving practice. He's also divorced and lives in an apartment, so he doesn't want any of the furniture. There's clear friction between the brothers with tension that opens up a discussion about how both lived after leaving home, how much they gave up for their parents, and if their parents sacrificed for them so that they could achieve their dreams.
Kevin is excellent as Victor, a man who wanted to be a scientist but became a cop in order to bring in ready money for his parents. Though Kevin doesn't look 50 years old, there is a definite world-weariness about him that is perfect for Victor.
Haberle is equally fine as Walter. He comes on smiling so broadly, he almost seems to be wearing a mask, but the mask soon slips and Walter reveals the challenges he has had to endure.
Leonard is well-cast as Esther, a woman who desperately wants to enjoy her life, a petty woman who understands none of the value of the things that meant so much to her husband's family.
Feininger is brilliant as the crabby, savvy Solomon, who ultimately controls the action by pretending not to care what happens. With his threadbare suit and black fedora, Feininger delivers a great deal of the play's philosophy and all of its levity.
Director Michael Bloom keeps the production spinning at a moderate pace, never letting it sag or speed up too quickly. The set, by James Fouchard, is a masterwork. Behind the audience, three sides of the in-the-round theater are hung with chairs, lamps, and books to intensify the sense that the family artifacts outnumber people. The effective costumes are by Kelsey Hunt.
Perhaps more than any of Miller's plays, The Price asks how individuals measure the worth of their lives. This Olney production rigorously analyzes that question, exploring fully the subtext of Miller's writing about the brothers' relationship, the influence of nature vs. nurture on those who share DNA, and the value we place on the things that bond us as family.