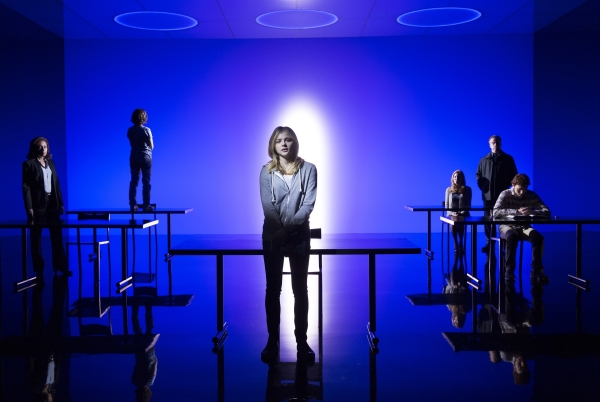 History is a series of comforting lies, at least according to Scott Z. Burns. His debut stage play, The Library, is now making its world premiere at The Public Theater in a sleek production directed by Steven Soderbergh. Burns and Soderbergh (frequent screen collaborators) deftly unfold this story with a forensic attention to detail. It's an intelligent and quietly infuriating evening of theater that will leave everyone questioning the stories they've heard in the national media or read in history books.
The Library opens in the wake of a deadly school shooting. Marshall Bauer, a 21-year-old social outcast, returned to his old high school with an arsenal of guns, then murdered 13 people. He shot Caitlin Gabriel (Chloë Grace Moretz) in the abdomen at close range as she crouched under a desk in the school library. Miraculously, she survived. Fellow student Ryan Mayes (Daryl Sabara) claims he heard Caitlin tell the shooter that several students were hiding in the A/V closet. Caitlin says it wasn't her but Joy Sheridan who gave up their whereabouts. Early reports suggest that Joy was a "hero" who led her fellow students in prayer at the moment of crisis. When Joy's mother, Dawn (Lili Taylor), inks a six-figure book deal and makes numerous television appearances, this version of events becomes conventional wisdom as Caitlin is nationally reviled as a slanderous traitor. But is it the truth? Will anyone believe Caitlin's version of the story?
"Police reports don't get sold on Amazon, like Dawn Sheridan's book," Caitlin's dad (Michael O'Keefe) ominously tells his daughter when she insists that the police report will vindicate her. You can feel the white-hot desperation radiating from Caitlin's face. For a moment, we're all 16 and helpless again. In an era when money equals speech, do those with the most money always get to speak the loudest, thus dictating "the truth"?
Burns delivers these frustrating, head-shaking moments with an aggressive calmness. The actors (all wearing body microphones) speak in hushed tones throughout. "Whoever conceals his transgressions will not prosper, but he who confesses and forsakes them will obtain mercy," Dawn condescendingly recites from the Bible during a particularly awkward meeting with Caitlin and her family. You feel like you're watching a production of The Crucible and Goody Gabriel has just been accused of being a witch.
Taylor is the quintessence of a camera-friendly grieving mom. A gentle and ever-present melancholy colors her voice, blunting the harshness of her sanctimony. As she negotiates a publication date for her book, you get the sense that the word "exploitation" never crosses her mind. She really believes that she is doing God's work. And with a public addicted to "inspirational" stories that carry crystal-clear morals, can you blame her?
Soderbergh's greatest success is in cleanly presenting a story that is not so cut-and-dried. Thanks to an incredibly sympathetic performance by Moretz, you never leave Caitlin's side, even when it becomes apparent that she's not telling the whole truth. (What 16-year-old does?) The scenes are staged with clinical precision and, unsurprisingly, a cinematic style: You can practically see the jump cuts as Ryan and Dawn give competing interviews on either side of the stage. Still, such a surgical approach to the story is necessary with Burns' script: We're looking at a national media frenzy through the looking glass.
Riccardo Hernandez takes this idea and runs with it in his reflective and antiseptic set. It looks more like the backdrop of an Apple commercial than a high school library. David Lander's dramatic and shadowy lighting further disorients us and adds to the play's cinematic feel. He inverts the traditional "blackout" during scene transitions, instead blinding us with a blast of light, or "whiteout." Light is often associated with clarity and goodness, but this light is cruel and deadly, only confusing us more.
You'll leave The Library angry for all the right reasons. The easily spun news media, the greedy publishing industry, the self-serving not-for-profit sector: No one gets off the hook here. This smart and probing drama confronts popular mythology with clear eyes and a voracious appetite for the truth.