The Cradle Will Rock Depicts a Society for Sale to the Highest Bidder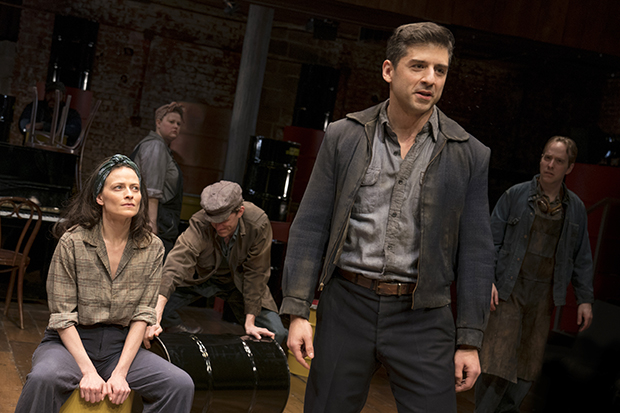 On June 16, 1937, ticketholders to the scheduled preview of Marc Blitzstein's The Cradle Will Rock learned that the show had suddenly been canceled. A production of the WPA's Federal Theatre Project, it was allegedly shuttered for budgetary reasons, but many suspected government squeamishness about the musical play's radical themes. Like Moses, Blitzstein marched all 600 audience members 21 blocks from Maxine Elliott's Theatre to the Venice Theatre, where he planned to mount the show anyway.
In his paean to organized labor, Blitzstein had overlooked the possibility that unions can also conspire to make workers unfree, a lesson he learned the hard way when Actors' Equity and Local 802 forbade their members from appearing onstage in this rogue production. Undeterred, Blitzstein played the entire show from a single piano, with members of the cast joining from the house (which was technically not onstage).
This story has become part of theater lore, and the subject of a 1999 film. It's a joyous tale of regular people defying fearsome institutions, and singing in the face of power. It's a pity none of that comes through in John Doyle's dispassionate, soporific revival at Classic Stage Company. The cradle rocks all right.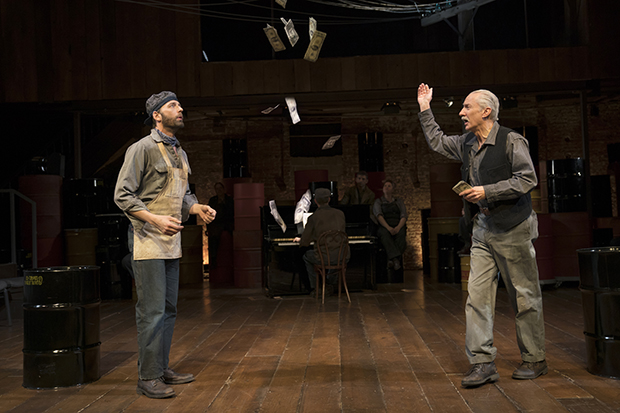 With music, lyrics, and book by Blitzstein (who wrote in the subtle-as-a-sledgehammer style of Bertolt Brecht), Cradle is set in Steeltown, USA. Local tycoon Mr. Mister (David Garrison) controls everything and everyone, from newspaperman Editor Daily (Ken Barnett) to clergyman Reverend Salvation (Benjamin Eakeley). Dauber the Painter (Rema Webb) and Yasha the Violinist (Ian Lowe) snort at Mrs. Mister (Sally Ann Triplett) and her pedestrian taste in art — but they still take her money. Everyone does, except incorruptible union organizer Larry Foreman (Tony Yazbeck). "Sister, you should be ashamed," he says to prostitute Moll (Lara Pulver), "an amateur like you in the company of all these professionals?"
There's never been a better time to revive The Cradle Will Rock. Between Jussie Smollett's inexplicably dropped charges, dim rich kids getting into college with bribes, and the Sackler family attempting to launder their blood-soaked name through arts patronage, there is a growing sense that every institution is for sale. With the audience bringing so much pent-up rage into the theater, there's no reason that a play like this should feel frozen in time.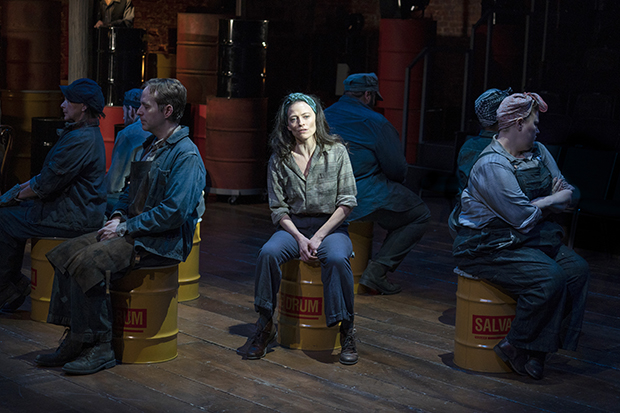 Doyle does his production no favors by falling back on old tricks: His decision to have the actors watch each scene from upstage is reminiscent of his blocking for The Resistible Rise of Arturo Ui earlier this season (a great companion piece to Cradle, even when they're not lookalike stagings). Doyle's choice to depict all of the actors as steelworkers reflects his production of Carmen Jones, which suggested soldiers putting on a show. At least those GIs had a small costume budget, allowing them to distinguish between multiple characters. As costumed by Ann Hould-Ward, these poor Steeltown workers have only the denim on their backs, leading to general confusion as the 10-person cast shares 21 roles. Doyle's set comprises salvage drums rearranged for each scene, recalling both productions. A formula is setting in.
The musical accompaniment comes from a single piano, nicely referencing the original production, even if the music sounds a bit thin. Doyle and music supervisor Greg Jarrett's decision to keep the performers unamplified leads to sound-balance issues, with many of the lyrics inaudible. Valiantly resisting this, Kara Mikula (who impressively sings a song from under a welder's helmet) projects every word with bullhorn clarity.
With this semi-intelligible production, Doyle seems to assume that his audience already knows this rarely revived play, robbing newcomers of the opportunity to discover the work in its full clarity. For instance, he does little to establish the relationship between Mister and his son, Junior (Eddie Cooper), for whom he procures a position (some might say, internship) with the newspaper. The comic resonance is there for the taking, and at every step, Doyle steadfastly refuses.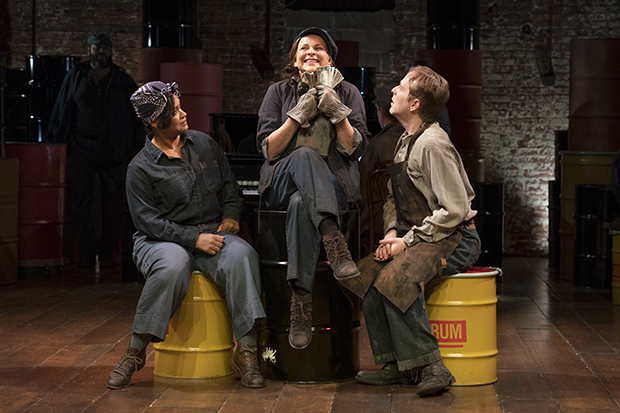 Some actors seize the initiative: Triplett is hilariously malevolent as Mister's rich wife. Yazbeck gives a rousing performance as Foreman, dominating the stage like an evangelist of labor. Sadly, the rest of the cast seems lost in a production that resembles a workshop that has been rehearsed to death.
Blunt by design and rarely hummable, The Cradle Will Rock still has the power to shake audiences awake (as Encores! proved in 2013), but it takes a firmer hand than this to really push us out of our bassinets.