The 7 Best Plays for High Schools
We've already brought you our list of the seven best musicals for high schools, but we realize that not everyone loves to sing and dance. With that in mind, here is our list of the seven best plays for high school actors. An eclectic blend of comedy and drama, these shows offer plenty of opportunity for young performers to really show off their acting chops. Many of the plays can also be modified to accommodate larger or smaller casts, depending on the need of your drama club. If you're looking for your next hit show, chances are you will find it in this list.
---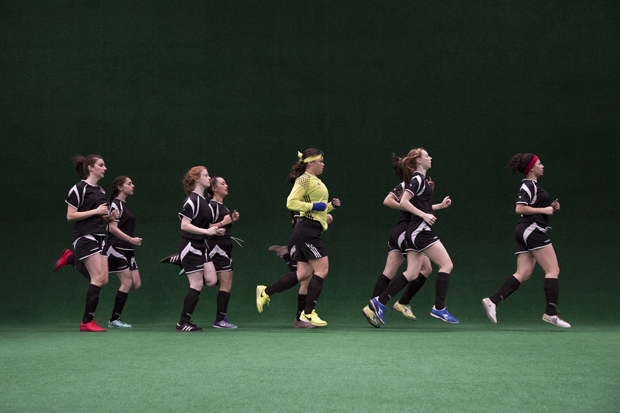 1. The Wolves
Sarah DeLappe's critically acclaimed play about a girls' soccer team is perfect for a drama club that is heavy on female talent: There are 10 parts in the show, all for women. Nine of the characters are high school age, meaning you'll save money on wigs and old-age makeup. The themes of friendship, identity, and parental expectations are bound to resonate with teenage performers. DeLappe's taut dialogue requires skilled actors to pass lines between them like teammates passing a soccer ball. The off-Broadway cast did this so well, it earned a Drama Desk Award for Outstanding Ensemble. If you want to get your young actors really working as a team, this show will do it.
---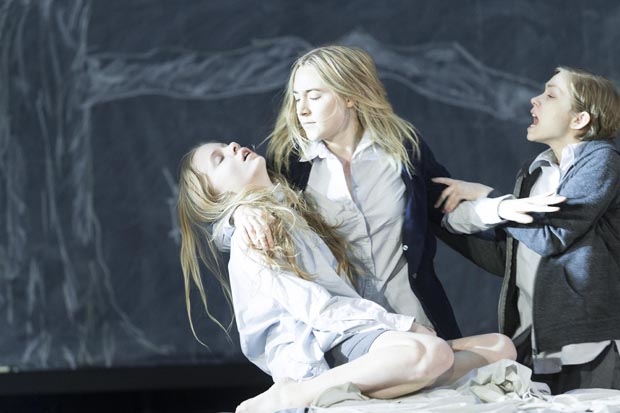 2. The Crucible
This classic drama by Arthur Miller tells the story of the Salem Witch Trials of the 1690s. Or is it really about the Red Scare of the 1950s? Or did Miller presciently predict the popular social media pastime of public shaming? Truly, intolerance and mass hysteria are perennial themes in America, and what better time to introduce them than in high school? The show calls for a 20-person cast (10 men, 10 women), meaning that a lot of students can participate in roles small and large. The part of Abigail Williams, in particular, is an opportunity for a young female star to really shine. This is a show that is bound to delight students, parents, and English teachers in equal measure.
---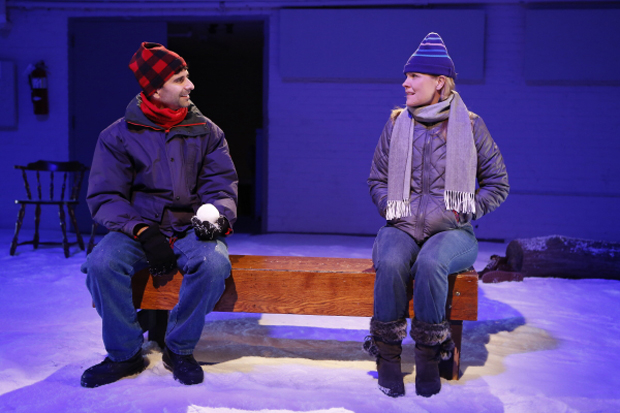 3. Almost, Maine
For its off-Broadway revival, we described John Cariani's play about the denizens of a small town in northern Maine as "the ideal play for high school." While designed for four actors, the cast can be expanded to 19 to account for every role. The characters appear in a succession of little two or three-person scenes, like a G-rated version of Arthur Schnitzler's La Ronde. This allows for maximum participation while making rehearsals significantly less taxing than your average show. It's no wonder that Almost, Maine regularly tops the list of most-produced high school plays.
---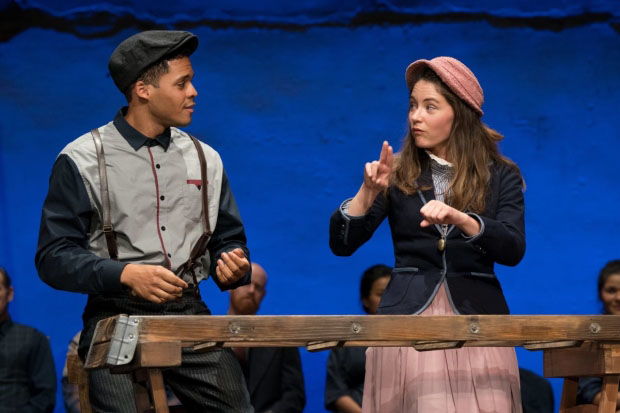 4. Our Town
Thornton Wilder's Pulitzer Prize-winning 1938 drama remains a staple of high school curricula, so a live production will always earn the appreciation of the English department. It tells the story of everyday life and death in the small town of Grover's Corners, New Hampshire, during the early part of the last century. The 24-person cast means that a bunch of students can participate; and while the dramatis personae skews disproportionately male (17 men to seven women), an ambitious director can certainly blur the lines of gender for a drama club that has more female performers. Considering Wilder's narrator is called "The Stage Manager," such self-aware theatricality is as baked into Our Town as apple into a pie.
---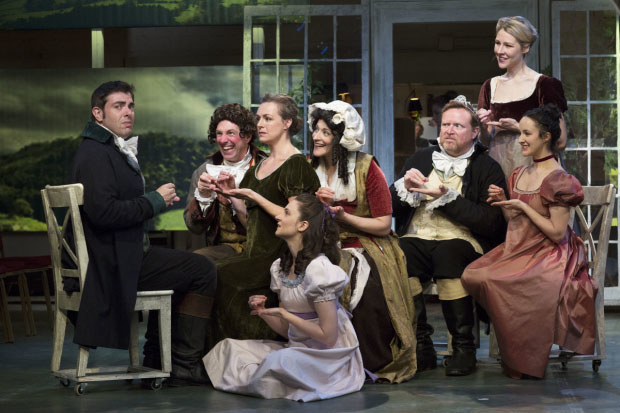 5. Sense and Sensibility
This madcap adaptation of Jane Austen's story about sisters Elinor and Marianne Dashwood can easily be tailored to fit the needs of your drama club: Dramatist Play Service (which handles the rights) advertises the cast as being "3-8 men, 4-9 women." While the acclaimed off-Broadway production used 10 actors doubling roles, the play can be expanded to include 17 total performers or contracted to just seven (the costume changes alone would certainly add to the energetic zaniness of the staging). Playwright Kate Hamill is a wizard when it comes to putting Brit lit onstage, and this breakout hit likely won't be the only one gleefully adopted by high school theater programs.
---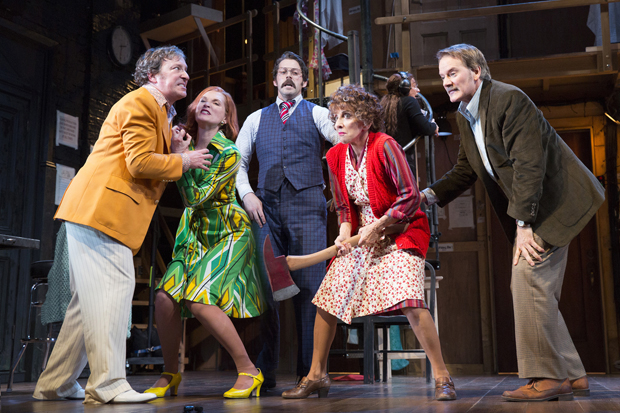 6. Noises Off
A door-slamming farce requiring a two-tier set that can flip around for the second act, this is a good choice for drama clubs with budding set designers. A backstager about the cast and crew of a new play called Nothing On, it also offers juicy parts for young comedians: They can play short-tempered director Lloyd, over-the-hill star Dotty, ditzy newcomer Brooke, haggard stage manager Tim, or old drunk Selsdon, to name five of the nine characters. Playwright Michael Frayn has created a masterpiece of controlled chaos in which everything that can go wrong, does. When done correctly, audiences have been known to laugh until tears well in their eyes.
---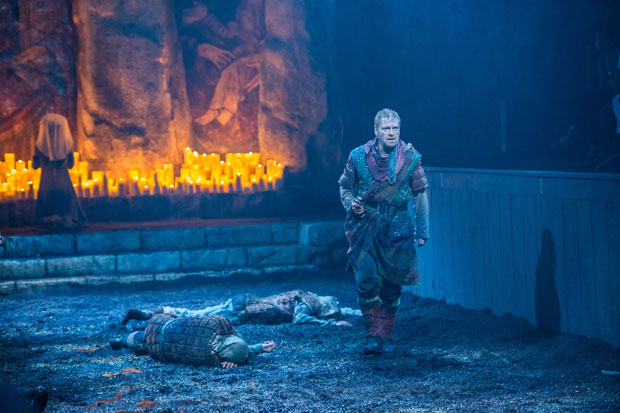 7. Macbeth
Comedy romp A Midsummer Night's Dream is the most popular Shakespeare play among high schools, but The Tragedy of Macbeth is actually a lot more fun. What high school thespian wouldn't want to goth-up to play a witch or a ghost? This spooky thriller about a murderous Scottish thane and his ambitious wife is the perfect way to get young actors to fall in love with the Bard's verse. The flexible dramatis personae means a director can swell the ranks of spear-carriers, or engage in double-casting depending on the size of the drama program. And here's the best part: Since the playwright has been dead for hundreds of years, the play is solidly in the public domain. You don't have to pay for the rights, and you can cut and rearrange the script at will, without getting a cease-and-desist letter from Shakespeare's attorney.