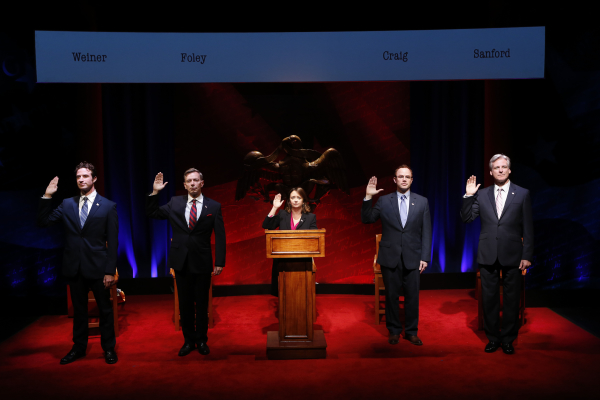 The Lynn Redgrave Theater is set up for a presidential debate. Four wooden chairs sit behind a lectern. The Declaration of Independence and the Stars and Stripes are projected on an upstage wall. A deep red carpet blankets the thrust stage. A giant bald eagle statue with six-pack abs presides above. This is the soberly patriotic settling in which Mario Correa's delightfully irreverent Tail! Spin! comes to life.
A sold-out hit of the 2012 New York International Fringe Festival, Tail! Spin! returns for an off-Broadway run with a cast of super-talented comedians. Four politicians of recent infamy take the stage: Anthony Weiner (Nate Smith), Larry Craig (Sean Dugan), Mark Foley (Arnie Burton), and Mark Sanford (Tom Galantich). "Meet your elected leaders," the projection above informs us. "This is what they actually said." Correa draws his text completely from their public statements and leaked private correspondence. These real quotes are presented in classic news-media style: completely out of context and repeated gratuitously, lest you forget.
But really, how could any of us forget the toe-tapping escapades in the Minneapolis-St. Paul Airport that led to a "lewd conduct" arrest for Senator Larry ("not gay") Craig? Then there's the undeniably straight New York Rep. Anthony Weiner and his multiple online flirtations and sexts with women around the country. Florida Rep. Mark Foley had his own illicit online correspondence…with an underage male congressional page. And while the three aforementioned politicians might have just been looking for cheap thrills, who could deny the romance between (married) South Carolina Governor Mark Sanford and his sultry Argentinean mistress, Maria Belén Chapur (Rachel Dratch)?
In a tour de force, Saturday Night Live vet Dratch plays nearly every woman in the show. She's the assorted "Wives, Tails, Beards, and Barbara Walters" who orbit around these American alpha males, suffering and profiting from their follies. She pulls out her Debbie Downer face for the unhappy political wives who stand by their men. She has a unique ability to be simultaneously over-the-top and deadpan, especially when performing some of the play's more salacious passages.
The entire cast is heightened in their portrayals. Dugan's Craig is like a WASPy robot from the 1950s. Smith plays Anthony Weiner like a dorky teenage boy, shunned at his high school, but the leader of the pack in his online fiefdom. Everyone plays multiple roles, accentuating the most notable characteristics of their subjects. Dan Knechtges directs the whole 90-minute affair like a live-action political cartoon.
To hit the point home, Caite Hevner Kemp projects the names of each character above their position onstage. These are the tags that label each character, adding to the identity already provided by Jennifer Caprio's economical costumes. Caprio isolates an iconic accessory for each of the many characters portrayed, allowing the actors to slip quickly in and out of character: a German sash and tiara for Mark Foley's German beauty queen "girlfriend" Petra Levin (Dratch), dark sunglasses for Chapur, an angry pink tie for Gloria Allred (Burton). The show is always fast-paced, fun, and guaranteed to make you grin from ear to ear.
Correa's style is similar to Saturday Night Live's "Fun With Real Audio," in that it juxtaposes the real words of its subjects with a truthful (if embellished) representation of their hypocritical behavior. It should surprise no one that the three Republicans of the group publicly condemned Bill Clinton for his sexual indiscretions, often while engaging in their own. Perhaps most damning is Correa's splicing of Mark Foley's legislation targeting online sexual predators with the randy chat transcripts between him and an underage congressional page. It makes you wonder: How do these people get elected in the first place?
Yet Knechtges' vaudevillian, almost slapstick staging easily insulates the text from any charges of heavy-handed pontification. Tail! Spin! won't lead you to angrily denounce these philandering pols, but you will laugh your head off at them, which is a far worse fate for such allegedly serious statesmen.