SPACE on Ryder Farm Announces 2016 Resident Artists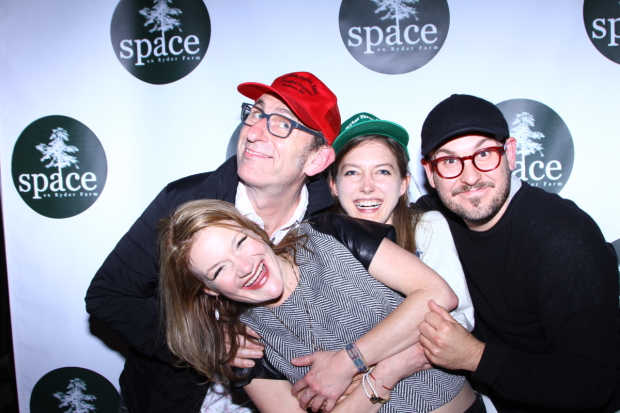 SPACE on Ryder Farm, the nonprofit artist residency program located on Ryder Farm in Brewster, New York, has announced its 2016 season for the Working Farm, Family Residency, Creative Solutions Symposium, and Artistic Residency programs.
The 2016 residents include playwrights Adam Bock, Cusi Cram, Daisy Foote, Adam Rapp, J.T. Rogers, Sarah Ruhl, Clare Barron and Sarah DeLappe (recipients of the inaugural Relentless Award), indie folk band Jamestown Revival, Pig Iron Theatre Company, Soho Rep, and actor and playwright Hamish Linklater.
Members of the 2016 Working Farm, SPACE's resident playwrights group, are Eliza Bent, Adam Bock, Alex Borinsky, Cusi Cram, Daisy Foote, Ryan King, Basil Kreimendahl, and James Tyler. The five-week fully subsidized residency culminates in The Roving Dinner, an eight-course farm fresh meal paired alongside excerpts from the resident's new plays, and served at historic locations around Ryder Farm. The Roving Dinner will be held September 17. Tickets are available to the public here.
Participants in the second annual Family Residency include Beth Nixon, Louisa Thompson Pregerson, Deepa Purohit, Sarah Ruhl, Georgia Stitt, and their children. The program (in association with the Lilly Awards Foundation), hosts working artists and their children for a fully subsidized weeklong residency designed to give parents space to work on their craft in a retreat environment with their kids close by.
The season will also include a Creative Solutions Symposium, a fully subsidized week long residency for activists and human rights organizations who are creatively addressing social justice issues. The NYC Anti-Violence Project and members of the King's County District Attorney's Office Re-entry Task Force are among this year's participants.
SPACE also introduces a new initiative with the Creative Collisions Residency. The program brings together critical thinkers across disciplines to spur heightened discourse and new ideas around a guiding question. This season, eight activists, educators, artists and changemakers will convene and explore the prompt: How do we combat racial inequity?