Fans of Zachary Quinto will certainly be rushing to buy tickets (if they haven't already) to Smokefall, the newest play from Noah Haidle (Saturn Returns), now making its New York debut with MCC at the Lucille Lortel Theatre. Quinto stars in this pseudo-magical (and pseudo-memorable) family drama, the title of which is lifted from T.S. Eliot's "Burnt Norton," a poetic meditation on time and redemption. Smokefall also covers these themes, although you may not walk away with any fresh insights about them.
The play takes place in the Grand Rapids home of one seemingly average (but exceedingly unhappy) family. Violet (Robin Tunney) is pregnant with twins. Her husband, Daniel (Brian Hutchison), is planning on leaving her. It's too much for him to raise three kids under the oppressive gaze of Violet's father, the Colonel (an appropriately gruff Tom Bloom). This isn't the life he wanted. Their first child, Beauty (Taylor Richardson), tries to compensate by eating dirt (it's free!) and never speaking (making literal the trope that children should be seen and not heard). As a character named "Footnote," Zachary Quinto is heard narrating everything. He eventually takes his role as Johnny, one of the two twins in the womb.
Fast-forward 84 years: A tree that Violet planted upon Johnny's birth has grown massive, with branches breaking through the walls of the house. Like the playwright, Johnny (now played by Bloom) gives into his temptation to collect the low-hanging fruit. Suddenly, the ageless Beauty (still Richardson) returns home with the dusty remains of their wayward father. "It's like your fantasy birthday party, Dad," exclaims his son, Samuel (Quinto).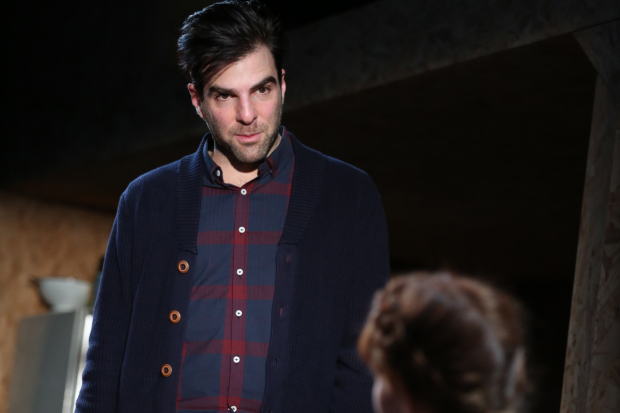 Featuring heavy-handed biblical allusions and a chronicle of generational misfortune, Smokefall smacks of Gabriel Garcia Márquez's ''One Hundred Years of Solitude", albeit a far drier knockoff. In fact, it often feels more like a college seminar on magical realism than a rigorous example of the genre. Characters engage in extended discussions of original sin and Michel Foucault, while Quinto delivers the exposition in footnotes. "Footnote number two," he announces, "The twins are mistakes and suspect as much." These are fine subjects to explore onstage, but please: Show us; don't tell us.
Despite its "high art" veneer, Smokefall wouldn't feel out of place in Oprah's book club: "The greatest possible act of courage is to love and anyone who says different is an asshole," the Colonel advises his unborn grandsons, just narrowly avoiding cliché through the employment of profanity. It doesn't help matters that Haidle seems self-consciously aware of his own contrivance: "A fourteen-year-old who martyrs herself through destructive emotional sublimation," Johnny enthuses about Beauty's tragedy (and tacitly, the author's genius), adding, "Don't you want to see what happens to her?" It's a lot less suspenseful from our vantage point.
The actors are miraculously able to deliver this dense text in a way that doesn't sound like they're reciting from an essay on world literature. As the saintly Beauty, Richardson gives the one genuinely sympathetic performance, causing us to hang on her every word when she finally does speak. Her interactions with Tunney have real depth, but mom reverts to a two-dimensional drawing whenever they are apart. Quinto is more stolid, but he is narrating, after all. For the most part, Smokefall possesses all the bark of a dead crepe myrtle.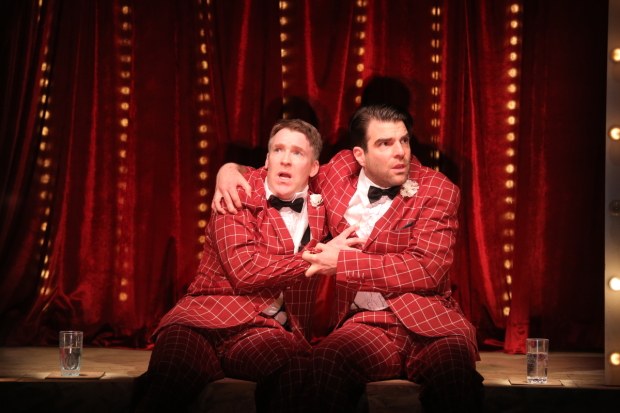 Unfortunately, director Anne Kauffman's production is equally lifeless. The second-act tree is the most striking element of Mimi Lien's plywood set, which strips the family home down to its bare essentials (it looks a lot like a spread in Dwell Magazine). Lindsay Jones accents key moments of tension with her cinematic sound design. The birthing scene (which Kauffman imagines as an imploding vaudeville dressing room) is the play's most exciting, with David Weiner shooting blinding light at the audience when the fetuses finally step out. It's all downhill from that dramatic highpoint, with the characters keeping a safe academic distance.
The good news is that Smokefall actually makes a pretty compelling read, full of beautiful turns of phrase and thoughtful musings on life and love. The bad news is that it was written for live performance and comes across as insufferably dry when staged, likely to appeal only to undergraduate philosophy students (and those who wish they could be in college forever).