Slave Play Looks at the Lies That Bind Us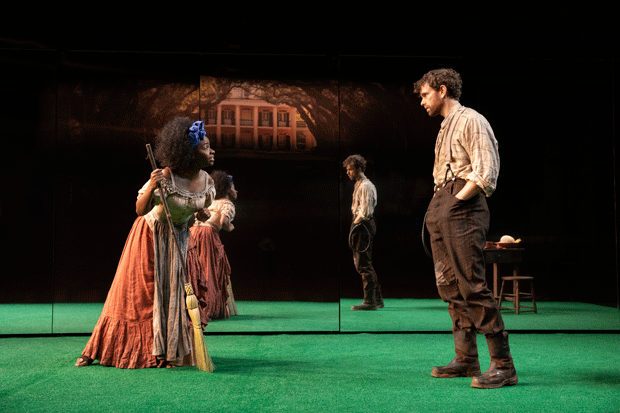 Something new, disturbing, and radically important is happening at New York Theatre Workshop — and it's not pleasant to watch. Jeremy O. Harris's daring, brilliantly written Slave Play begins with scenes of sexual violence, domination, submission, and rape between blacks and whites on an American plantation. The images would be upsetting enough as reminders of America's vicious past, but Harris translates them to the present to show us how far we haven't come. Robert O'Hara directs this cringe-inducing comedy with a frank, unrepentant honesty that keeps us shifting uncomfortably in our seats. Yet to shy away from the play is to miss out on one of the most thoughtful and challenging theatrical works on interracial relations, institutionalized racism, and their effects on people of color since Antoinette Nwandu's Pass Over.
When we first meet Kaneisha (ferocious performance by Teyonah Parris), she is dressed as a slave, languidly sweeping the cabin of white overseer Jim (Paul Alexander Nolan convincingly playing a predator), who runs the MacGregor plantation. As she sweeps, suddenly Rihanna's "Work" blasts through the theater (startling sound design by Lindsay Jones) and Kaneisha begins twerking uncontrollably. Jim discovers her dancing and, to avoid a beating, she coos seductively and tells him to call her "a nasty, lazy Negress" until he takes her by force.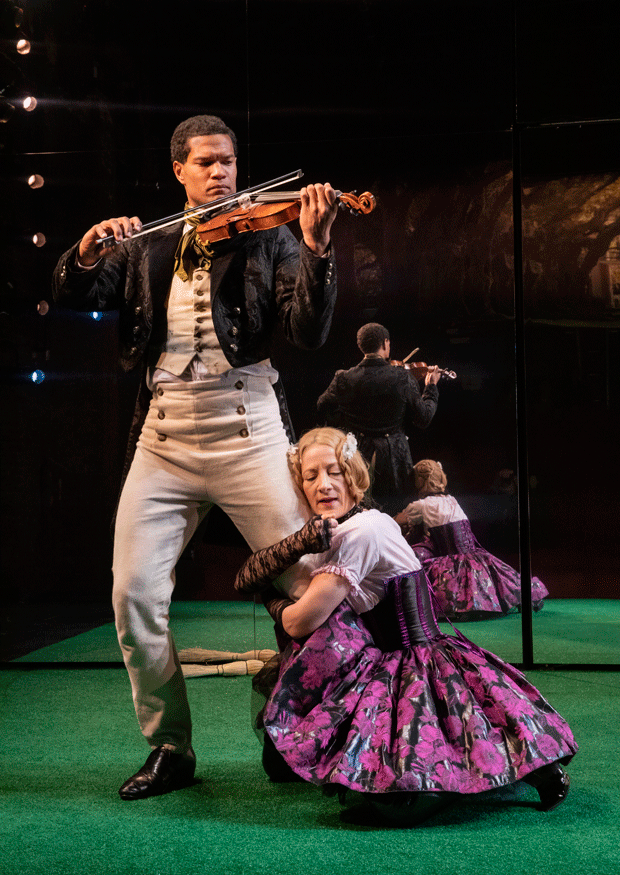 Sexual violence and disorienting anachronisms appear in two subsequent scenes involving interracial "couples" on the MacGregor plantation. Alana (Annie McNamara playing a hilariously oversexed Southern belle wearing provocative dresses designed by Dede Ayite), sports thigh-high leather boots as she seduces the handsome, violin-playing house servant Phillip (pitch-perfect obtuseness by Sullivan Jones in a scene that calls to mind the 1975 film Mandingo). She then has her way with him using a sex toy. This episode is followed by another involving a field hand named Dustin (a conflicted James Cusati-Moyer) who is belittled and brought to boot-licking subservience by the black overseer Gary (played with sympathetic outrage by Ato Blankson-Wood), who uses the N-word to describe himself and encourages Dustin to do the same.
At first, these scenes, which coax uncomfortable laughter from the audience, seem like a random pastiche of offensive sexual scenarios infused with antebellum stereotypes and racist epithets. But suddenly overseer Jim, losing steam while he's raping Kaneisha, yells "Starbucks!" — and the illusion of the past is shattered.
Far from being a mere examination of sexual fetishes, the play goes on to delve deeply into its characters' fractured, seemingly contradictory identities. Through the comedic teamwork of Chalia La Tour and Irene Sofia Lucio (giving away their characters here would be an unfair spoiler), the audience comes to see how the psychosexual effects of slavery, rape, racism, and the myth of white superiority have been passed down through generations and how they continue to distort black identities and perpetuate the intractable phenomenon of white privilege. "You're a virus!" shouts Kaneisha at Jim in a moment of epiphany. The pernicious legacy of whiteness in America, the play implies, has diseased black minds.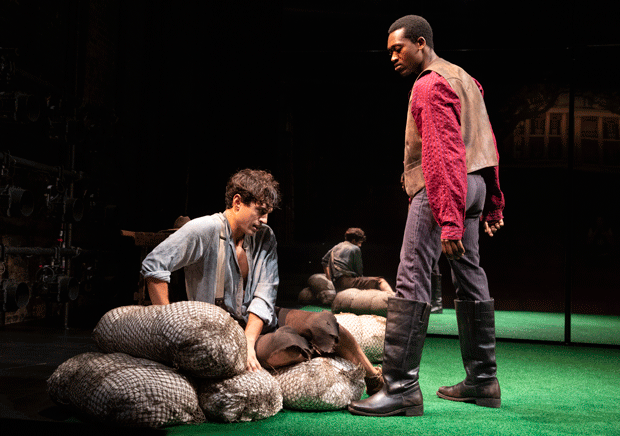 Clint Ramos's set conveys this idea from the beginning. The background of the stage comprises a series of door-shaped mirrors that reflect the audience as well as the image of the Big House on the MacGregor plantation. As we sit watching, we feel as though we are inhabitants of the plantation; Jiyoun Chang's lighting, which rises from time to time on the audience like a dull sunrise, drives this point home: The MacGregor plantation is America today.
If ever there was a play in need of honest talkbacks, Slave Play is it. (The production does provide access to counselors in the lobby after the production for anyone who needs help processing what they've just witnessed during two intense, intermissionless hours.) While the show examines authentic psychological conditions, the psychosexual crises experienced by Harris's characters in effect become a metaphor for the plantation-mentality power structures that still infect the American consciousness. Harris's play raises issues about the role and responsibility that white people have in creating racial fairness in our society, and how people of color still struggle to emancipate their identities in a white-dominant culture. Slave Play doesn't have the answers, nor does it tell us how to begin the tough conversations we need to have. But when Kaneisha says to Jim, "Thank you for listening," that feels like a good place to start.