Signature Plays: The Sandbox, Drowning, Funnyhouse of a Negro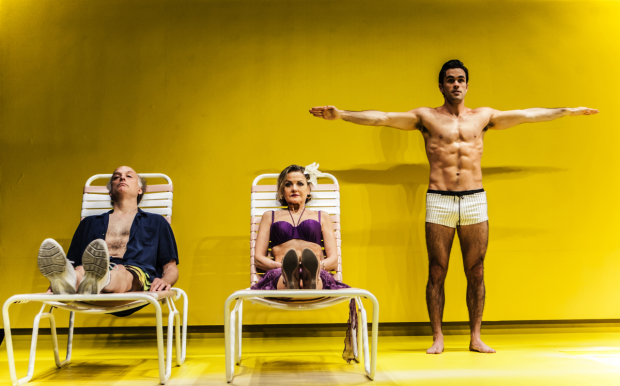 Absurdist theater, with its quirky characters and fantastical situations, is an ideal genre for exploring the insidious ways society ranks us and often makes us feel negatively about ourselves and our bodies. Signature Theatre Company has assembled a trio of brilliant plays by three former playwrights in residence that show how shallow notions of age, beauty, and race devalue individuals. In each work, Lila Neugebauer's direction is nothing short of extraordinary. With the impeccable performances of her cast, she combines the diverse tones, techniques, and themes of Edward Albee's The Sandbox, María Irene Fornés' Drowning, and Adrienne Kennedy's Funnyhouse of a Negro into two humorous and frightening hours of theater, now running at the Pershing Square Signature Center.
The Sandbox, one of Albee's first one-act masterpieces, kicks things off with a disconcerting though undeniably playful look at the way the young discard the old. Middle-aged couple Mommy and Daddy visit a beach intending to dispose of 86-year-old Grandma. They plunk her in a sandbox to thrash about while a hunky Young Man (aka the Angel of Death) exercises nearby. Meanwhile, a cellist (Melody Giron) plays intrusive background music as Mommy and Daddy relax in lawn chairs waiting for Grandma to kick the bucket — or in this case, a literal toy sand pail.
The cast nails the humor and tone of this 15-minute absurdist nugget with uncanny precision. Alison Fraser plays Mommy with exquisite indifference to Grandma's fate, and Frank Wood's Daddy looks too browbeaten to care much about anything. Hunky Ryan-James Hatanaka gives the Young Man a dim-witted gravitas as he flexes, flashes a bright smile, and raises and lowers his arms with ominous, winglike swoops in front of a sunny yellow background (scenic design by Mimi Lien). Phyllis Somerville, however, is the pearl in this oyster. Her crusty portrayal of Grandma, pitching about in the sandbox and grousing at the cellist's music, makes for the play's funniest moments.
A nine-minute pause (for a set change) separates this play from the second, but in Signature's signature smart fashion, the interlude becomes its own little bit of theater. An actor (Nicholas Bruder) enters with an old radio and helps us pass the time by surfing through stations. It's a scene worthy of Samuel Beckett.
Next up is Drowning, a subdued short featuring two humanoid characters, Pea and Roe, who are waiting, possibly in a bus terminal, for someone named Stephen. Pea and Roe, amorphous coagulations of flesh with grotesque potato-shaped heads, move and speak at a glacial pace. Pea, the less worldly of the two, discovers a beautiful woman on the front page of a newspaper. When he meets the woman (offstage between scenes), she is repulsed by him, and Pea is left to wallow in self-pity while Roe and Stephen helplessly look on.
Though it provides an occasional ripple of laughter, Drowning swims in comparatively calm waters. The dialogue crawls by like a snail in January. Sahr Ngaujah plays Pea's mentor, Roe. His languorous movements are so slowly paced that they have the hypnotic effect of a lava lamp. Wood makes an appearance here too — unrecognizably in potato-head attire (disturbing costumes designed by Kaye Voyce) — as Stephen in a nearly wordless role. Pea is played with endearing pathos by Mikéah Ernest Jennings. At first we feel that these oddly shaped beings, with their lethargic conversation and sloth-like movements, don't have much in common with us — until we see a tear in Pea's eye: "Is this why we have come to life?" he asks, staring at the photo of the woman who has rejected him. "To love like this? And hurt like this?" Suddenly we see a resemblance to ourselves.
Neither of these works prepares us for the nightmarish visions of the second act, Funnyhouse of a Negro. This phantasmagoric work uses startling surrealistic imagery to depict the fractured psyche of a young light-skinned black woman named Sarah who longs to be white. She surrounds herself with white friends while immersing herself in European history and culture. In a series of gothic-tinged scenes (more amazing set design by Lien), we meet Sarah's four splintered selves: Queen Victoria Regina (April Matthis) and Duchess of Hapsburg (January LaVoy), both gorgeously attired black women wearing whiteface, along with Congolese independence leader Patrice Lumumba (Ngaujah) and Jesus (Jennings), both black men. "I long to become even a more pallid Negro than I am now," says Sarah; "pallid like Negroes on the covers of American Negro magazines; soulless, educated and irreligious." As these tormented selves rage within her, we see Sarah descend into madness.
Neugebauer creates a sublime atmosphere of dread and horror with the help of Mark Barton's astounding lighting techniques, which subtly illuminate the dark corners of Sarah's subconscious one moment and startle us with a blazing light of revelation the next. Brandon Walcott's unsettling music and jarring sound design also reflect Sarah's fractured state of mind. All the performances here are razor-sharp. Crystal Dickinson plays the tortured woman like a zealot daring the world to challenge her beliefs. Ngaujah also gives a ferocious performance as Sarah's inner Lumumba.
These three short masterpieces certainly don't qualify as typical theater fare. This electric production, however, is a feast for the eyes as well as the brain. It's also further proof that Lila Neugebauer is one of the theater's most versatile and accomplished directors working today.