Scissorhands: A Musical Homage to Play the Bourbon Room in Los Angeles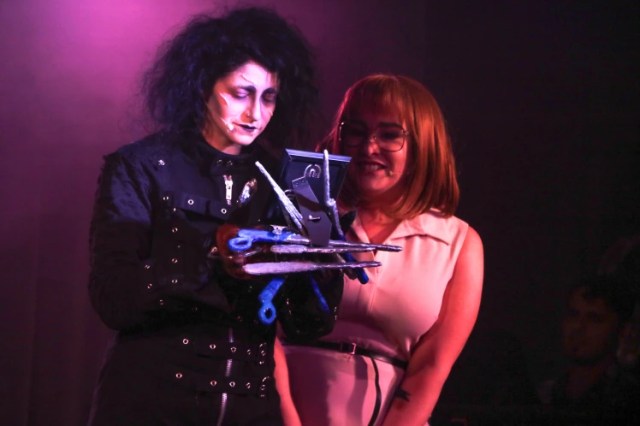 Scissorhands: A Musical Homage Concert Reunion will offer two nights of performances at the Bourbon Room in Los Angeles on June 12 and 13 at 8pm. The juke-box-musical homage to Tim Burton's 1990 film returns to the stage after enjoying two years of sold-out shows at Rockwell Table & Stage in 2018 and 2019.
The concert will feature a bill of hit songs including "Dream On," "Uninvited," "Like a Prayer," "I'm Every Woman," "I'm Afraid of Americans," "Shallow," and Shake It Out." The cast includes Jordan Kai Burnett (Romy & Michele The Musical) as Scissorhands, Emma Hunton (Good Trouble) as Peg, Natalie Masini (Griselda) as Kim, Dionne Gipson (For the Record) as The Inventor, Ryan O'Connor (Big Little Lies) as Helen, Carly Casey (Prom) as Joyce, Morgan Smith (How I Met Your Father) as Esmeralda, and Garrett Marshall (Mystic Pizza: The Musical) as Jim. Gregory Nabours returns as Musical Director. The event is produced by Bradley Bredeweg, Kate Pazakis, and Rob Wood.
Edward Scissorhands tells the story of an unfinished artificial humanoid with scissor blades for hands who is taken in by a suburban family and falls in love with their teenage daughter. The 1990 film starred Johnny Depp, Winona Ryder, Anthony Michael Hall, Dianne Wiest, Kathy Baker, Alan Arkin, and Vincent Price.
For tickets and more information, click here.