Review: Your Sexts Are Shit: Older Better Letters Challenges Us to Text Dirtier and Smarter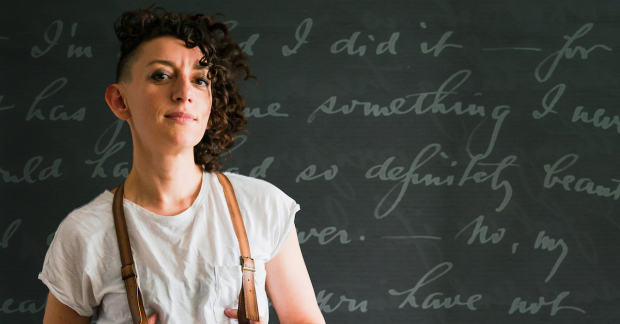 Your text messages offer the illusion of impermanence, disappearing above the screen as the thread grows ever longer. Sure, you can delete them or switch phones — but very likely they will live forever in a remote corner of the cloud, to be discovered by some patient digital archeologist should you be deemed worthy of history's attention. Don't you want to make sure that what you leave behind is a good, steamy read?
That seems to be the implicit challenge behind Your Sexts Are Shit: Older Better Letters, Rachel Mars's solo show now performing as part of the Under the Radar Festival at the Public Theater. The British theatermaker is making her New York debut with a production that is bound to raise a few eyebrows, if nothing else.
Like Mars, I too have a taste for dirty talk, the seemingly limitless erotic potential of language. We know she's taking us into the deep end when she kicks it off with James Joyce's letters to Nora Barnacle, his "dirty little fuckbird." She intersperses her readings with silent projections of contemporary text messages from (mercifully anonymous) senders, like a polite invitation to sit on a face, or a more mundane reminder to pick up an item from the supermarket. This honestly feels a bit unfair. How can these hastily composed texts ever hope to compete with the elaborate fart fantasies of the author of Ulysses?
Not all of Mars's selections veer toward the scatological (a letter from Mozart to his cousin being a big fat exception). They range from the cute (Eleanor Roosevelt to Lorena Hickok) to the manic (Charles Bukowski to Linda King…and her refrigerator) to the tragic (closeted homosexual monk Brother Augustine to Samuel Hase). Sounds designer Dina Mullen underscores each of them with smartly selected music, turning a letter from Frieda Kahlo to Diego Rivera into an aural MDMA trip that beautifully enhances the vivid natural imagery already present.
Mars is particularly good at conveying the spirit of each letter, delivering lusty readings in her ready-for-the-BBC diction. A tangle of black hair dangles flirtatiously from the left side of her head and she wears a photographer's harness, presumably for the way it suggests BDSM, as she takes no photographs during the 60-minute performance.
With her cruel juxtaposition of these letters against 21st-century sexts, Mars definitively proves that, for most of us, brevity is not the soul of wit, sex, or anything else. But Your Sexts Are Shit is less a luddite's crusade to shame those of us who have abandoned pen and paper for the smart phone (which is most people) than a call for us to be more thoughtful about our texts, whether erotic or quotidian. It's a tall order when it is now possible to communicate with someone thousands of miles away without having to wait for days by the mailbox.