Review: Seeing a Portrait of the Artist in The Sign in Sidney Brustein's Window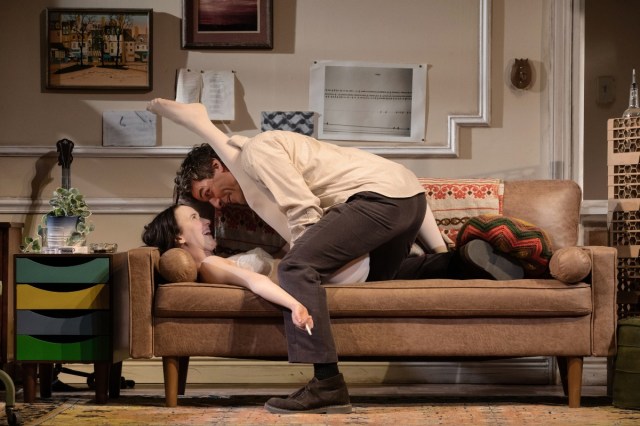 "How smug it is in bohemia." So says conservative 1960s housewife Mavis Parodus (the fabulous and newly minted Tony nominee Miriam Silverman) to her brother-in-law Sidney Brustein (Oscar Isaac), her younger sister Iris (Rachel Brosnahan), and their gang of renegades who quarrel about things like Henry David Thoreau, sexual mores, and the role of the artist in modern society.
Is this the Greenwich Village version of the culture-shifting French salons or just a bunch of intellectual blowhards spinning revolutionary yarns in the comfort of a New York City walk-up? With all the ping-ponging consciences, identities, and metaphysical theories that characters cycle through in The Sign in Sidney Brustein's Window, it's hard to know if Lorraine Hansberry herself would have been able to offer a conclusive answer, even if she had lived long enough to reflect on her wildly ambitious final work (the show abruptly ended its original 1964 Broadway run after Hansberry's death from pancreatic cancer).
Now running at Broadway's James Earl Jones Theatre after a rushed end-of-season transfer from the Brooklyn Academy of Music (and a lackluster response from the Tony Award nominators), The Sign in Sidney Brustein's Window has already gotten its knocks for being an unwieldy behemoth of social commentary. Race, sexuality, capitalism, politics, art, activism, marriage — it's all at the mercy of Hansberry's sharp tongue and frenzied mind that saw the world's twisted web and tried to capture every bit of it in one play. It belies the reputation Hansberry famously earned from her debut work, A Raisin in the Sun — the picture of clarity in story, character, and theme. But knowing that Sidney Brustein comes with a bit of overwhelm attached, letting the perfect be the enemy of the inspired would be a huge mistake — especially when you have a director like Anne Kauffman holding this immensity in her arms and allowing you to roam through it freely with a sense of safety and exploration.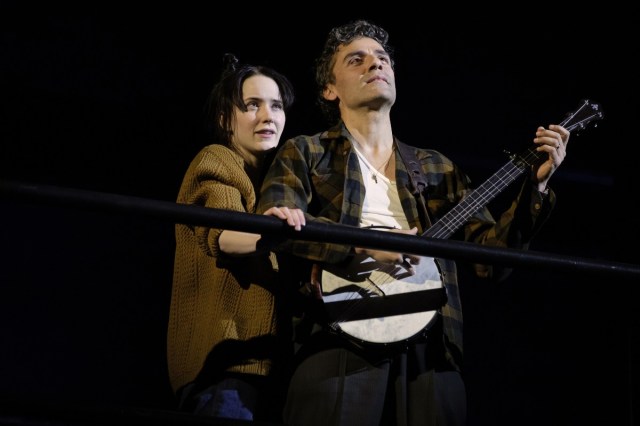 At the core of Hansberry's knotty web of meditations (as the title portends) is Sidney Brustein and that pesky sign. Fresh off a failed business venture — a watering hole for folk music-loving navel gazers called Walden Pond — Sidney impulsively buys a dying local newspaper and plans to revitalize it with the help of his forward-thinking friends (Raphael Nash Thompson gets some of Hansberry's best comedic material as the visionary artist Max whose shirks all notions of accessibility in his work). In Isaac's meticulous hands, Sidney bewitches us with his artful speech and manic fervor for his next project, distracting us from the fact that all his excited swirling is done from the sidelines with a bunch of biteless barking.
Meanwhile, Sidney's pal Wally O'Hara (Andy Grotelueschen) plans to get in the ring and unseat the bosses of local party politics — and naturally, an endorsement from Sidney's paper would be a welcome boon. Sidney initially declares that his paper will abstain from all things political, claiming that he himself has "lost the pretensions of the campus revolutionary." But by scene two, his youthful optimism has returned and he's proudly flying the "O'HARA FOR REFORM" banner in his apartment window.
From here, Sidney rides a roller coaster that takes him through cycles of idealism and despondency that test his progressive values and make him wonder if solipsistic hedonism is the only way to survive a broken world. Along for this increasingly rocky ride is his struggling actor wife, Iris— a Greek, Irish, and Cherokee mutt from Oklahoma whom he dreamily calls his "mountain girl" while pawing at her mess of long brown hair. She is his fantasy, but he — with his New York City intellect and Jewish neuroticism — is just as much hers. Brosnahan, in an extraordinary performance, reveals marital fault lines in actions as seemingly insignificant as cyclically taking down and putting up the hair Sidney fetishizes. Kauffman has the two of them in near-constant physical contact (Sonya Tayeh lends superb movement direction), and being the expert sparring partners that they are, electric passion is always a hair's breadth away from permanent rupture. Sidney's gibes get meaner. Iris's artistic aspirations get flimsier. The outside world is seeping in through that window (lighting designer John Torres gives the world an eerie green-red hue like a dystopian sunrise when the world of the play is at its ugliest).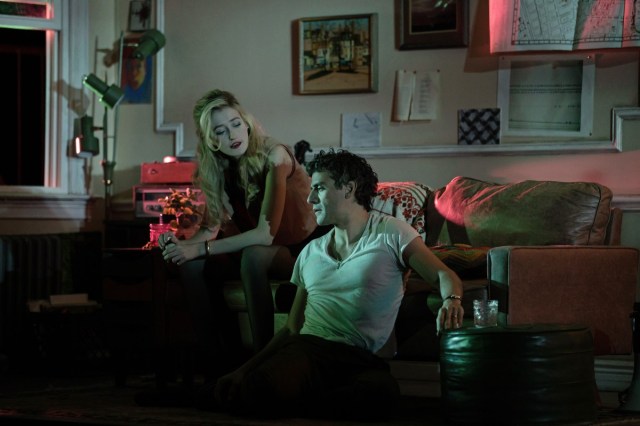 What struck me most of all in this second go-round with Sidney Brustein is Hansberry's self-conscious commentary on art and artists, as if interrogating her own purpose before leaving it behind. Her artist characters rail against the constraints of realism: Max crudely rejects the masters of the Renaissance, claiming his only responsibility is to himself. Meanwhile, the Brusteins' upstairs neighbor and frequent dinner guest David Ragins (Glenn Fitzgerald) speaks as an avant-garde playwright whose work he believes should not come with a ready-made message. "You hate my kind of writing because it goes beyond the walls of Ibsen's prisons and Shaw's lectures," David says reproachfully to Sidney.
And yet, The Sign in Sidney Brustein's Window is filled to the brim with Shavian lectures and a pointed allusion to Ibsen's A Doll's House in Iris's multi-ethnic dance Sidney playfully commands her to perform. Iris, as the voice of the layman, notes the absurdity of work she calls "arty," while the ex-Communist Alton Scales (Julian De Niro) posits that the responsibility of the artist is to reflect the world. As a young Black man navigating 1960s America, he has a particular claim to this stance — despite his friends' careless insistence that he opt for a simple life of passing. It's a performance that would be made all the easier by his impending marriage to the youngest Parodus sister Gloria, a woman who herself is passing as an all-American girl while making a living in the "oldest profession" (a stunning second-act appearance by Gus Birney).
Hansberry's artist characters' much-derided realism sneaks in everywhere we look, and Kauffman's production takes these mouthpieces to task for their beliefs within a society that continues — to this day — to suffer far more from reality than abstractions. Still, everything is a possibility in a world that continually proves to be inscrutable, and Hansberry, intrigued by some of these "arty" ideas herself, sprinkles in bits of surrealism that A Raisin in the Sun aficionados would find jarring (the design collective dots crafts a beautiful two-story set that accommodates this theatrical experimentation). Do artists reflect the world or transcend it? Do they serve an audience or themselves? The Sign in Sidney Brustein's Window is riddled with the anxieties of an artist trying to answer these questions before her time is up — and Kauffman allows us to sit with the uneasy sense that Hansberry never answered them to her satisfaction. But what makes art more alive than an unanswered question?