Explore Shows from this Story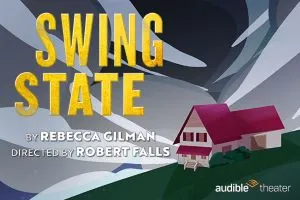 Final performance: October 28, 2023
Review: Redemption? Swing State Challenges Us to Try That in a Small Town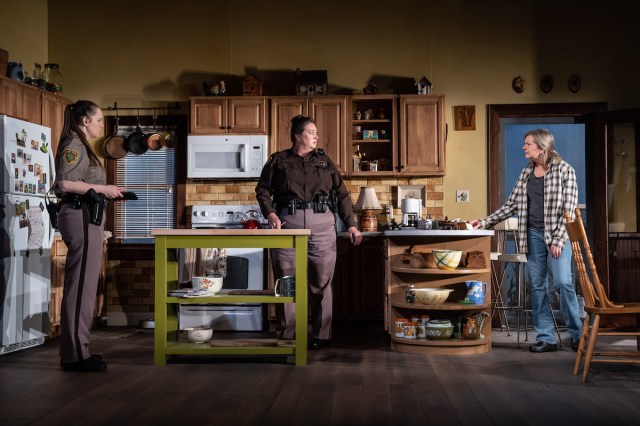 There are a lot of great qualities about small communities. A sense of familiarity and collective responsibility fosters the kind of trust that allows people to feel perfectly comfortable keeping their doors unlocked. But be careful not to get on the wrong side of that equation, because you can never come back. Once your role in the town drama has been cast, there's no changing parts — and little room for character development. This is how we enforce fate in the land of free will.
That's the subject of Rebecca Gilman's Swing State, the thoughtful, somewhat contrived, but undeniably riveting American tragedy now making its New York debut with Audible Theater at the Minetta Lane. The great pleasure (and deep pain) of Gilman's drama is watching her characters push against the destinies that have been laid out for them.
Ryan (Bubba Weiler) is the screw-up of rural Cardiff Township, Wisconsin. His drunken antics landed him in prison at a young age. His former teacher, Peg (Mary Beth Fisher), and her husband treated him like an informally adoptive son when he got out, giving him with a job and a seat at their table. Now that Peg is a widow, he's the only person who joins her for dinner.
Where Peg is supportive of Ryan's rehabilitation to the point of indulgence, Sheriff Kris Callahan Wisnefski (Kirsten Fitzgerald) offers the exact opposite. A busybody enforcer, her ironclad morals conveniently bend around the contours of her own life. She has recently hired her niece, Dani (Anne E. Thompson), as a deputy — although she's quick to assert this has nothing to do with nepotism. She blames Ryan for her own son's opioid addiction and doesn't believe he's capable of reform. So, when several tools and an antique rifle go missing from Peg's barn, the Sheriff is dead certain about the culprit and will stop at nothing until she nabs him.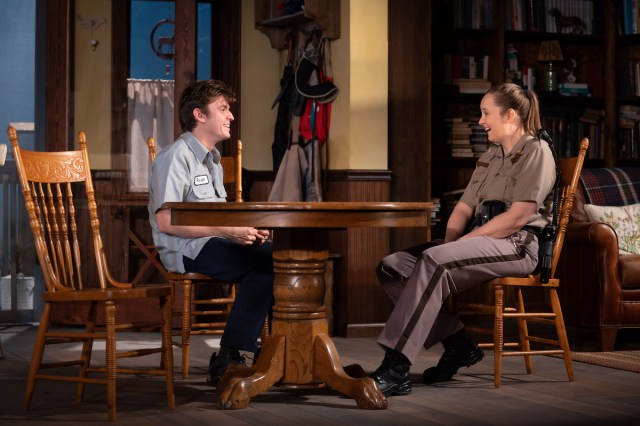 Gilman gives us an intimate view of this small Wisconsin community (its rules, relationships, and generations-old resentments) in just four characters. Somewhat awkwardly, their substantial exposition must be conveyed within the kitchen-cum-living room of Peg's farmhouse (created in painstaking living-in detail by set designer Todd Rosenthal). That sometimes means a combination of the three other characters have a chat in her house while she's not even there — a drawback of that unlocked door policy, and the least-believable aspect of Gilman's play.
But under the sensitive direction of Robert Falls, the performances give us little reason to doubt the authenticity of these characters. Fitzgerald's portrayal of Sheriff Kris felt particularly familiar to me. Loudly (yet fragilely) opinionated, physically imposing, and eager to help even when unwanted, she provides the needling energy that powers this drama. As a refugee from the Midwest, I found her performance profoundly triggering.
As Peg, Fisher exudes a more libertarian vibe with her slight glower and steady line delivery, which is as dry as the Prairie she loves. She seems like someone who wants to be left alone, and her misanthropic environmentalism (her views on the pandemic could be summarized as "finally") only reinforces that façade. But it's all an act, and we are reminded of that every time a light flashes in the driveway (subtle, effective lighting design by Eric Southern) and she bounds to the door like a lonely Golden Retriever. Is the threat of solitude the only reason she tolerates the constant disappointment Ryan brings into her life? If that's the case, why did she go out of her way to help him when she was still happily married to a man who shared her passion and intelligence? Is love knowing that you will be hurt, but exposing your heart anyway? Fisher provokes those questions and more with her nuanced, deeply emotional performance.
Weiler also captures the messy contradictions of a real person, exhibiting irresistible charm one moment and repellant instability the next. Ryan lies and we believe him. He fucks up and we want to forgive him. All of this makes Peg's behavior much more understandable, even if we cynically suspect that the odious sheriff is right — that he won't change. And how can you when all the same people with whom you got into trouble are still there, hanging around your small town?
Joining the force is meant to be a major part of Dani's redemption story, having just exited a failed marriage (divorce is also a drama for public consumption in tight-knit communities). Even though she's packing heat (fully realized cop costumes by Evelyn Danner), Thompson carries herself with the shy, downcast gaze of an adolescent still not fully comfortable with inhabiting her body and taking up space in the world. As the play progresses, we begin to wonder if this is the cleverest act of all.
Everyone in Swing State has a veiled motive, something they're not saying out loud and often intentionally obfuscating (Richard Woodbury's contemplative original music gives us little opportunities to consider what those might be in the scene transitions). And when your life is always under the microscope, it seems only natural to want to keep some things to yourself. And really, if you think small-town Wisconsin is bad, trying living in a tiny co-op on the Upper West Side. Swing State is a fascinating look at the lies we tell ourselves and others in order to exist within a modern society that still too often feels like an insular tribe.
Featured In This Story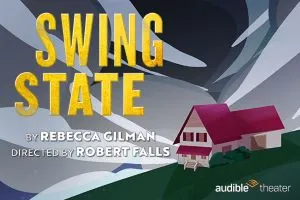 Final performance: October 28, 2023