Explore Shows from this Story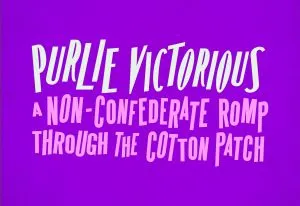 Final performance: February 4, 2024
Review: Purlie Victorious Makes a Triumphant Return to the Broadway Stage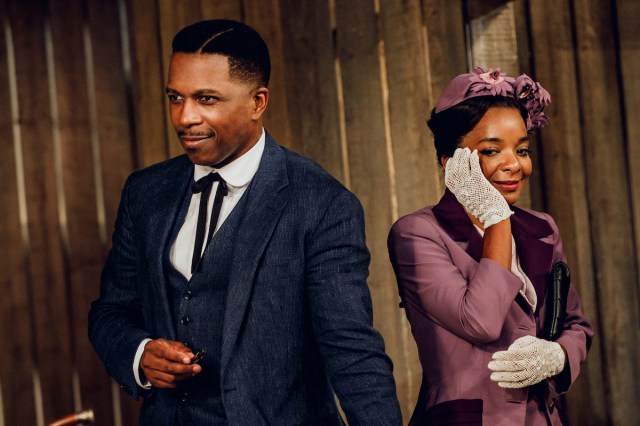 Most people will know Ossie Davis primarily as a stage and screen actor, especially with the recognition he garnered later in his career when Spike Lee cast him in films like Do the Right Thing. Thus, the new Broadway production of his play Purlie Victorious—its first revival since its 1961 premiere—offers a reminder of what a truly multitalented artist and committed civil rights activist Davis was. But there's nothing at all musty or reverential about this production. Instead, it makes a convincing case for Davis's satirical play as a living, breathing work of art, one that, for all its dated elements, still has much to offer to contemporary audiences.
Set in the so-called "Old South," as its subtitle, "A Non-Confederate Romp Through the Cotton Patch," suggests, the play follows the attempts of its title character, a traveling preacher named Purlie Victorious Judson (Leslie Odom Jr.), to save his town's church. On his way back home, he has picked up Lutiebelle Gussie Mae Jenkins (Kara Young) and enlisted her to join his scheme, which involves her pretending to be Purlie's late Cousin Bee and tricking plantation owner Ol' Cap'n Cotchipee (Jay O. Sanders) into handing over the $500 inheritance due her.
Davis has filled out this barebones plot with a lively supporting cast of characters. There's Purlie's sister-in-law Missy (Heather Alicia Simms), who radiates warmth and indulgence; and his brother Gitlow (Billy Eugene Jones), who switches between fawning agreeableness in Cotchipee's presence and macho obstinacy in private. On the Cotchipee side, Ol' Cap'n's son Charlie (Noah Robbins) comes off as a privileged man-child even as he takes a more progressive view of race relations, while Idella Landy (Vanessa Bell Calloway) suggests a more perpetually worried version of Missy as the Cotchipee's long-time cook and a mother figure to Charlie.
Upon hearing Missy's concern as to whether Lutiebelle resembles Bee enough to be able to fool Cotchipee, Purlie declares, "White folks can't tell one of us from another by the head!" Davis's play is full of such broad swipes at the ridiculousness of white folk—which is not to say that he minimizes the horrors of slavery. What still astonishes about Purlie Victorious is the wide range of Davis's vision: the way comedy pivots to terror seemingly on a dime; the way character, including Purlie himself, are allowed to be both heroic and buffoonish, thus recognizably human; and, on a broader level, the way Davis makes his own activist stance resoundingly clear without allowing his play to lapse into a mere polemic.
Director Kenny Leon is up to the task of bringing such a multifaceted vision to vibrant life onstage, demonstrating the same knack for finding the sweet spot between broad comedy and inner emotional truth that he displayed last year in Topdog/Underdog. To some degree, the production's design elements reflect Leon's desire for a certain level of realism to prop up the satire, with Derek McLane's scenic design feeling as authentically lived-in as Emilio Sosa's homely costumes. J. Jared Janas's hair, wig, and makeup designs are particularly spot-on, especially in the way he makes Jay O. Sanders look barely recognizable but also unmistakably a Col. Sanders-like bastion of the Confederate South.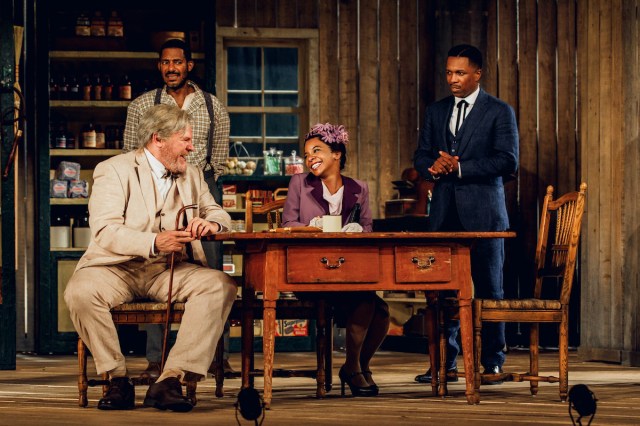 On the acting front, the production's bench of players is especially deep. As the two motherly female figures of the bunch, Simms and Calloway offer a fascinating study in contrasts: Simms giving off big-hearted warmth, Calloway more cautious and world-weary by comparison. As Gitlow, Jones effortlessly delineates the differences between his Uncle Tom routine around Cotchipee and his tougher authentic self in the presence of Missy, Purlie, and the rest. Sanders exhibits a similar versatility, playing his Southern caricature to the hilt but finding genuine menace when he finds his power challenged. Alongside him, Robbins is appropriately timorous yet well-meaning as his son.
Naturally, though, it's Odom and Young who command the lion's share of the spotlight here. Odom brings both thunderous passion and a mischievous glint in his eye as the blustery yet well-meaning Purlie. But Young steals the show as the naive yet eager Lutiebelle. Neither of her previous Broadway performances in Clyde's and Cost of Living quite indicated the gift for physical comedy she dazzlingly displays here; the hilariously awkward gait she adopts during her attempt to seduce Ol' Cap'n Cotchipee, for instance, must be seen to be believed. Beyond the opportunity it offers to discover, or rediscover, Davis's still-fresh, still-impressive play itself, she is arguably the best reason to catch this excellent production.
Featured In This Story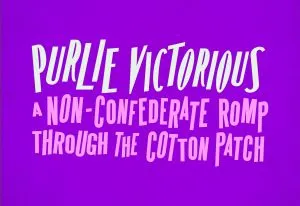 Final performance: February 4, 2024