Review: & Juliet Sets a Shakespearean Battle of the Sexes to a No-Skips Playlist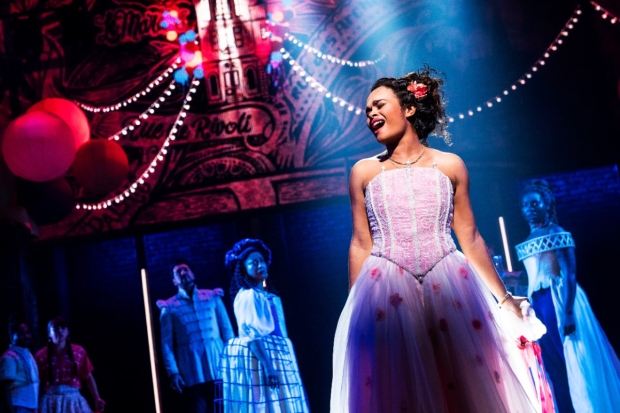 As an audience member at Broadway's newest jukebox musical & Juliet — a West End smash scored by the catalogue of pop hit-maker Max Martin — you have two options. A: You can repentantly pray to the spirit of Stephen Sondheim while his eponymous theater is showered with confetti. Or B: You can have a great time.
Judging by the performance I witnessed, which had the added challenge of playing to some of the most jaded theater insiders, most are opting for the latter — and yes, against my most crotchety instincts, I include myself in that category. Now, before all you Broadway doomsayers start stocking up on bottled water, this is not a sign of the apocalypse. It simply demonstrates the same scientific principle that impels your snobbiest Radiohead friend to choose "Oops!…I Did It Again" at karaoke. If pop music be the food of love, play on!
That's not the right Shakespeare play. But let's be honest, & Juliet — written by David West Read with the same yen for camp and Gen Z phraseology that he brought to Schitt's Creek — has only tenuous connections to its source material anyway. A paean to third-and-a-half wave feminism (it's a colorful explosion of classic "girl power" with a dash of LGBTQ intersectionality), the musical imagines the next act of Romeo & Juliet if Juliet had not made the rash decision to off herself over a boy she'd only known three days. What if instead, she headed out on a fabulous soul-searching road trip with her besties, just like Britney Spears in Crossroads?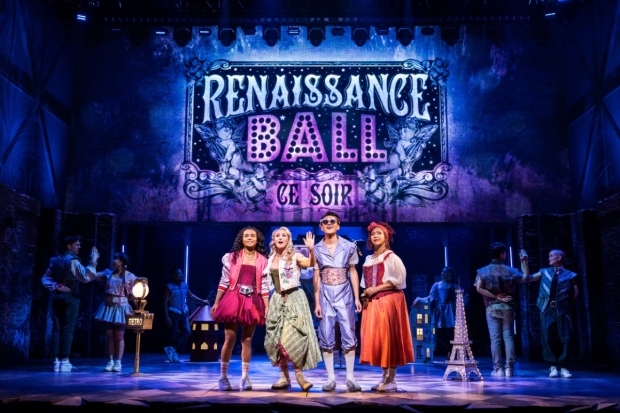 Leading this rom-com fantasy is Lorna Courtney in a star-making performance. Her Juliet (aged up from the 13 years Shakespeare gave her for comfort's sake) is smart but impetuous, charismatic but never bubbly, innocent but far from naïve. It also doesn't hurt that Courtney's vocals rival those of most of her songs' original artists. She's joined by Justin David Sullivan, who plays her best friend May — a nonbinary character with whom Juliet unknowingly enters a love triangle with the young Parisian François "Frankie" Du Bois. Philippe Arroyo plays this charmingly skittish prince who is being pressured by his alpha male father Lance to marry. And nothing quite says alpha male like Paulo Szot's booming baritone (indeed, we have fully departed from Shakespeare at this point).
Sullivan adds some pathos to the mix with their sweet performance of "I'm Not a Girl, Not Yet a Woman" — one of the only breaks we get from the onslaught of high-octane power ballads and dance numbers (Jennifer Weber lends exciting hip-hop choreography). Don't get me wrong, & Juliet is a joy ride from start to finish, but it does make you wonder if there's such a thing as too much catharsis (Howard Hudson creates new, energetic pictures through his lighting design in each climactic number). Throw on top of all that another love story involving Frankie's father and Juliet's nurse Angélique (the entrancing Melanie La Barrie, coming to Broadway from the original West End production), and perhaps another Shakespearean resurrection. For a musical with barely any time for dialogue, director Luke Sheppard certainly keeps the production chugging at a relentless but effective pace.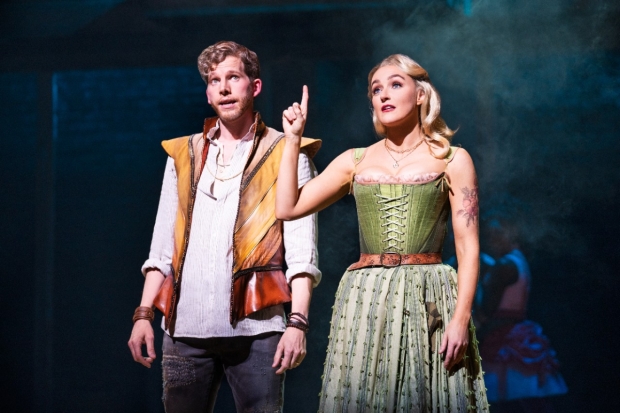 If you're looking for delicate artistry, you'll want to get off at the first exit ramp. But just like a satisfying pop song (take your pick of any of the 30 that are stuffed into this two-and-a-half-hour musical), & Juliet is first and foremost an aesthetic — and it takes itself exactly as seriously as that aesthetic demands (Soutra Gilmour's set is rigged for a stadium tour with delightful accents of farce). It's not a carefully constructed plot arc, but rather the unrestrained empowerment of Katy Perry's "Roar," the righteous indignation of Bon Jovi's "It's My Life," and the unvarnished freedom of Kelly Clarkson's "Since U Been Gone" that get audiences on board with this screwball adventure. Nuance would only be a pesky obstacle to the big feelings you want to wrap yourself in while scream-singing along (you'll also be aching to wrap yourself in Paloma Young's fabulous modern-Renaissance costumes).
Juliet is of course the centerpiece of this feminist reclamation, but the true protagonist of the musical is Shakespeare's discontented wife, Anne Hathaway, the author of this pop fever dream. Betsy Wolfe comes alive as the architect of & Juliet's play-within-a-play structure (a fun nod to Shakespeare's proclivity for the device) in a shining vocal and comedic performance that gives & Juliet some of its only moments of subtlety. On the day of Romeo & Juliet's grand debut, Anne unassumingly suggests the ending of her husband's play needs a feminist overhaul — though the plea is clearly more personal than literary (Wolfe is well-matched with the perpetually boyish Stark Sands who brings an impish charm to his performance as the Bard). Together, Anne and Will engage in a battle of the sexes via the power of the pen (or quill), vying for control over their theatrical avatars.
It's not hard to guess who will emerge victorious. But in the world of Shakespeare, a surprise ending was never in the cards.