Review: Fat Ham Comes to Broadway With a Sizzling Cast in an Underbaked Play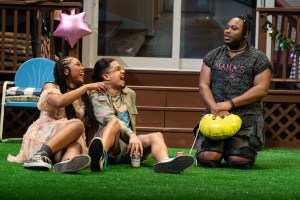 In Fat Ham, James Ijames takes a Shakespearean tragedy and turns it into a modern-day comedy that explores the identity of a young man who's trying to escape the toxic masculinity and violence that have plagued his family for generations. There's a lot to admire in this 95-minute one-act, even if by the end we feel like we've tasted more honey glaze than meat.
But the play worked well enough to catch the attention of the Pulitzer Prize committee when Fat Ham had its world premiere as a filmed production for Philadelphia's Wilma Theater, which streamed it in 2021 while the coronavirus kept theaters closed. The following year it won that prize, just days before it ran off-Broadway at the Public under the direction of Saheem Ali, who also helms the current production at the American Airlines Theatre with the outstanding off-Broadway cast reprising their roles (five of them make their Broadway debuts here).
Funny and thought-provoking as it is, Fat Ham feels like the second-to-last draft of something better. About midway through, the play begins to meander with messy scenes that go strictly for laughs and crowd appeal as the story loses focus on its main character and begins to home in on another. The humor covers up some of the cracks, but not enough to make the surprise ending feel earned.
Ijames starts things off with straightforward parallels to his Shakespearean source, Hamlet, with Marcel Spears playing Ijames's version the sullen Dane, Juicy — a Black, queer, and soft-as-butter 20-something who dons black overalls along with a heavy coat of ennui. He's trying to get an online degree in human resources from the University of Phoenix (one of the play's running gags) while living with his free-spirited, sometimes selfish mother, Tendra (Nikki Crawford), and his abusive uncle-father, Rev (Billy Eugene Jones). The family is celebrating Tendra and Rev's recent nuptials at a barbecue in the backyard of their North Carolina home (Maruti Evans's set comes complete with an eerily smoking grill that conjures Sweeney Todd). A funeral bouquet for Juicy's father stands to one side — indeed, the wedding followed hard upon.
But supernatural forces are afoot when the ghost of Juicy's father, wearing a checkered tablecloth (a jokey bit that doesn't land), appears to Juicy's porn-and-pot-loving friend Tio (Chris Herbie Holland in a terrific debut). Soon after, the ghost tells Juicy that Rev had him killed in prison while he was doing time for murder, and that Juicy needs to avenge his father's death pronto by killing — and eating — Rev. Wracked with indecision, Juicy wonders whether he should obey his abusive father and devour his equally abusive uncle, or instead break the cycle of violence, spare himself an awkward meal, and go live his best life.
With his fourth-wall-breaking side glances and cheeky asides, Spears gives an endearing and empathetic performance as the dithering Juicy. Throughout the play, Ijames gives Juicy quotes and monologues taken verbatim from Hamlet. While these tedious passages stop the action in its tracks, they also feel like a trenchant comment about theater itself — that a character like Juicy must be dressed in the borrowed robes of a traditionally white character to get people to listen to his story. If that's the message, it's a brilliant one.
There are a lot of other "borrowed robes" in Fat Ham, which revels in the ways clothing helps us hide our authentic selves (well-designed costumes by Dominique Fawn Hill). The barbecue really gets into high gear with the arrival of Rabby (a hilarious Benja Kay Thomas), her daughter, Opal (Adrianna Mitchell), and her fit Marine son, Larry (Calvin Leon Smith). Thomas, wearing a purple dress with matching church-lady hat, looks the part of a servant of the Lord, but we know she'd rather be sipping her Henny and dancing in the club. Mitchell ambles about like a walking groan as the closeted Opal, who's forced to keep up feminine appearances in her uncomfortable dress. As Larry, Smith looks at once dashing and dashed-upon in the starchy military uniform that he wears to impress Juicy. He's absolutely bursting with a hidden desire to shed those masculine togs — and later he does, in a fabulous way.
The production has other fabulous moments, like when Crawford steals the stage during the barbecue's karaoke scene with a hysterically sexy rendition of the Crystal Waters classic "100% Pure Love." Spears practically brings the house down when he grabs the mic and does a headbanging performance of Radiohead's "Creep," intensified by Bradley King's haunting lighting and Mikaal Sulaiman's rock-star sound design. Later on, Jones also surprises us with his own bit of stage magic — a disappearing act that may or may not surprise you depending on how easily distracted you are.
Unfortunately, these fun moments are all distractions from a story that loses its way toward the end in a series of chaotic scenes that push Juicy's story to the side in favor of Larry's story of instantaneous self-actualization. The play concludes with an extravagant flourish, and it's the most memorable part of the production; but the celebration is not for Juicy, a young, thicc, queer Black man who also wants to spread his wings and fly, to be the hero of his own story. Alas, in this play, it is not to be.