Review: Aubrey Plaza and Christopher Abbott Dive Into Danny and the Deep Blue Sea
Sure, the main box office draws of the new off-Broadway revival of John Patrick Shanley's Danny and the Deep Blue Sea are its two stars, Christopher Abbott and particularly Aubrey Plaza, the latter making her stage debut. But for all the star wattage, the real story of this production is the reintroduction of this early (1984) Shanley play, his second, to a new generation of New York City theatergoers. It's not only a fascinating early expression of the playwright's torridly operatic style, but a worthy, moving work that deserves this reappraisal.
The play is a two-hand romance, but the two central love interests are as far from your standard romcom protagonists as is imaginable. Danny (Abbott) is a violent, hot-tempered construction worker who has possibly killed someone in a barroom fight, while Roberta (Plaza) is a single mother with a dark familial secret. When these two volatile personalities meet in a Bronx bar one evening, the sparks that fly between them aren't the usual light and frothy variety, but raw and bruising, emotionally and physically. For these two people, drawn together in their alienation from society, a threat of physical violence with a tinge of S&M is what counts as an act of love.
But Shanley, as later films like Moonstruck and plays like Outside Mullingar would solidify, is a full-blooded romantic, not a hard-nosed realist. Over the span of the three scenes that make up Danny and the Deep Blue Sea, Danny and Roberta show us different sides of their characters, surprising us with the depths of their soaring desires and tragic neuroses. Turns out, Danny, for all his brutishness, has a genuinely sensitive side and a desire for a more settled existence. The more overtly romantic Roberta, however, has a self-loathing streak, borne out of her troubled family history and religious upbringing, that leads her to potentially sabotage her own happiness. Even more than its heart-on-sleeve romanticism, it's Shanley's desire to unearth a working-class poetry in the souls of these two profoundly screwed-up characters that is deeply moving.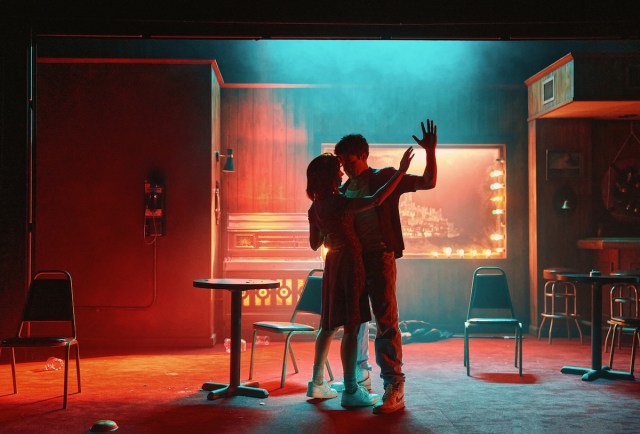 That poetic streak is evident in Shanley's subtitle for the play: "An Apache Dance," referencing not the Native American tribe but a Parisian street dance popular in the early 20th century that has historically been used to dramatize often violent relations between a pimp and a prostitute. Jeff Ward, who helmed this new production, has used that subtitle as the inspiration for his most noteworthy directorial invention: interpretive dance sequences connecting the three scenes—one featuring both characters pantomiming rough sex, the other featuring Roberta solo in front of a three-paneled vanity mirror—choreographed by Bobbi Jene Smith and Or Schraiber.
As jarring as these interjections of expressively stylized movement are, they're in keeping with the play's larger-than-life sensibility. So is John Torres's lighting design, giving Scott Pask's Bronx bar set in the first scene a warm neon nocturnal glow; as well as Kate Marvin's sound design, in which hidden mics are used to give the two characters' bedroom banter an extra sense of intimacy.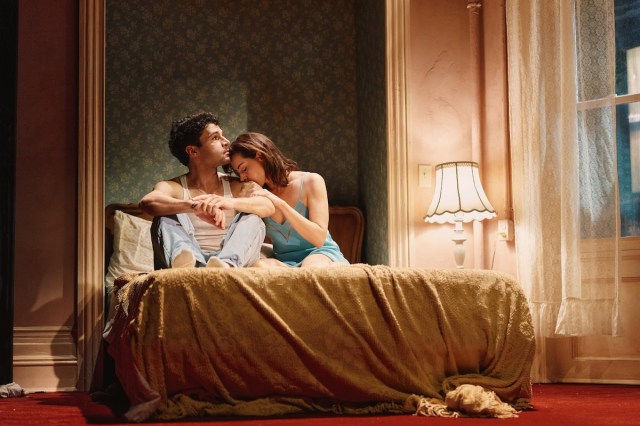 For all of Ward's intriguing directorial touches, however, Danny and the Deep Blue Sea remains very much an actors' showcase, and it is here that this production is on shakier ground. Of the two stars, it's Abbott who crafts the more consistently successful characterization, striking an uncannily convincing balance between Danny's outward misanthropy and his inner softie. Plaza is by no means bad; at the very least, she shows plenty of confidence and poise in this first time out onstage. But Roberta requires an actress who can exude wounded defensiveness beneath all her angry outbursts and halting romanticism. For all her skill and obvious effort, Plaza ultimately comes off less convincingly in her angrier moments than in her warmer, more vulnerable ones. The sense of a character having gone through hell, and in some ways still going through it, is sorely lacking, which to some degree undercuts the pathos of her arc.
The unevenness of her performance may not entirely be her fault, though. Ward's production does give off a faint sense of superficiality, of pulling back from the brink of darkness before fully reaching out for the light. Shanley's writing is lyrical enough that this solid revival casts a spell anyway, but one may also leave the theater wondering about the more devastating experience that it might have been.