Review: A Simulacrum Is the Dullest Magic Show in Town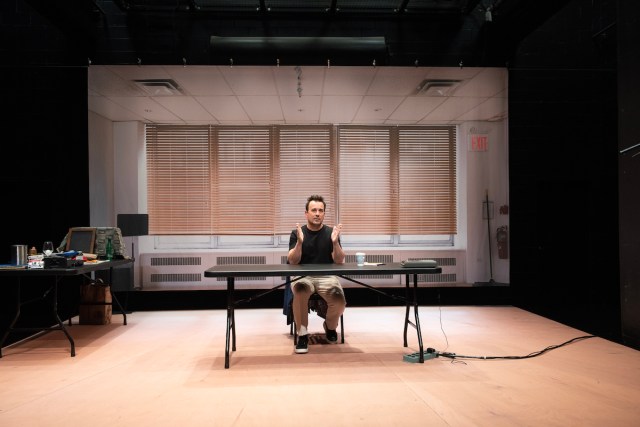 You know all about Dana H., but have you met Steve C.? That's Steve Cuiffo, the professional illusionist who was instrumental in conjuring the lip-synch magic in Lucas Hnath's innovative Broadway play. Cuiffo reunites with Hnath for A Simulacrum, which is now performing at Atlantic Stage 2. Not quite a magic show, but not quite a traditional solo play either, it's not quite anything anyone would want to pay to watch in a theater.
Cuiffo co-wrote A Simulacrum with Hnath, who also directs and whose recorded voice plays throughout the piece (sound designer Mikhail Fiksel won a Tony Award for Dana H. and is another holdover from that team). The premise is a series of rehearsals in which Cuiffo tries out tricks for Hnath, who is less than impressed with magic and pushes Cuiffo to be more revealing about his personal life. This seems to be in preparation for an eventual show, although the tepid chemistry in the room and the massive gap between the last two rehearsals (a whole year) makes us doubt anything of substance will come together.
And those doubts are proven correct by A Simulacrum, a 90-minute play that feels considerably longer. Perhaps it is a sly takedown of the cult of the director, in which a disembodied voice spouts incoherent commands that the performer must take very seriously (Cuiffo's befuddled expression as he peers into the house tells this story). Perhaps it is a commentary on how even fun jobs (like magician) require a lot of tedious work that the public rarely gets to see (for good reasons). There's an interesting thread about how Cuiffo's spouse actually hates magic, which prompts Hnath to assign him to devise a trick she will love. The result is the show's finale, which is cool to watch, but doesn't justify the preceding 85 minutes.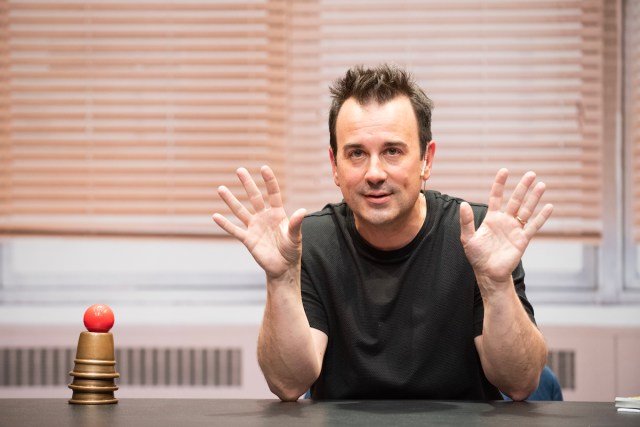 It's a shame, because Cuiffo is clearly very good at what he does. The few tricks he manages to perform are impressive and must be crowd-pleasers at intimate parties. An affable magic dork, Cuiffo clearly has deep reverence for the prestidigitators who came before him, regularly reading passages from out-of-print magic books (this is the element of the show Hnath seems most determined to squash in rehearsals). In aiming for a magic show that is more real, Cuiffo and Hnath seem to have arrived at bland and called it a day.
The tone is set by Louisa Thompson's set of folding tables, one covered messily with magic props. The backdrop is a slightly distorted reproduction, or simulacrum, of a wall in a rehearsal studio on East 15th Street. Qween Jean costumes Cuiffo in comfortable casual wear (the first look is daringly short-sleeved) and Tyler Micoleau keeps the work lights of the theater up throughout, exposing the lighting grid so that our eyes have something interesting to look at while Cuiffo and Hnath go back and forth in these early-stage rehearsals.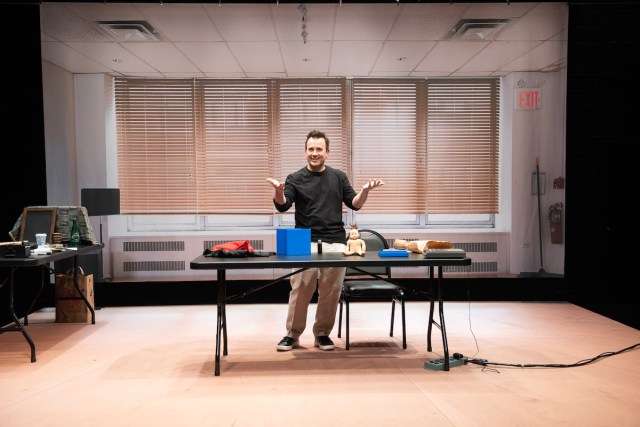 As a critic I regularly encounter shows in which it is clear that the cast and creatives think they have discovered something fascinating in rehearsal, but are unable to invite the audience into their circus tent of delusion. A Simulacrum is a particularly egregious example of that phenomenon.
Of course, the title suggests that what we're viewing may not be a perfectly accurate representation of reality. And I suppose that might make A Simulacrum interesting in a post-truth way, provided we have any interest in the original subject — the relationship between Steve C. and Lucas H. I do not. Personally, I would much rather see a bunch of spectacular magic tricks.